News
Diaz Takes Lead In China Tournament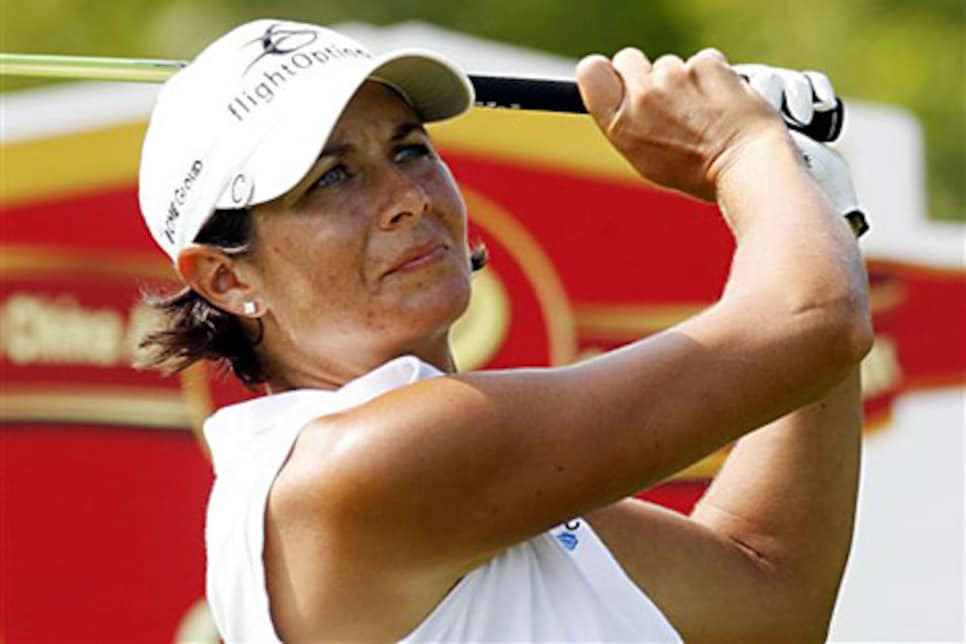 10 birdies didn't come easy. Diaz credits her brother, who looped for her, with giving her the edge.
HAIKOU, China (AP) -- Laura Diaz says she's had two "main highlights" in her golf career.
On Friday, she added another.
With her brother, Ron, carrying her bag, Diaz shot a 9-under 63 to take a three-stroke lead after the first round of the 54-hole Grand China Air, the LPGA's first tournament in China.
The round matched the best of her career and was capped with a 3-foot birdie putt on the 18th. Diaz finished third last week in the Kapalua Classic in Hawaii and is bidding for her first tournament victory since 2002.
Ron Philo -- a well-known club pro in Vermont -- filled in for Diaz's husband, Kevin, who normally works as her caddie. Instead, he was home babysitting their young son, Cooper.
Could the change be permanent?
"I can't afford him. He's too expensive," Diaz said, joking. "My husband comes a lot cheaper."
South Korean Seon-hwa Lee was three shots back after a 66, and Karen Stupples and H.J. Choi were four shots off the pace after rounds of 67.
"You've got to bring it every day," Stupples said. "You can't sit back on your laurels and say, 'Oh, I had one good round.' I think every time you go out, you have to feel like you're attacking on it. You have to be aggressive and attack the course."
Louise Friberg and Ji-young Oh were five strokes back, and Taoli Yang had a 69, the best score of the day for a Chinese player.
The highlights of Diaz's career, for whatever reason, all seem to revolve around either being pregnant or caddying.
She said her first highlight came in 2005 when, despite being 5 1/2 months pregnant, she caddied for her brother in the PGA Championship.
"My brother was not in favor of me doing it because of my pregnancy, but after a lot of needling he finally agreed that it would be OK," she said. "It was a fantastic week."
The second came just after that when she played the Solheim Cup -- while pregnant. Her husband carried the bag in that one.
"We've got two highlights and now we've got a third," she said.
Diaz said her brother helped her master the tough grain on the greens at the West Coast Golf Club. She rolled in 10 birdies and dropped only one shot.
"We have a little different mojo going on out there," she said. "My brother is a fantastic player and we did a lot of working together on every club selection and every putt."
Diaz also praised her absent husband, saying her brother simply added the perspective of a player. She also showed off a photo of her husband and her son that she carries in a plastic sleeve with her scorecard and yardage chart.
"I carry this every week to calm me when I'm upset," she said. "I really use my son as my driving force out there. He's what I think about to keep me calm and get me motivated."
Despite hefty credentials, Diaz has gone six years without winning a tournament.
"It's just taken me time to get my body back in shape and to handle trying to be a mother, a player and a wife," she said. "The passion that I had that was once only for golf has now been redistributed."
Add to this the burgeoning talent in women's golf.
"All those things combined have made it challenging for me to get back into the winner's circle again," she said.
Sultry conditions greeted the 63-player field at the West Coast Golf Club, a palm-lined course located on the northern edge of the mainland Chinese island of Hainan, situated between the South China Sea and the Gulf of Tonkin.
Many of the top names in the tournament had mediocre rounds. No. 2-ranked Annika Sorenstam, No. 3 Yani Tseng and No. 4 Suzann Pettersen all shot even-par 72. Morgan Pressel, who won the Kapalua Classic last week in Hawaii, finished with a 75.
"Today my performance was not very outstanding because of the wind," said Tseng, adding she's been bothered by a sore shoulder. "It affects my performance a bit, but not much as I am used to it. I am looking forward tomorrow."