News
James Looking For First 2008 Win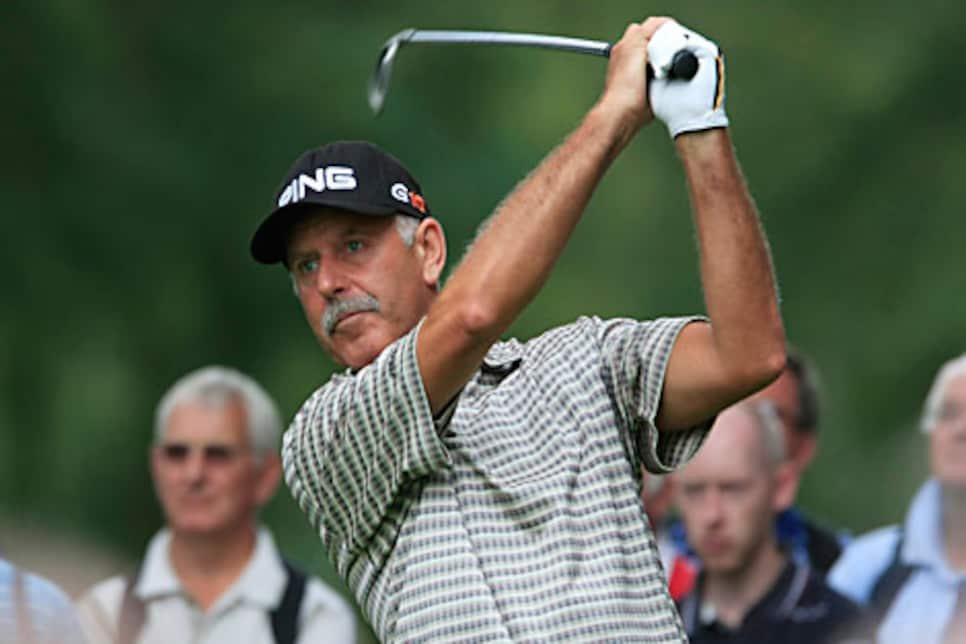 James has only one Top-10 in 2008 and hasn't won since this year.
SAN ANTONIO (AP) -- England's Mark James birdied the first six holes on the back nine and shot an 8-under 63 -- the best round of his Champions Tour career -- to take a one-stroke lead over Dan Forsman on Friday in the AT&T Championship.
James, trying to avoid qualifying school, began the birdie run on the par-5 10th in warm and sunny conditions at Oak Hills Country Club.
Texan Keith Fergus opened with a 65 on the A.W. Tillinghast-designed course. Dave Stockton shot his age at 66, matching Walter Hall and Gene Jones. Stockton, coming off a fourth-place tie last week in Houston, shot his age for the third time in his career.
Jay Haas, third in the season-long Charles Schwab Cup standings entering the final full-field event of the season, was four strokes back at 67 along with Jeff Sluman, Craig Stadler, Bruce Vaughan, Gil Morgan and Tom Purtzer. Haas won the 2005 event and also took the Texas Open in 1982 and 1993 at Oak Hills.
The top 30 on the money list will earn 2009 exemptions and spots next week in the season-ending Charles Schwab Cup Championship in Sonoma, Calif.
Since winning the Allianz Championship last year, James, a former European Ryder Cup captain, has struggled. He has one top-10 finish this year and 57th on the Champions Tour money list.
"This is certainly surprising to me," James said. "I'm not usually one to go really low. I've been working on my game and it's good to see I got something out of it."
James began his round with a bogey on the first hole, but came back with birdies on Nos. 3, 5 and 9.
He two-putted for birdie on the par-5 10th to begin the run. He made birdie putts of 8 and 18 feet on the next two holes, then hit approach shots to a foot on 13 and 14 for easy birdies. He then missed an eagle putt by inches on the par-5 15th.
"Almost messed up my birdie streak with that one," James said.
Forsman played 11 times on the PGA Tour this year, before joining the Champions Tour as a rookie in July when he turned 50.
"The biggest difference I see between the two tours is that my anxiety level is ratcheted up times 10 on the regular tour," Forsman said.
He had a bogey-free round, holing a 12-footer for par on the par-3 ninth, his 18th of the day.
Blaine McCallister shot a 5-over 76 in his Champions Tour debut. The Texan won five times on the PGA Tour, including the 1991 Texas Open at Oak Hills. Hal Sutton, making his second Champions Tour start, also opened with a 76.