News
Golf and J.T.: A Real Love Affair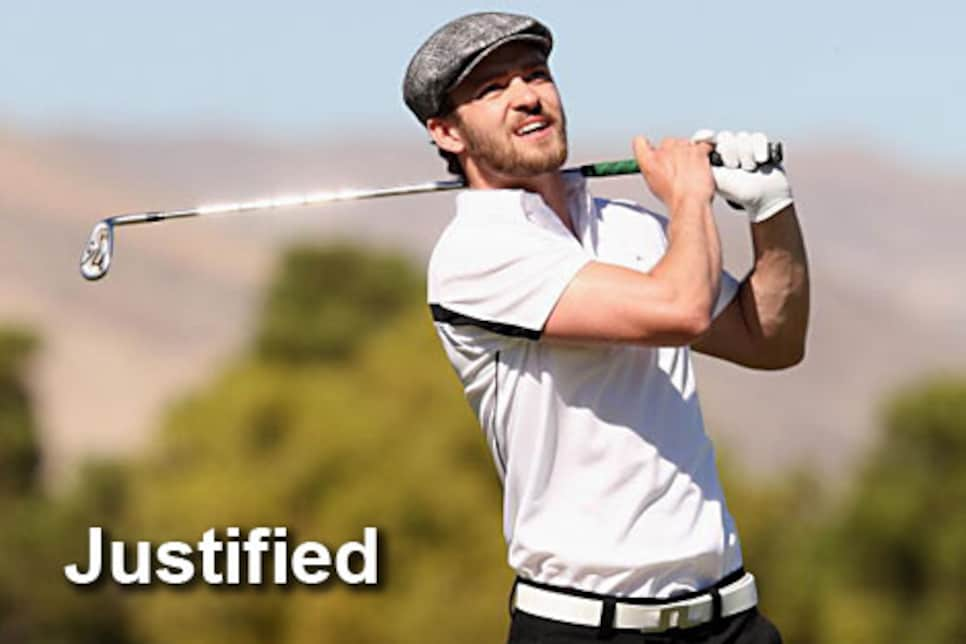 Timberlake is young, a celebrity and he's committed to the game of golf.
With a little imagination and a chuckle or two, it's easy to envision Justin Timberlake becoming one of golf's greatest assets. Unlike other celebrities who use the game to further their personal causes, or Bill Murray, whose schtick quickly went from funny to old to malodorous, Timberlake is a good player with honest intentions. He likes it. He gets it. In 2008, he proved it.
By assuming title sponsorship of the PGA Tour stop in Las Vegas, Timberlake basically saved an event plagued throughout its existence by a lack of corporate support. His debut as tournament host last week barely registered in the mainstream-sports universe, but then, even hardcore golf fans are excused from caring about the tour's Fall Series, the FedEx Cup era's version of a Silly Season Without Stars.
Still, this was a marked improvement over recent gatherings in Vegas. Timberlake wisely ditched the three-course rotation that made this tournament so needlessly complicated -- it wasn't like the venues were within a 7-iron of each other -- and centralized everything at TPC Summerlin. Formerly a 72-hole pro-am, J.T. removed the chopper factor from the competitive arena, saying, "Phil [Mickelson] isn't going to come up (onstage) and try to do karaoke while I'm doing my show."
Philly Mick didn't make the trip, but Timberlake assembled an all-star cast for his Friday night concert at Planet Hollywood, then joined swing coach Butch Harmon for a clinic the following afternoon. It capped a big week for the extracurriculars by the tour's modest standards. Tuesday night's pro-am draw party was a huge hit, a first-rate affair at the Red Rock Resort attended by about 10 players, which is eight or nine more than you'd normally see.
The celeb-sprinkled Wednesday pro-am drew the week's biggest crowds, to use the term loosely, as Ellen DeGeneres taped her popular talk show from Summerlin that morning. There were no galleries once the tournament started, and as Fall Series events go, the field of tour pros in Vegas was no better than you'd expect. What changed was the attitude brought on by Timberlake's presence -- the guy was front and center from start to finish.
Surely, J.T. knew he was getting a bottom-shelf tour stop when he entered into this venture with the Shriners Hospitals for Children, which makes his direct involvement even more impressive. In a commercial to promote the tournament, which ran for several weeks on the Golf Channel, the six-time Grammy winner is seen trimming bushes, raking bunkers and holding up a "Quiet Please" sign. A slight exaggeration, perhaps, but an accurate depiction.
Four months earlier, Timberlake, whose handicap is in the mid-single digits, broke 100 in the Golf Digest U.S. Open Challenge. It was the first time his commitment to the game had been magnified, a gutsy move in that the dude could easily have embarrassed himself on the brutalized version of Torrey Pines. I remember getting ready to cover the final round of the tournament in my hotel room when the telecast aired on NBC that Sunday afternoon.
Timberlake's enthusiasm and sincerity made it hard to head to the parking lot, which helps explain why the show received such strong ratings. The guy had spent weeks preparing for the challenge, working with Harmon, but it was his obvious bond with contest winner John Atkinson, who suffers from lung cancer, that left me with such a positive vibe. Fame is a potent drug, capable of destroying lives, warping perspective and demolishing careers. Timberlake is a superstar, but unlike many in his stratosphere, he clearly has a clue.
He isn't the first big name to hop on our platform. Bing Crosby is the Babe Ruth of golf celebs, Sammy Davis Jr. the Willie Mays, but J.T. has the profile and potential to become much bigger, to transcend the game beyond its ultra-parochial borders. He is building a golf course in his native Tennessee, which happens to be the home of FedEx, and eventually, one can see him becoming a major influence on the tour, which can use all the young blood and ladies' men it can get.