News
Turnesa's Hard Work, Talent Pay Off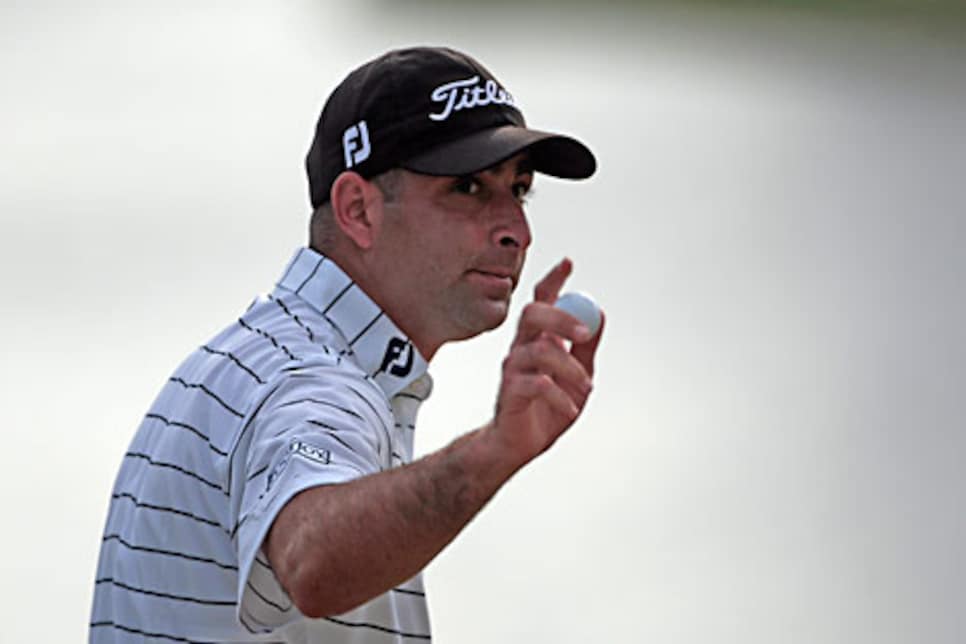 Turnesa's family golf tree includes a major, two U.S. Amateurs, Ryder Cup teams and more than 15 professional victories.
At Bay Hill this year, Marc Turnesa slipped in for breakfast unnoticed. His first veteran move was removing his hat, because sitting there, waiting for his eggs, was Arnold Palmer.
Palmer has a thing about wearing hats inside. He got on Tiger Woods in the developmental days of Tiger's career for his clubhouse manners, but Turnesa avoided the faux pas. Their introduction went about the way you'd expect, with Turnesa, the nervous 30-year-old rookie, thanking "Mr. Palmer" for his invitation to the Monday pro-am and Arnold telling the newcomer he lobbied for him to be in the field that day, based on his family name.
New to the show, Turnesa quietly and politely paid his respects, thanked "Mr. Palmer," and returned to anonymity at his table. Being a Turnesa may open doors, but as he said seven months later, nursing a lead in the Justin Timberlake Shriners Hospitals for Children Open, "It's hard to play on the PGA Tour, you know? I don't care what your last name is."
He may not be "Joe the Plumber," but Turnesa knows what it's like to be a small business owner and make less than $250,000 a year. Just a year ago on the Nationwide Tour he made $237,890, $103,500 of it with a victory in the Miccosukee Championship, the next to last event of the year. Without that "W," Turnesa would have been back on the Nationwide Tour at the start of 2008.
Fifty weeks and a couple of days later, he was on the 18th green at the TPC-Summerlin, Las Vegas showgirls on each arm, rubbing elbows with Timberlake at the trophy giving, where he was presented a check for $738,000. Among the faces there to greet him were Butch Harmon, who knew the Turnesa family when he was growing up at Winged Foot, and Steve Marino, who played the Gateway Tour with Turnesa in South Florida. Marino responded as any good friend would -- by pouring a beer over Turnesa's head.
Turnesa lives in an apartment off Donald Ross Road in Jupiter, Fla. His father, Mike, comes down to Florida when Rockville Links, the Long Island club where he is the head pro, closes for the winter. That's part of the Harmon connection. "Butch and my dad grew up together," Turnesa said. "The Harmons, they're New York boys as well, so my dad's had a relationship with him forever."
The Turnesa family golfing tree goes back to the 1930s. His grandfather was Mike Turnesa, a six-time winner on the PGA Tour. His great uncle Jim won the 1952 PGA Championship. Another great uncle, Joe, won 15 times and played on the first two Ryder Cup teams. The greatest golfing Turnesa was arguably great uncle Willie, who won two U.S. Amateur titles.
"It's not any added pressure having Turnesa as a last name," Marc said.
The pressure comes at closing time. Turnesa has struggled with that part of the process. At the Honda Classic, he finished bogey, par, double bogey, double bogey, burning $80,000 in a four-hole stretch. At the Stanford St. Jude Classic, he was in the final group Sunday, opened with an 8, dropped three shots on the last two holes, and crashed from T-2 to T-37.
But as much as those collapses hurt, it was the Viking Classic two weeks ago that cut the deepest. Leading with two holes to go, Turnesa fatted an approach shot at the 17th hole into a water hazard, and ultimately lost in a playoff to Will MacKenzie. Entering the Fall Finish with just $280,000 in season earnings, he had already sent in an application to Q school.
In Las Vegas, he made repeated references to the Viking. "It was -- I mean, it was disappointing," he said on Sunday. "But you know what, I did the best I could and it didn't work out. The same thing could have easily happened here today. You've just got to get over it and move on. There are tournaments every week out here, and you've just got to take the positive out of it and move on."
Turnesa played college golf with Tim Clark and Carl Pettersson at North Carolina State, bounced around the mini-tours and considered quitting in 2005 -- the same year his two former teammates were each banking more than $2 million on the PGA Tour. But as much as he's stumbled over the building blocks of a career, Turnesa has also proven to be cunning with future on the line. Entering the Miccosukee tournament last year, he was 43rd on the money list, sneaking into the top-20 at the wire. Entering this year's Fall Series, he was 169th on the money list. Now, after his playoff loss at the Viking and his win at Timberlake's event, he is 75th on the money list with $1,318,052, and has his PGA Tour card secured through 2010, thanks to the victory.
The members at Old Palm GC, Raymond Floyd's place in South Florida, aren't surprised. Through his friendship with Robert Floyd, Turnesa was given playing privileges at the club. In the pro shop his golf bag was up on a wall next to the bags belonging to Floyd, Bruce Fleisher, Brett Wetterich, and recent two-time winner Camilo Villegas -- but now it's got a different look to it.
When he's not out on tour, he's most often found at the club, working on his game with swing instructor Rod Curl Jr., or playing for a couple of dollars with two of his friends, Scott Waldman and Dave Kluger. A pair of 6-handicappers, they get nine shots each. "We play him off plus three, but that will change," Waldman said Monday, already adjusting the bet. "Around here at Old Palm, we putt a lot on the practice green and it's been good practice for him. There's always a little action involved. We'll pick a hole and play closest to the hole. It's a good match for him and honestly, it's been about 50-50. It gives him quasi-pressure to stay sharp."
Waldman, who does some investing for Turnesa, pointed out the pressure his buddy was under, not only as it relates to his playing privileges, but his sponsors. Around the club they call him "Tuna," not Turnesa. And with more than $1.3 million in earnings, he doesn't mind paying the bigger tax bill. He's even in a position to skip the Frys.com Open this week in Scottsdale, and fly home for a party, and more of those Old Palm putting contests with the boys.
"Just having the Turnesa name didn't mean anything," Waldman said. "He wanted to carve [a reputation] out himself, and he has."