News
Successful Title Defense By Langer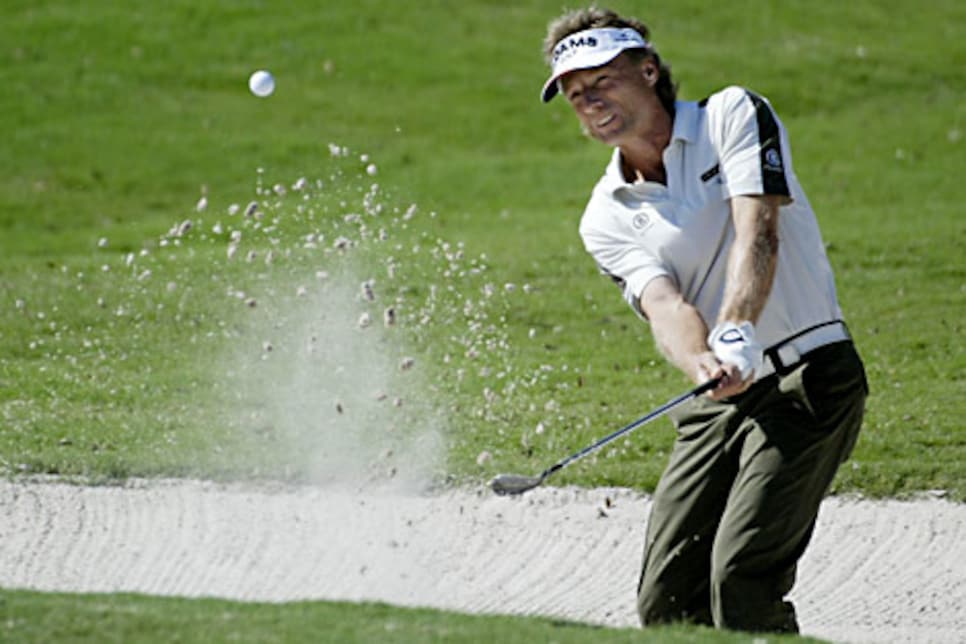 Being perfect in sand saves and near the top in all putting categories sealed the win for Langer.
THE WOODLANDS, Texas (AP) -- Bernhard Langer overcame a "senior moment" to win his second straight Administaff Small Business Classic title Sunday, shooting a 3-under 69 for a two-stroke victory over Lonnie Nielsen.
Langer finished at 12-under 204 on The Woodlands Country Club course and earned $255,000 for his third victory of the year to take the money lead with $1,992,573. The German star won the event last year at Augusta Pines.
Langer took a one-stroke penalty on No. 3, when he absent-mindedly picked up his ball after his tee shot missed the green on the par-3 hole.
After a week of rain before the tournament, players were allowed to lift, clean and place their golf balls during the first two rounds. With drier conditions Sunday, players were no longer allowed to use preferred lies through the green.
"I hit an 8-iron to the green," the 51-year-old Langer said. "I picked the ball up and gave it to my caddie and then I'm going, 'Uh-oh.'
"It was a senior moment. I had a great two-putt for a 4 there."
Nielsen (71) birdied the hole to take a two-stroke lead, and Langer knew he had to put the mental mistake behind him.
"I wasn't happy with myself," Langer said. "But I just thought, it's done. I've got to deal with it, just make the best of it and move on. It was just a natural reaction after the first two days. I totally forgot we couldn't do that today."
Langer won for the fourth time on the Champions Tour and earned 84 points to move him into second place in the Charles Schwab Cup points list behind Fred Funk with just two events left in the season.
"Bernhard is such a solid player," Nielsen said. "I was thinking out there today, he has 85 wins worldwide in his career and I have one. I thought, 'What am I doing here?'"
Langer won with a terrific stretch on the back nine. He birdied Nos. 11, 13 and 14, making a 12-foot putt on 13 and a 10-footer on 14.
"The back nine wasn't all pretty," Langer said. "But the putter held up pretty good. The putts on 13 and 14 were crucial and one on 15 for par. Those three in a row were huge."
"The key stretch was 13, 14 and 15," Nielsen said. "He made putts and I missed them."
Nielsen had three birdies and a bogey on the front nine. He also bogeyed No. 10.
"Bernhard played very well today," Nielsen said. "He's an impressive player. I hung with him and thought I had a chance but I just couldn't get it done."
Langer won last year's Administaff by eight strokes, finishing at 25 under.
He started the day in a three-way tie for the lead with Nielsen and Brad Bryant. Bryant triple-bogeyed 13, shot a 77 and tied for 20th at 4 under.
Funk closed with a 69 to finish third, three strokes behind Langer.
Dave Stockton (70) and Denis Watson (72) tied for fourth at 8 under.
The 66-year-old Stockton made four straight birdies on the back nine en route to his best finish since a fourth-place tie in the 2004 SBC Championship.
Hal Sutton, playing in his first Champions Tour event, shot a 72 to tie for 23rd at 3 under.