News
Bean Takes First-Round Lead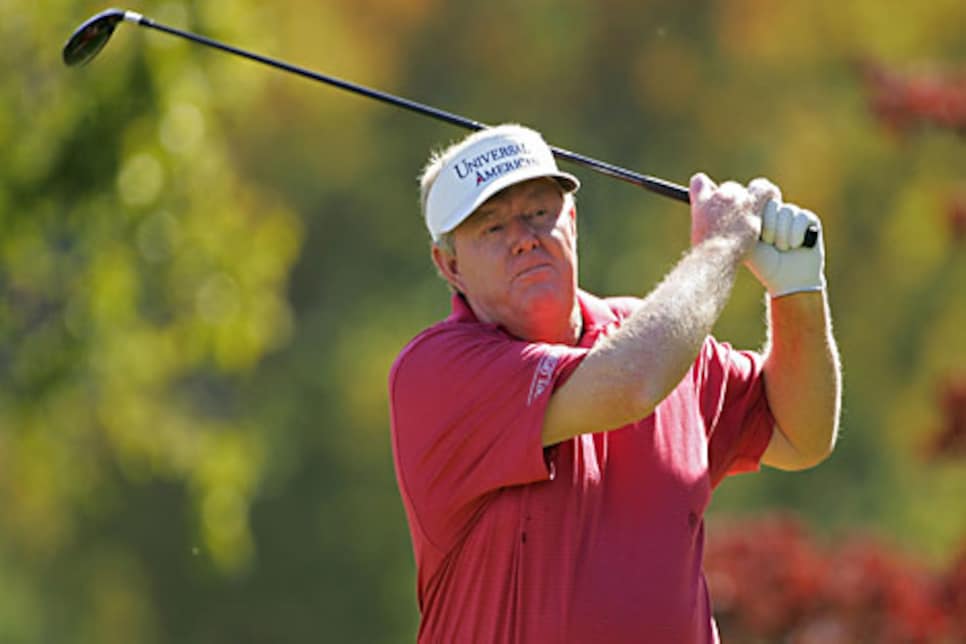 With ideal scoring conditions and deadly accurate iron play, Bean had eight birdies and one bogey.
THE WOODLANDS, Texas (AP) -- Andy Bean thinks one of the best things to happen to him lately might have been having his golf clubs stolen.
That seeming misfortune has led to him playing some of his better golf, including shooting a 7-under 65 on Friday to take the first-round lead in the Administaff Small Business Classic at The Woodlands Country Club.
Bean had a one-stroke lead over Jay Haas and Joey Sindelar.
Sandy Lyle, Lonnie Nielsen, Brad Bryant and Wayne Grady shot 67s in cloudy conditions after rain soaked the course this week. Defending champion Bernhard Langer and David Eger opened with 68s, and Hal Sutton shot a 71 in his Champions Tour debut.
Bean's clubs, including TaylorMade irons that were one of only 10 sets of the clubs manufactured, were stolen last month at the Greater Hickory Classic in North Carolina. He turned to a makeshift set that he initially didn't expect to keep long.
"I had those clubs for four years and I wouldn't have taken anything for them," Bean said. "But to tell you the truth, I've just played some very good golf the last month."
With the new clubs the next week, Bean tied for the first-round lead and finished third at the SAS Championship in Cary, N.C.
"I have hit so many good shots with these new clubs, I don't think I will go back," Bean said. "You'd think about changing back to the old clubs, but I have done really well with these."
The 55-year-old Bean, closing in on $1 million in earnings this year for the first time since 2006, had eight birdies, including five on the back nine. He three-putted the ninth hole for his lone bogey.
"I putted well overall today," Bean said. "But I misread the speed of the putts at No. 9. I didn't hit the first one hard enough and then I misread the grain of the grass on the second and it just took off.
"It was almost easy out there today. I really played a solid round. My iron game was really good. My putting and my driving were both good. If I can continue to play this solid the next two days, I certainly can give myself a shot at winning."
Bean, who won the Regions Charity Classic in Birmingham, Ala., in May, shot a 31 on the back nine and says he has played especially well with the new set of irons.
"Losing those clubs has been kind of funny," he said. "I guess in a way, it may have been a blessing."
Haas, the money leader $1.7 million, holed a 19-foot putt on the 18th hole for his sixth birdie in a bogey-free round.
Sindelar also had six birdies in a bogey-free round.
"These were ideal scoring conditions," Sindelar said. "The course is in beautiful condition. I hit the ball well today. It was a good solid day. I've been working hard on my putting and when I made that first one (a 12-footer) at No. 11, it was good. I was very happy when I heard we were coming back here and I was even more thrilled when I saw the condition of the golf course."