News
Changes Pay Off For Pettersen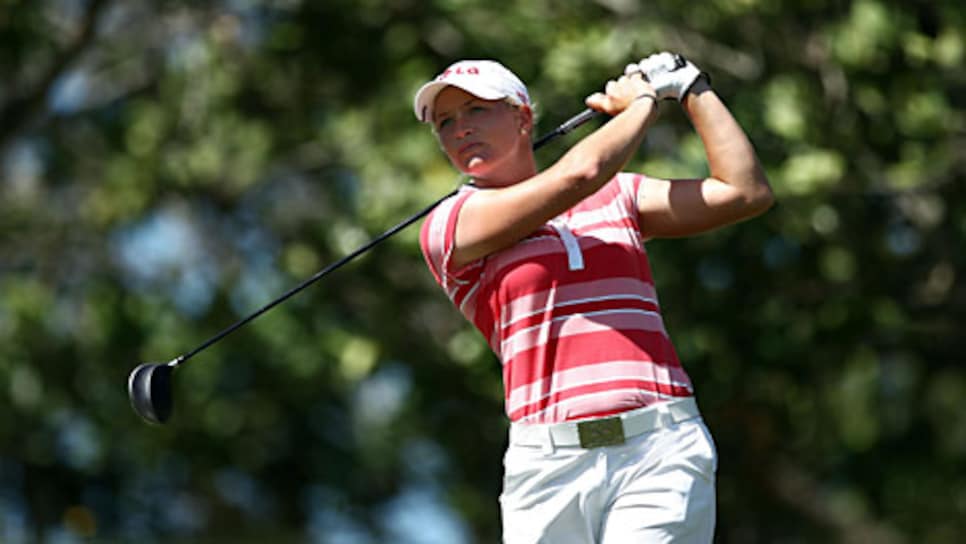 Much like Tiger, Pettersen doesn't wait for things to go wrong before making changes to get better.
KAPALUA, Hawaii (AP) -- After winning five times on the LPGA Tour last year, Suzann Pettersen switched her coach, equipment and caddie. She's also tweaking her swing and refining her short game.
All the changes haven't resulted in a victory yet, but that could change soon.
Pettersen shot a 4-under 68 for a one-stroke lead over Brittany Lang and Tracy Hanson heading into Friday's second round of the inaugural Kapalua LPGA Classic.
"My year? It's been great. It's been interesting," Pettersen said. "I've been kind of adding people to my team and kicking some people off. ... I've been playing great."
The 27-year-old Pettersen has shown she is unafraid to make changes, even when things are going right. But she believes her play isn't that much different from last year's breakout season, when she won five times, including the LPGA Championship.
"Last year, I played great and when I had a chance, I got it," she said. "This year, I had a chance, but I haven't got it. ... It's such a fine line of what kind of defines a great year, a good year (and) an average year."
This year, the Norwegian star is ranked No. 5 in the world and has seven top-10 finishes in 19 starts, including a runner-up finish at the Kraft Nabisco Championship.
She did win twice this year on the European tour.
"I know that if I'm patient and I play well, I'm capable of winning and that's the most important thing," she said.
She acknowledged changing coaches, Gary Gilchrist for David Leadbetter, in the middle of the season is not ideal.
"But I figured I would rather do it now than wait another six months, so that will probably benefit me the beginning of next year," Pettersen said.
After a relatively calm morning, Maui's trademark tradewinds picked up and kept the players from attacking the pine tree-lined Bay Course.
Only 19 of the 132 players were able to break par, including five from the afternoon.
"The wind is the only thing that can protect this course from the players, and if it stays like this, I would take four rounds at 4 under," said Pettersen, who took advantage of her early start time.
Despite the breezes, Pettersen made a move at the end, birdieing three of her final four holes. She hit a wedge to 3 feet on No. 8 and to 10 feet on the next hole.
"I like to play in the windy conditions because I like to create different shots," said Pettersen, who started the day on No. 10 and made the turn with two birdies.
Hanson aced the 165-yard No. 12, the most difficult hole, to match Lang at 69. Lang is coming off a fifth-place tie at the Longs Drugs Challenge. Australian rookie Anna Rawson was another stroke back along with Laura Diaz, Kristy McPherson, Ji Young Oh, Brandie Burton and Sun Young Yoo.
While Pettersen handled the winds of Kapalua, two other big names didn't fare as well.
Top-ranked Lorena Ochoa, seeking her eighth victory of the season, opened with a 74. She was paired with No. 2 Annika Sorenstam, who struggled to a 77.
It was an uncharacteristic round for Sorenstam, especially in Hawaii. She opened the season with a victory at Turtle Bay and finished fourth the following week at Ko Olina.
Sorenstam had trouble with her short game and navigating the fast and undulating greens. She had two double bogeys and two bogeys in a horrendous six-hole stretch to make the turn at 5 over.
The 72-time tour winner had just two birdies and dropped to near the bottom of the leaderboard at 6 over when she missed a 7-foot par putt on No. 13.
She'll have more favorable conditions Friday with an early tee time but will still require a better round to make it to the weekend. The last time she failed to make the cut was the 2006 Michelob ULTRA Open.