News
Majory Victory For Weibring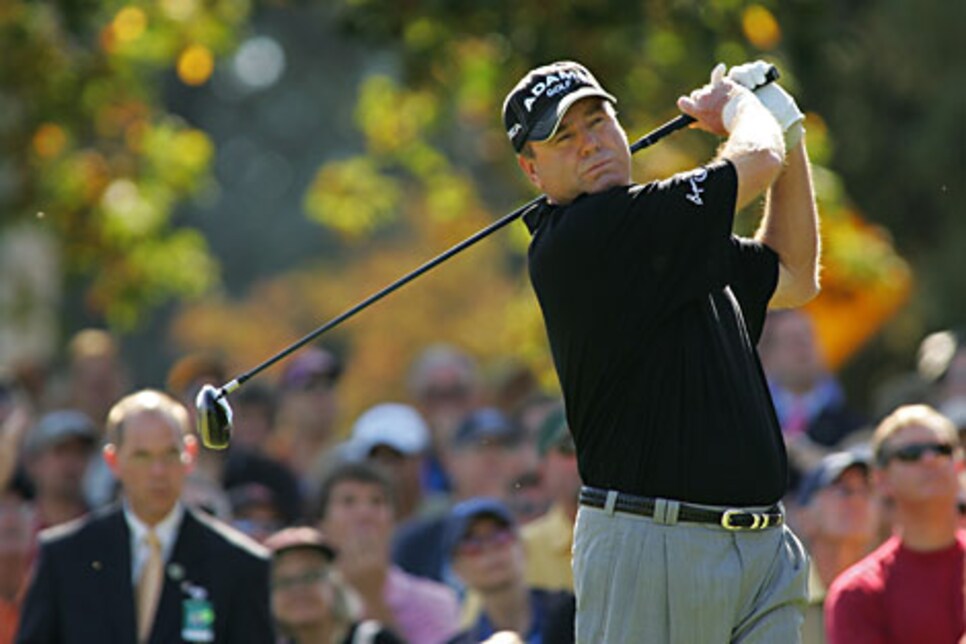 As Nick Price faded on the back nine, Weibring's five-straight pars to close got the job done.
TIMONIUM, Md. (AP) -- D.A. Weibring can remember times when he played exceptionally well and still ended up watching someone else receive the winner's trophy at a major tournament.
And so he made no apologies after it finally became his turn to take home the hardware.
Down by four strokes with 14 holes to play, Weibring soared past a fading Nick Price and held off a host of challengers Sunday to win the Senior Players Championship, his first career major victory in 65 tries.
Weibring closed out a 2-under 68 with a 2-foot par putt on the 72nd hole. He finished at 9-under 271, one stroke better than hometown favorite Fred Funk (66).
On a day in which four of the top seven finishers bogeyed 18, closing with five straight pars was good enough to provide Weibring with a lovely crystal trophy and $390,000 -- the biggest payday of his career.
"I had a couple of fortunate things happen," Weibring said. "I didn't play my best golf. I've played better in the final round and haven't been rewarded. It was just my time, and I'm very proud to have won."
Price (71), Ben Crenshaw (66) and Jeff Sluman (69) finished at 7 under, and Jay Haas (68) followed at 6 under.
It was Weibring's fifth win in six years on the Champions Tour, and one of the most significant of his entire career. He was 0-for-39 in major tournaments on the PGA Tour and 0-for-25 on the 50-and-over circuit.
"It will all sink in as time goes on," he said. "But I did always believe I could win a major championship. Sometimes things happen, and they just fall into place."
Weibring's final round included four birdies, but the 55-year-old's biggest shots were on holes he parred. He salvaged par on 16 after hitting a 6-iron into the bunker, then drained a difficult 9-foot putt on 17 to maintain his grasp on the slim lead.
Weibring got help from Price, who missed a 3-foot birdie putt on 17 that would have created a tie at the top.
Price opened with a 70 on Thursday, then carded successive 66s to take a one-shot lead into the final round. He extended the margin with a birdie on No. 1, then added another birdie on the fourth hole to go ahead by four strokes.
But successive bogeys on Nos. 7 and 8, combined with Weibring's birdie on No. 8, created a deadlock atop the leaderboard.
Price made it three bogeys in four holes at 10, and although he birdied 12, he couldn't make up the difference. He put the lid on a lamentable round with a bogey on 18.
"I didn't play well. It's that simple," Price said.
After Price fell off the pace at No. 10, Crenshaw's third straight birdie got him even with Weibring. Haas joined the fray with a birdie on 12, creating a temporary three-way tie at the top.
Weibring prevailed, even though many in the gallery were rooting for Price, who enjoyed an outstanding career on the PGA Tour, and Funk, a Maryland native and local golf hero.
"I know the people here wanted Nick Price to win and they wanted Fred Funk," Weibring said. "I understood that."
Crenshaw, who lost his second-round lead with a 74 on Saturday, made a valiant run at his first Champions Tour win. He moved into contention with a run of three straight birdies on the back nine, but missed a 4-foot birdie putt on 17 that would have put him in a tie for the lead.
He then missed the fairway off the tee at 18, which led to his only bogey of the day.
"A disappointing finish. I had my chances. I really did," Crenshaw said. "I played well, but it's painful."
Funk's second-place finish moved him ahead of Haas into the lead in the Charles Schwab Cup standings. He didn't have a bogey after getting four on the back nine Saturday en route to a disappointing 72.
"Pretty good bounce-back after yesterday's debacle," Funk said. "I just went out and enjoyed the walk, the golf, the competition. I didn't want to worry about anything, and I pretty much did that. It allowed me to play well. Unfortunately, I came up one short."