News
Regardless of the Odds, Seve Will Fight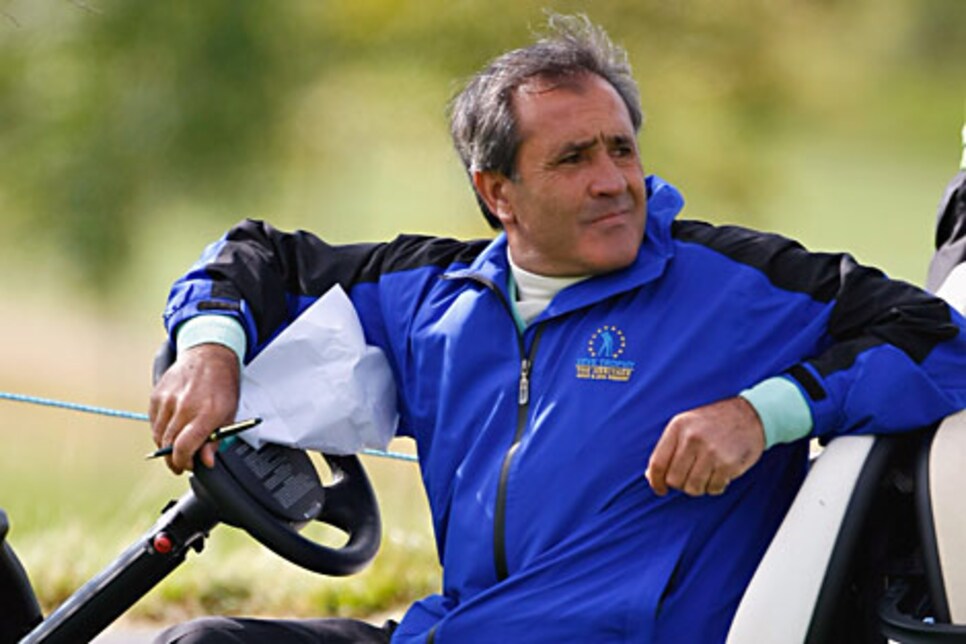 Seve's (shown at the 2007 Seve Trophy) record includes five major titles and more than 50 victories.
About half a lifetime ago, Seve Ballesteros was on the practice green at Augusta National Golf Club when a local TV reporter called over to him. "Steve, hey Steve, over here," the talking head shouted. Ballesteros at first ignored the calls, then rose to his full height, strode to the edge of the green and in a calm but firm voice said to the man calling him Steve: "My name is Severiano  Ballesteros, and your name is …" -- and then he used a word best not repeated here.
The incident tells a lot about Ballesteros. He is a man whose pride is as ferocious as his skill with a golf club and is as relentless as his competitive fire. When the rumor was confirmed Sunday that the 51-year-old Spaniard indeed had a brain tumor, the seriousness of which will be determined in a biopsy on Tuesday, it served as a shocking reminder of our mortality, even for the once-seeming Superman who put the entire continent of Europe on his back and dragged it to golfing parity with the Americans.
It was in large part because of Seve that Europe was added to Great Britain and Ireland to take on the United States in the Ryder Cup in 1979, the year he won his first Open Championship (sorry folks, can't call it the "British Open" when writing about Ballesteros. It's about European pride.)
And it was in large part because of Ballesteros' anger at the 15 tournament minimum-event rule required to be a PGA Tour member that he stayed in Europe, keeping a generation of the best players in the world with him, guys such as Nick Faldo, Sandy Lyle, Ian Woosnam, Colin Montgomerie, Darren Clarke and Lee Westwood.
If Arnold Palmer gets credit for bringing the Open Championship back to major championship status by traveling to Britain in 1960 to play in it, Ballesteros gets at least equal credit for making the Ryder Cup relevant again and for expanding the borders of golf beyond the United States and Britain to Europe and eventually Latin America, the Middle East and Asia.
Like Palmer, Ballesteros is the entire package. At the top of his game he was not only the best player in the world --three Open Championships and two Masters from 1979 through 1988 -- but he was also a personality impossible to ignore. He disarms with movie-star good looks and more attitude than anyone could ask for. Too bad he and Anthony Kim couldn't go at it in a Ryder Cup match.
Back in the mid-1990s, when Tom Lehman was trying to escape being a constant also-ran, he talked to me about the importance confidence plays in being a winner. Lehman said you can tell a lot about a player by reading their body language.
"Take Ballesteros," Lehman said. "Seve's body language says, 'No matter what God forsaken place I have hit my golf ball to, the next shot is going to be the greatest shot you have ever seen.'" Remember, Seve is a guy who won an Open Championship by making a birdie from the car park at Royal Lytham.
Lehman saw one of the most remarkable displays of Ballesteros' confidence in their singles match at the Oak Hill near Rochester, N.Y. during the 1995 Ryder Cup. They were the opening match on Sunday morning and I walked the first nine holes with them. It was the most entertaining nine holes of golf I have ever seen.
Seve missed the first fairway about 30 yards left and lost the hole. Lehman split the fairway on No. 2 and Ballesteros missed by 20 yards, to the right this time. All Seve could do was smash an 8-iron over the trees short of the green. Lehman played his approach to about 15 feet.
Now Seve has to pitch over a bunker to a short-side pin, an extremely difficult up-and-down. He skipped the "up" part and just went down, holing the pitch for birdie. A shaken Lehman missed his birdie putt and the match was all square.
On the fourth hole -- a par-5 -- Ballesteros hit a tree off the tee. I paced it off: The ball went 92 yards. He then hits a 3-wood followed by another 3-wood, which finds the green and he two-putts for a routine par that halved the hole. On another par-4 on the front side, Seve missed the fairway so far right he was over the hazard.
I kept thinking Ballesteros was one great birdie away from totally unraveling Lehman's head. Tom was playing brilliantly and couldn't shake a guy who couldn't find a fairway. But for all his magic Ballesteros couldn't break Lehman and ended up losing 4 and 3. He lost, however, only because Lehman played great and not because he gave up.
At an Open Championship about 15 years ago, Seve came into the interview room. A radio reporter arrived late and didn't get his tape recorder onto the table in front of Ballesteros, so he crouched on the floor in front of the table.
At one point Seve hears the voice he can't see say: "Seve, what were you thinking when you her in trouble on No. 14?" Seve answered: "I was not in trouble on No. 14." The disembodied voice persists: "You were in the bunker on 14." To which Seve replied: "I was in the bunker but I was not in trouble. I am a good bunker player."
Curious now, Ballesteros leans forward, looks down at the man and asked: "Are you a good bunker player?" The reporter confesses he is not to which Sever responded: "Then I see why you asked the question."
Seve was perhaps never in more Seve mode than at he 1997 Ryder Cup at Valderrama in his native Spain when he was the captain of the victorious European team. It was as if there were a half-dozen Seves. He seemed to be everywhere, popping up out of nowhere in his cart.
That was not a Ryder Cup week without its problems: Brutal rain storms, a one-day strike by the national police, and luggage that did not always arrive with its passengers. During the first press conference of the week, Dai Davies, who was a wonderfully curmudgeonly writer for the Guardian, a British paper, raised his hand to ask a question.
"Seve," Dai intoned with more than a touch of irritation in his voice, "Have you seen my luggage?"
Not missing a beat, Ballesteros answered with a question: "What airline did you fly?"
"British Air," Davies said, to which Seve shrugged and said, "Not my problem then." Left unsaid was Seve's belief that if Dai had flown a Spanish airline there would have been no problem.
Seve Ballesteros is one of those extremely rare people who are larger than life. He lives that way still and he played that way always. He faces now a battle more serious and more out of his control than any he has ever faced on a golf course.
But somehow a sneaky suspicion surfaces that his pride, his confidence and yes, even his arrogance, will carry him to another victory. His name is Severiano Ballesteros and he has given golf, has given all of us, far too much to have it end far too early.