News
First Win For In-Kyung Kim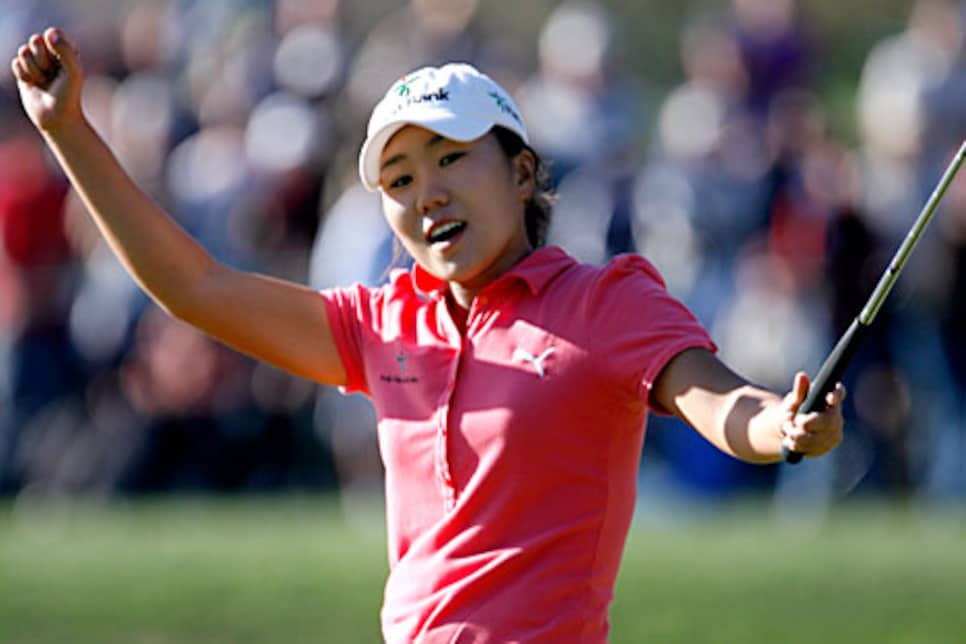 With birdies on 17 and 18, Kim made sure Anglea Stanford couldn't catch her.
DANVILLE, Calif. (AP) -- In-Kyung Kim couldn't help but cry after holing a 30-foot birdie putt on the final hole to wrap up her first LPGA Tour victory.
"I was overwhelmed," Kim said. "It was a happy cry."
The 20-year-old South Korean player birdied the final two holes in windy conditions Sunday for a 1-over 73 and a three-stroke victory over Angela Stanford in the Longs Drugs Challenge.
Kim, the 2005 U.S. Girls' Junior winner, had a 10-under 278 total on the Blackhawk Country Club course. The second-year player earned $180,000.
"I'm on process, getting better," Kim said. "This is just the start in my career. I'm really honored to win this tournament on this golf course."
Stanford, the Bell Micro LPGA Classic winner last month, finished with a 75.
"When you have weather like that and wind like that, you always have a chance," Stanford said. "I knew she wasn't going to back up very far, just because she's very consistent. She's a good putter."
LPGA Championship winner Yani Tseng (72) was third at 6 under, and top-ranked Lorena Ochoa (72) finished fourth at 4 under.
Kim struggled down the stretch, missing a short birdie putt on No. 13 and bogeying the 14th and 16th holes. She nearly drove into a creek on the par-4 17th, but caught a fairway bunker, hit her approach to 8 feet and made her birdie putt.
"At 17, I had a bad (drive). Awful to the left," Kim said. "I thought I was dead. I was fortunately in the bunker. ... That's kind of my favorite shot. I remember I had that shot before. I just had a vision of how I was going to hit it."
Stanford struggled late in the round, too, and no one else, including Ochoa, made a move to put pressure on Kim. Stanford bogeyed the 14th and 16th holes before making a 15-foot birdie putt on No. 17.
"I kept telling my caddie, 'I'm not putting any pressure on her,'" Stanford said. "When you add some pressure things change. If I had applied any pressure at all, things might have been different."
Kim said she that as early as Thursday she had "faith" that she'd win.
"For myself, I just kind of knew I was going to win," Kim said. "I tried not to say it too loud."
Last season as a rookie, Kim nearly broke through for her first win, but lost to Ochoa in a playoff in the Wegmans LPGA.
Kim has six top-10 finishes this year. She tied for third at the U.S. Women's Open and tied for ninth in the Women's British Open, her past two majors.
Longs Drugs Stores, meanwhile, has reached a tentative agreement to sponsor the tournament at Blackhawk through 2010, tournament director Brian Flajole said.