News
Gentle Ben Roars With A 66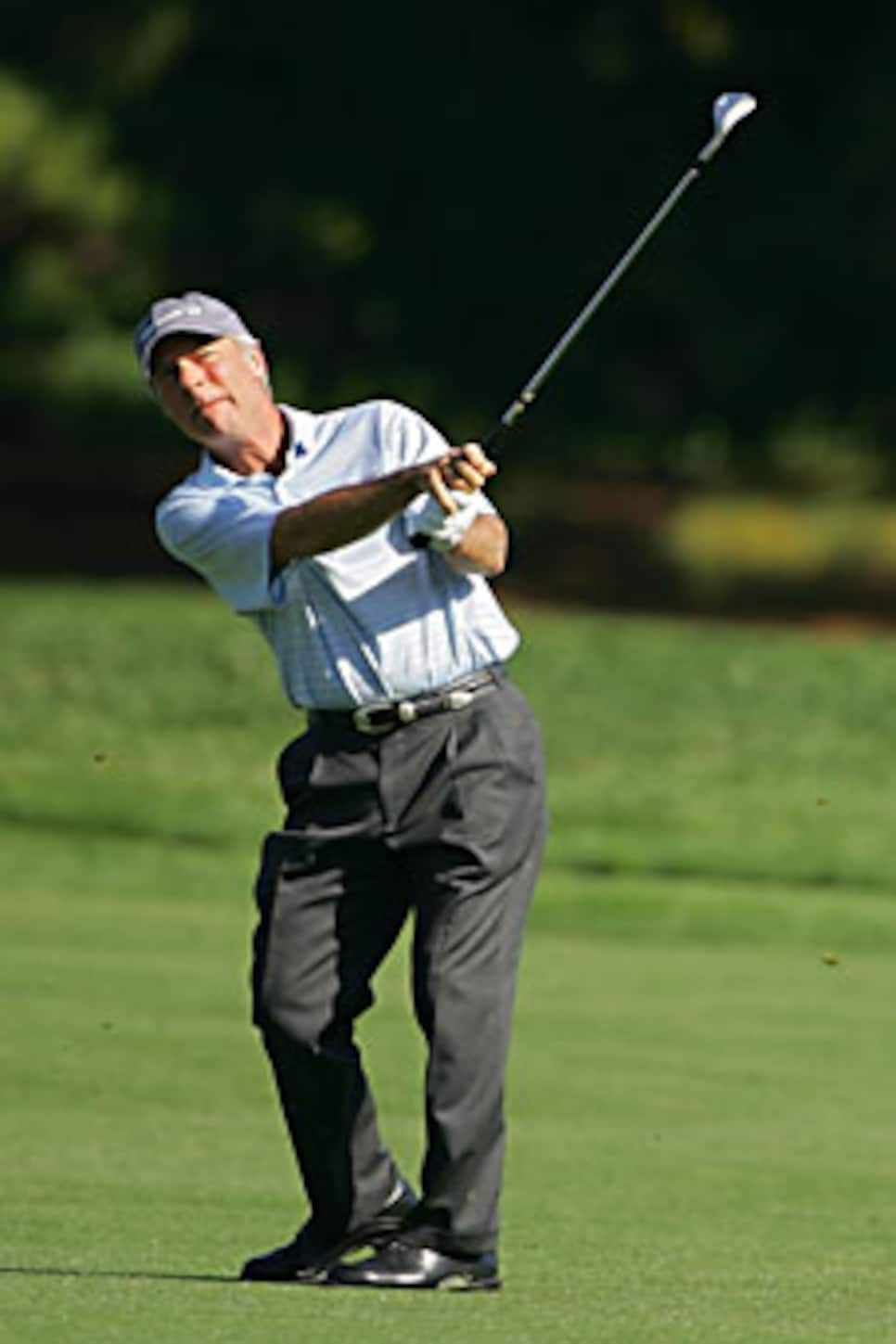 Crenshaw's last win was his second Masters victory in 1995.
TIMONIUM, Md. (AP) -- Ben Crenshaw found his long-lost golf game Friday, shooting a 4-under 66 to take a one-stroke lead over Fred Funk at the midway point of the Senior Players Championship.
Crenshaw hasn't won a tournament since capturing the Masters for a second time in 1995. That also was the last time he led after 36 holes.
The 56-year-old Texan made four birdies on back nine, sinking long-range putts on Nos. 11 and 17 on the East Course at the Baltimore Country Club. He hit 12 of 14 fairways, only once landed in a bunker and never three-putted in finishing the second round at 7-under 133.
"It felt wonderful playing out there today. I'm just trying to keep my rhythm going," Crenshaw said. "I've hit some nice shots. I can't hit the ball hard anymore, so that's out the window. I might as well just have a nice rhythm and hit it solid, try to get my way around it."
Funk, who grew up in Maryland, shot a 68 in an up-and-down round that included five birdies and three bogeys.
"Today was a mixed bag," said Funk, who three-putted from the fringe on No. 13 before sinking a 20-foot birdie putt on 14.
After parring the final four holes, including a satisfying comebacker on 18, Funk was delighted at the prospect of being paired with Crenshaw in the final twosome Saturday.
"Ben's a great guy. If I don't win, I'd like to see Ben win," Funk said. "But I want to beat him. ... It would be fantastic to win here."
Gene Jones shot a 66 to finish at 5 under, tied with Tom Jenkins, who carded a 68. Nick Price (66) and Mark O'Meara (67) were among four players at 4 under.
Crenshaw came into the tournament with only one top-10 finish in 2008 and ranked 48th on the money list. He failed to make the cut at the U.S. Senior Open and tied for 52nd at the JELD-WEN Tradition, the only two majors he participated in this season before this one.
The 66 was his lowest round in a major since he shot the same score in the third round of the 2006 U.S. Senior Open.
After making his mark on the PGA Tour, Crenshaw has admittedly not worked nearly as hard as a member of the Champions Tour. That, to a large degree, explains why he has not finished better than second place since signing up in 2002.
"I haven't been playing a lot. I've spent some time at home," he said. "My eldest girl just turned 21 last weekend. Still got three girls at the house, young girls, 16 and 10, so our hands are full there. But I'm not making any excuses. I'm doing exactly what I want to do."
Golf is no longer his life, but that doesn't mean the 1999 Ryder Cup captain can't still play well. His lone bogey Friday came after he hit into the bunker on No. 8, but he rebounded with a sizzling back nine in which he holed birdie putts of 25, 21, 15 and 10 feet.
"It's kind of unexplainable for me. I've been anything but predictable over my career," Crenshaw said. "Sometimes I don't know when I'm going to play well and a lot of times I don't know when I'm going to play poorly, either. That's not a great certainty, is it?"
There's no telling how he will fare over the final 36 holes, but for now, Ben Crenshaw is in front at the halfway point of a major tournament.
"To win anything would be nice because I've got a goose egg in my column on the Champions Tour," he said. "I've been close a few times, but not near enough."
His best finish was second place in the 2007 U.S. Senior Open. Before this week, Crenshaw finished in the top three only three times in 126 tournaments on the Champions Tour.