News
Hjorth, Redman Take The Lead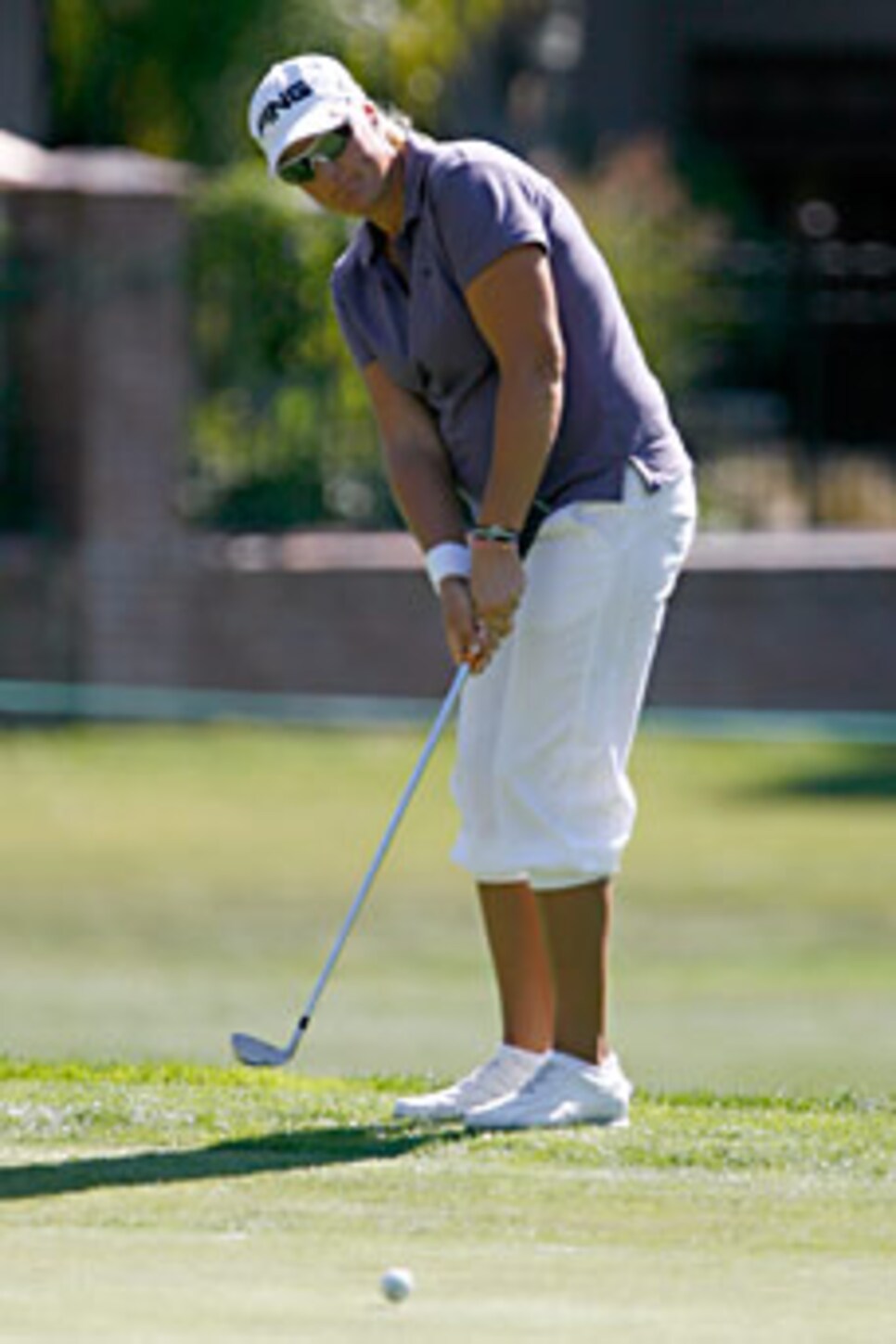 Horth's averaged 265 yards off the tee and need only 27 putts on Thursday.
DANVILLE, Calif. (AP) -- Nearly five months pregnant, Sweden's Maria Hjorth shot a 6-under 66 on Thursday for a share of the first-round lead with Michele Redman in the LPGA Tour's Longs Drugs Challenge.
"It affects me a little bit," said Hjorth, ranked 12th in the world.
"Sometimes my body gets a little bit slow and my hands get quicker than my body. Today, a few shots I pulled them a little bit left. Other than that it doesn't really affect me too much. I've been feeling really good throughout the whole thing so far. I'll keep on playing until I feel I can't anymore."
Hjorth matched Redman with seven birdies and a bogey on a sunny day at Blackhawk Country Club. In-Kyung Kim and Mikaela Parmlid were tied for second at 67.
Norway's Suzann Pettersen, a playoff winner over top-ranked Lorena Ochoa last year at Blackhawk, was two strokes back at 68 along with LPGA Championship winner Yani Tseng, Sarah Lee, Sarah Kemp, Meaghan Francella, Reilley Rankin and Wendy Ward.
Winless this year, Pettersen had a chance to tie for the lead on her final hole, but three-putted for a bogey.
"It's a good start," Pettersen said. "Maybe a couple better could have been perfect. You never know what perfect is going to be."
Ochoa, a seven-time winner this year, opened with a 70. Santa Cruz resident Juli Inkster, the Hall of Famer who won in 1999 and 2000 at Twelve Bridges, also had a 70.
"Of course I would like to be better, but I can't complain," Ochoa said. "I just have to be positive, and hopefully tomorrow will be a better day."
Bay Area star Paula Creamer, the Samsung World Championship winner last week at Half Moon Bay, had two double bogeys and an eagle in a 74. Ai Miyazato, coming off a victory Sunday in the Japan Women's Open, shot a 72.
The Lakeside Course has five par 5s that Hjorth said she can reach in two shots and a few par 4s that she believes she can drive.
"It's a good advantage to hit it further here on this course," said Hjorth, who has a pair of top-10 finishes at Blackhawk. "It's one of those courses if you drive it well you're going to have a lot of birdie chances."
The 43-year-old Redman hasn't finished in the top 10 in any of her 17 previous tournaments this year. She has won twice, but not since 2000.
"I'm just hitting it really good right now," Redman said.
In the 2006 tournament, she took an 11 on the par-5 third hole in the first round, missed the cut and broke up with her longtime caddie.
Redman reunited with her caddie, Joe Connolly, earlier this year. They returned to the par-5 third Thursday, and this time Redman birdied the hole.
"I looked over at Joe and said, 'Well, we're seven shots better than we were the last time we played this hole in the first round," Redman said. "It was a mess. We have a little redemption going on here."