News
Haas Looks For Three-Peat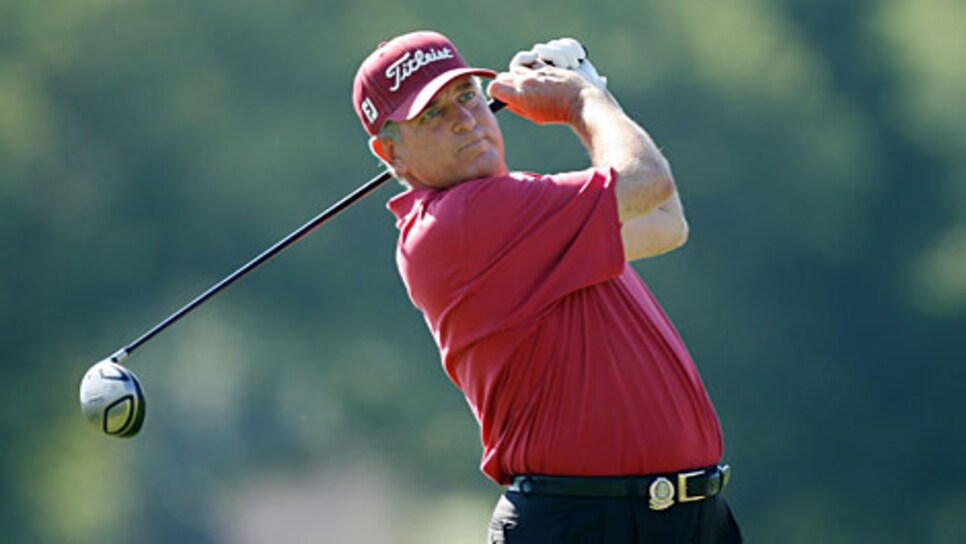 Haas has two majors and 12 wins in 4 1/2 years on the Champions Tour. In 30 years on the PGA Tour he won nine times.
TIMONIUM, Md. (AP) -- Nothing Jay Haas accomplished during his unspectacular career on the PGA Tour foreshadowed the astonishing success he has experienced playing golf with the 50-and-older crowd.
Haas is poised to become the first player on the Champions Tour to finish atop the money list three years in a row. He will tee off Thursday at the Senior Players Championship as the 2008 money-leader with $1,677,626 -- his take from winning twice and compiling 11 top-10 finishes in 17 tries.
Haas has already claimed 12 tournament titles -- including two majors -- and earned more than $8 million in 4½ years on the Champions Tour. In nearly 30 years on the PGA Tour, he won nine tournament titles, no majors and never closed higher than 13th on the money list.
Haas is a different player now, and his only lament is that he didn't retool his game sooner.
"Later in my career, I tried not to play tentatively," he said. "I guess I felt like, when I stand up to a tough shot, it makes me madder if I take a tentative swing and don't take a good shot than if I take a rip at it and don't hit a good shot."
There haven't been many poor shots this year for Haas, who is closing in on two goals he set before the season: to be the top money-winner and win the Charles Schwab Cup, a points-based competition to determine the top player on the Champions Tour.
"I'm there. I'm in position right now," he said. "This is a big stretch, but I don't think I'm going to hang over a shot and say, 'I've got to hit this shot or else I'm going to blow the Schwab Cup.'"
But winning the Senior Players Championship, a 72-hole major tournament with the top prize of $390,000, would provide a huge push in his bid for an unprecedented third straight money title.
"That would be a neat thing to have my name on, with all the great players that have played in the past," he said.
Haas finished tied for 17th at last year's tournament at the Baltimore Country Club. Loren Roberts won the event and finished first in the Schwab Cup, one notch ahead of Haas.
The par-70, 7,037-yard course features wide fairways and well-groomed greens, but only 22 of the 78 golfers broke par last year.
Haas, Fred Funk, Eduardo Romero, and Roberts are among the favorites. Longtime veteran Tom Kite, now 58, also has a decent shot.
"I can't do anything about Jay, or Eduardo, or Fred Funk or Loren Roberts or any of the other great players. I know they're going to score well," Kite said. "It's just up to me to try to score as well as I can, and hopefully that will be good enough to have a chance to win."
Kite is having an excellent year, moving up to ninth on the money list after finishing first, 14th, tied for second and second in his last four tournaments. His play on the Champions Tour is merely an extension of his outstanding run on the PGA circuit.
Haas, conversely, is still getting used to the concept of playing in the final twosome and cashing winner's checks.
"Not ever having been to the mountain top, this is my chance to do that," Haas said. "Not having the success that I would have loved to have on the PGA Tour, now I have this chance to do something I've never done before. That drives me."
So does the concept of winning now, before a new crop of spry 50-year-olds takes aim at winning some of that prize money.
"There is an end to this. I'm 54," he said. "I realize the window of opportunity is closing. Maybe not so quickly, but I can see the end here so I want to get it while I can."