News
Creamer Plays Mistake Free And Wins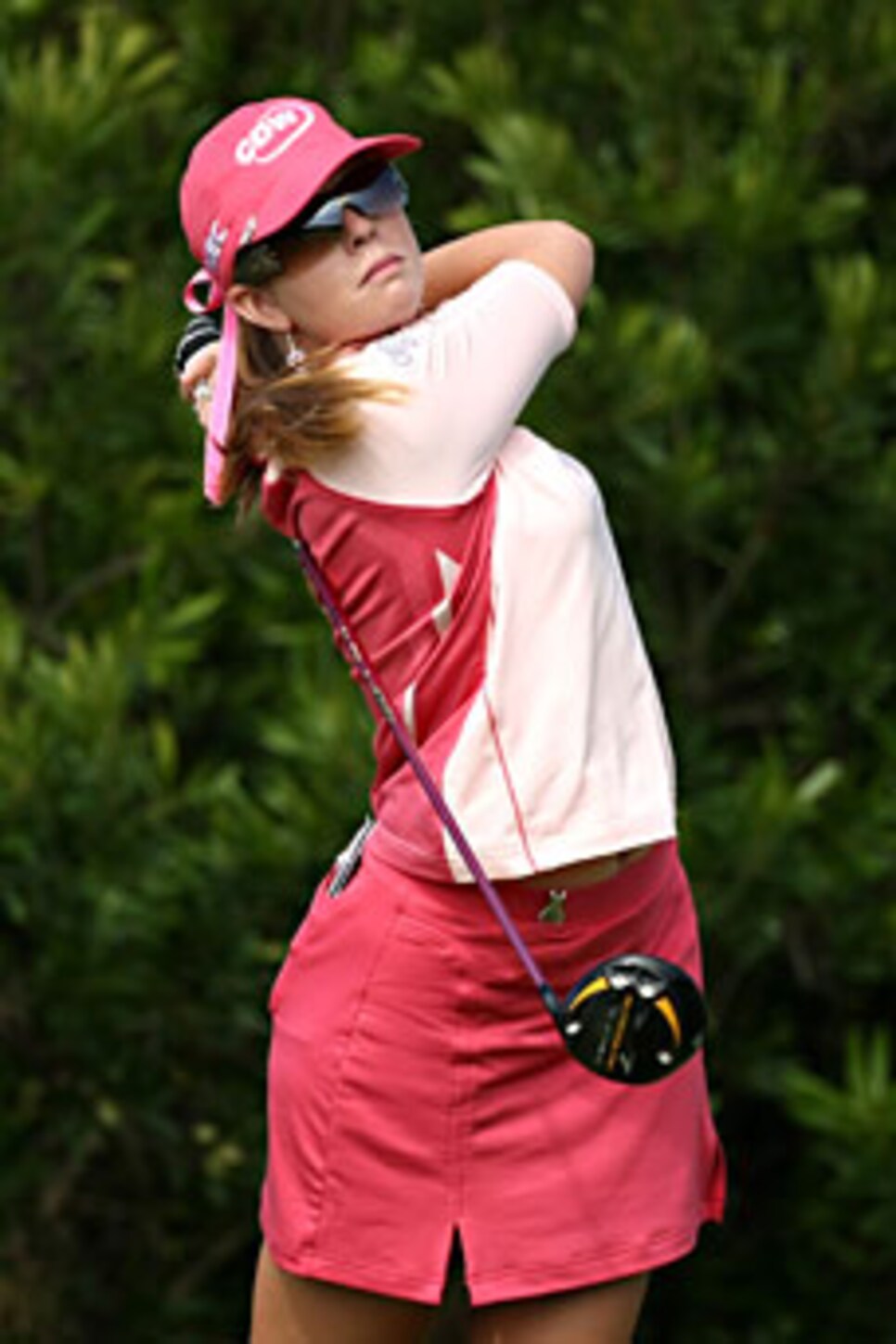 Creamer is the first American to win four times in a season since Juli Inkster in 1999.
HALF MOON BAY, Calif. (AP) -- Paula Creamer could finally look to all those supporters who have seen her through every stage of her young golf career and know she'd made them proud while playing right in her backyard.
Creamer calmly won her biggest LPGA Tour title yet, holding off a large pack to win the Samsung World Championship on Sunday about 1½ hours west of where she grew up in Pleasanton.
"This really does mean a lot. I put so much pressure on myself every time I come here," said Creamer, dressed in one of her custom pink outfits. "It's hard coming to your hometown. People watch you play all the time, but it's a different feeling when you're at home. You are constantly hearing, 'Go Pleasanton!' I want to win so badly, especially for everybody."
The 22-year-old Creamer beat Song-Hee Kim by a stroke, closing with a bogey-free 3-under 69 for a 9-under 279 total. Creamer earned $250,000 for her fourth title of the year and eighth overall, going the final 37 holes without a bogey.
On No. 18, Creamer holed a 5-foot par putt that rolled around the right lip of the cup and in. She dropped her putter, and raised both arms with a huge smile across her face as Kim waited nearby for a possible playoff. Creamer then jumped into a warm embrace with caddie Colin Cann.
"Honestly, I didn't see it go in. I heard the people," Creamer said. "It was like the longest two seconds of my life having it roll into the hole."
Kim finished with a 68 for her fifth top-five finish of the year. She was busy signing autographs near the scoring tent when her coach told her there might be a playoff.
"I didn't know that," Kim said. "I was hoping for that."
Top-ranked Lorena Ochoa, the 2006 and 2007 winner, shot a 69 to tie for third at 7 under with Juli Inkster (68), Suzann Pettersen (68) and Angela Stanford (70).
After Kim moved into a share of the lead by chipping in from 20 feet for birdie on No. 14 -- the first time all day Creamer wasn't alone out front -- Creamer made a 25-foot birdie putt on 15 to retake control.
"I tried just saying, 'Come on, keep playing your own game,'" Creamer said. "Today I knew going into it I couldn't be too aggressive, but I needed to shoot 3 or 4 under and everybody else would have to shoot 6 or 7 under to beat me."
Creamer became the first American to win at least four times in a single season since Inkster had five victories in 1999. Six times out of 10 Creamer has gone on to win after leading entering the final day, including three times this year.
Creamer won with another consistent performance in the elite 20-player field on a spectacular day on the Ocean Course at Half Moon Bay Golf Links. Crashing waves served as background noise and provided quite a scenic view along the back nine. But more than anything, the sunny last day by the Pacific lacked the tricky elements of the previous three rounds: fog, changing wind, rain and cold.
"To play bogey-free on the weekend on this golf course and in these conditions, people don't realize how incredibly difficult that is," said Creamer's father, Paul. "That's how she won."
Creamer's parents and dozens of supporters cheered her from the large gallery following her all week. She has said she feels added pressure playing back home, but also was committed to keeping her cool and not letting one or two bad holes affect her day or her focus after she struggled to control her emotions Friday.
Ochoa birdied No. 16 to pull within a stroke of the lead at 7 under, then Inkster birdied moments later and also moved to 7 under.
Ochoa was trying to become the first player to win three straight Samsungs and capture her eighth title of 2008 and second in two many weeks after a victory last week in Prattville, Ala. She birdied three straight holes -- Nos. 8-10 -- to get to 6 under. Now, Ochoa will look for another strong finish next week at nearby Danville in a second consecutive event tour in Northern California.
"I think I had a slow start making a couple of bogeys and I wanted to come back and finish strong on the back," Ochoa said. "I'm happy. I'm glad I gave myself an opportunity to win the tournament."
Five-time Samsung champion Annika Sorenstam finished her final appearance in this event at 3-over 291 after a 70. She tossed a ball into the crowd after her round, then signed her share of autographs.
Kim, a 20-year-old having a breakout season and one of eight South Koreans in this field, matched her career-best finish of second. She also was runner-up at the Corona Championship in Mexico in April. Yet Kim said she needs to work on improving her conditioning going into 2009 to stay near the top of the leaderboard or to win her first championship.
"Going in yesterday I didn't have a great feel for my shots, so I was a little worried going into the round today," Kim said through a translator. "I had some opportunities but I wasn't able to convert all of them, so I'm a little frustrated."
Pettersen eagled the par-5 eighth and followed with a pair of birdies to stay in contention. The Norwegian is still searching for first victory of 2008 after winning five times in 2007, including at the Longs Drugs Challenge event to be played at Danville next week.
Creamer knows her throng of fans will expect even more now and be eager for another victory.
"That's going to be even more pressure," she said, smiling.