News
Chuckie Three Sticks Is Back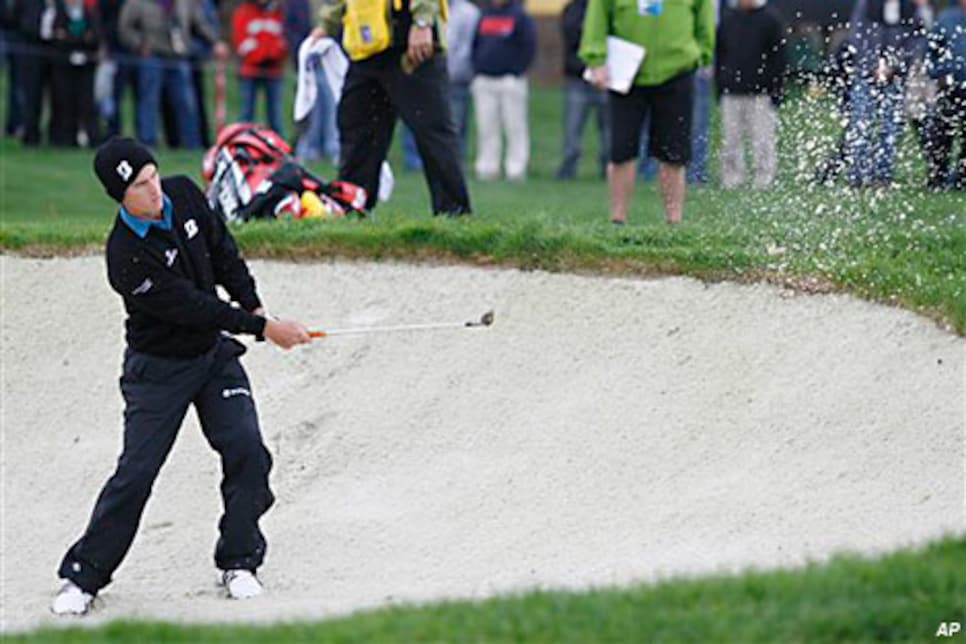 Howell has had a rough 2008: 83rd on the money list, no wins and only two top 10 finishes.
VERONA, N.Y. (AP) -- Tag Ridings stood over his ball at the final hole and gently tapped a short uphill putt for par. When he pulled it and his ball stopped just shy of the cup, he found himself tied for the lead in the Turning Stone Championship.
Seeking his first PGA Tour win, Ridings wasn't dismayed as he pondered playing the final round in a twosome with Charles Howell III.
"I putted really well, especially the first two rounds," Ridings said Saturday after shooting a 1-under 71 to match Howell (69) at 8 under. "Today, I made a couple that kept me hanging in there."
Ridings has missed 12 cuts this year, including six in a row, and entered Turning Stone winless in 130 PGA starts.
"I've been in position a lot out here and haven't gotten it done," Ridings said. "But a lot of times I have gotten it done on other tours, so it's not quite an alien experience."
Jeff Overton (73), who led both the first and second rounds by one shot, was tied for third at 7 under with Brian Davis (69), Jason Day (71) and Kyle Thompson (69).
Another shot behind were Dustin Johnson (70) and Robert Allenby (71), while Davis Love III (66), Charles Warren (67), and Mark Hensby (72) were tied at 5 under.
Because of two weather delays on Friday, 23 players failed to finish the second round and had to complete it Saturday morning. Love, coming back from an ankle injury suffered a year ago, then reeled off four straight birdies on the back nine to start the third round and move into contention, an early indication the 7,482-yard Atunyote Golf Club course might be playing easier because the weather wasn't quite so harsh. The players also were allowed to lift and clean their balls.
Ridings trailed Overton by one shot at the start of play and played the front nine to even par with a pair of birdies and two bogeys. He sank a 23-foot birdie putt to reach 8 under at the par-3 11th hole and gained a two-shot lead with a 16-foot birdie putt at No. 15 as the sun broke through and the temperature rose into the mid-50s.
Overton never mounted a charge. He bogeyed No. 1, reeled off 13 straight pars, and made bogey at 15 to fall to 6 under as he sputtered with his putter for the second straight day. Overton, who needed 34 putts on Friday, had 32 on Saturday but rallied with birdie at 16, his only birdie of the day.
"It'd be nice to be in the clubhouse and put some pressure on the other guys," Overton said. "I can't really dwell on the bad putts. I felt like I hit a lot of good ones. Sometimes you just have those days they don't drop."
Hensby, who began the day three shots behind, made three birdies on the front side and another at the par-5 12th hole to take sole possession of the lead at 9 under, one shot ahead of Ridings and Thompson.
Hensby's lead didn't last long. He bogeyed Nos. 13 and 14, just as Thompson had done only moments earlier. Thompson sank a 58-foot birdie putt at No. 15 to join a logjam of six players at 7 under.
"You could take all the putts I made Thursday and Friday and they wouldn't add up to that one," said Thompson, who finished with his third straight birdie at 18.
The first two days were plagued by temperatures in the 40s, 20 mph wind, rain, and even a brief shower of hail that caused one of two delays Friday.
The fickle conditions continued Saturday. Although there was just a slight breeze and the sun was in and out of the overhanging clouds, a misting rain again began falling while the lead threesome was playing the front nine and the temperature hovered around 50, forcing the players to again wear layers and fight to keep warm and loose.
"It was not nice. I can tell you the holes it was warm on," said Love, who hadn't played a tournament since mid-August and whose best finish this year is a tie for 19th at the British Open. "I've got to get my confidence back, get into contention and win a few tournaments."
Love, a 19-time winner on tour, opened the tournament with a 3-over 75 that included 37 putts. Aside from a 15-footer and a 6-footer, the longest putt he made Thursday was 3 feet, and his total distance of made putts added up to only 47 feet.
It was much different Saturday. Love, who began the day nine shots off the lead and started at the 10th hole, made a strong charge from the start. He hit to 5 feet and made birdie at the par-4 10th hole, rolled in a 27-foot birdie putt at the par-3 11th hole, hit to 7 feet and made birdie at the par-5 12th, and finished the rush by hitting inside 3 feet at the par-4 13th hole to surge into contention.
With the sun expected to shine on Sunday, the course figures to be a little more forgiving. And with Love anxious for a win and Allenby, 13th on the money list and in the hunt, Howell knew what to expect.
"There's so many good players up there at the top, and with the golf course being as soft as it's going to be tomorrow, and with the guys that are up there, there's going to be a lot more birdies made than the first three days," Howell said. "I'm sure."
Divots:@ Because 79 or more players made the 36-hole cut, the PGA made a 54-hole cut here to pare the field to 70 players on Sunday. Joey Sindelar was tied for 66th with Parker McLachlin, Casey Wittenberg, Nick Watney, Cody Freeman and defending Turning Stone champion Steve Flesch, and all will play the final round. Robert Gamez, Lee Janzen, Omar Uresti, Rod Pampling and Steve Lowery were among the 12 players who did not make the 54-hole cut.