News
Wind, Rain, Hail And A Lead For Overton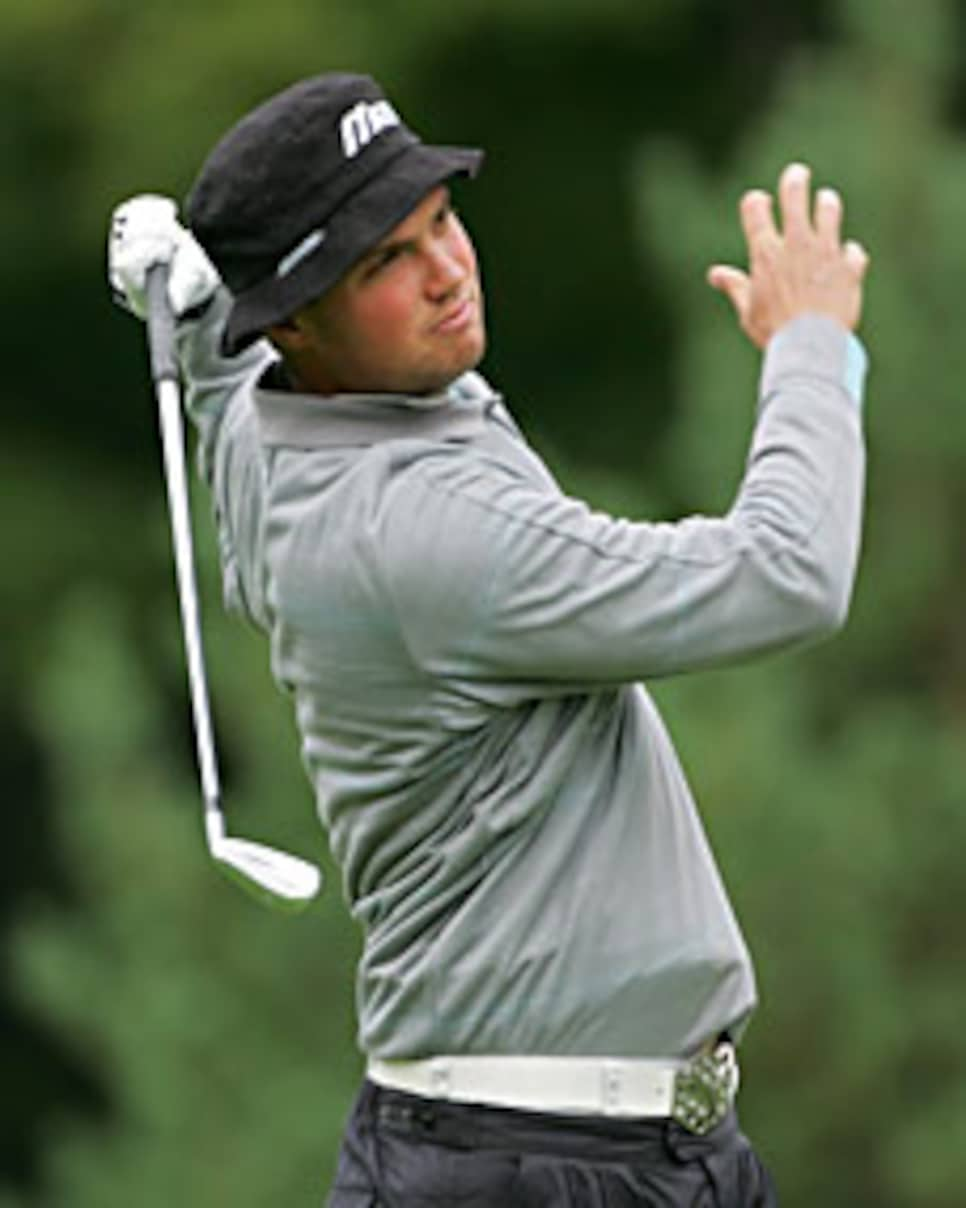 Only once in his career, has Overton held or shared a lead after the first round.
VERONA, N.Y. (AP) -- Jeff Overton said he felt like he was back in college. He played like it, too.
The former Big Ten player of the year at Indiana shot a 3-under 69 on Friday to take a one-shot lead over Tag Ridings (68) in the blustery second round of the Turning Stone Resort Championship.
Playing through wind, rain and even a brief shower of hail, Overton was at 8-under 136. Two weather delays totaling nearly an hour and a half prevented the entire field from finishing before darkness fell, but Overton's lead was safe.
Steve Allan, one of 23 players who didn't complete the round, was at 3 under with three holes to play.
In the clubhouse and alone in third at 6 under was Australian rookie Jason Day (69), one shot ahead of Robert Allenby (68), Mark Hensby (69) and Charles Howell III (68). Dustin Johnson (68), Brad Elder (69), Brian Davis (69), and Kyle Thompson (69) were tied for seventh at 4 under.
Defending Turning Stone champ Steve Flesch (73) finished the two rounds at 3-over 147, good enough to make the projected cut by a shot.
Overton, who began the day with a one-shot lead, had held or shared the lead after the opening round only one other time, at the 2007 Reno-Tahoe Open, and tied for 37th. He showed no signs of faltering here, even in some of the roughest weather on tour this year.
"It reminded me of playing college golf at Indiana," Overton said. "I can remember playing at Ohio State a few years back the golf tournament got snowed out. I've had quite a lot of experience playing in these kinds of conditions."
It showed. Overton reached all 18 in greens in regulation and if he hadn't struggled with his putter -- he needed 34 putts to complete the round -- would have made it that much more difficult for his rivals to catch him.
After bogeying his first hole, Overton birdied Nos. 4, 8, 9 and reached 8 under after hitting 5-iron to 20 feet at the par-5 12th hole, waiting for the wind to die down, and two-putting for birdie. He felt fortunate because both times play was halted he was lining up a putt.
"Neither one of the delays really bothered me much," Overton said. "I'm sure it really bothered some guys if they were right in the middle of a shot."
Friday was nearly a carbon copy of Thursday. It was in the mid-40s at the start of play, the wind was blowing at 10-15 mph, an intermittent rain dampened the 7,482-yard Atunyote Golf Club course, and the sun peaked through the gloomy sky now and again.
"The sun was shining coming up to 16, but I think the temperature dropped 15 degrees," Johnson said. "You've just got to go with it."
In late morning a front moved through and Mother Nature threw another obstacle in there, unleashing a brief torrent of hail that halted play for 16 minutes.
"It was actually kind of nice," said Johnson, who was on the green at No. 18 when play was suspended. "I got to go inside and warm up. It didn't help, though. I missed the putt."
Day wasn't fazed. Just before the hail began falling, he made a hole-in-one, his first ace on the PGA Tour, at the par-3 sixth hole to reach 5 under.
"I never played in hail before. I guess there's a first time for everything," said the 20-year-old Day, who hit 6-iron off the tee of the 180-yard hole and watched the ball hit the green and bounce back in the cup. "But I kept the momentum going."
While Day was celebrating, playing partner Michael Allen (74) was moping after making triple bogey at the hole after driving into a greenside bunker.
"I three-putted from 6 feet," lamented Allen, who began the day one shot off the lead and finished it trailing Overton by six. "It was hailing, and I didn't know if I should stop or keep going."
"I think he should have called it then and got a ruling, but he putted through it," Day said.
A half hour later, a rainstorm halted play again, this time for 71 minutes, which pushed afternoon tee times back more than an hour.
The sun broke through for good in the afternoon for the second straight day, lifting the temperature into the mid-50s. But the wind also picked up, making it still a challenge to get around the course unscathed.
Allan, tied for second to start the day, teed off just after 2 p.m. and made three bogeys on the first four holes of the back side to derail his chances of moving up.
The top 125 players on the money list at the end of the season will retain fully exempt status to play on the PGA Tour in 2009. That makes this event, the richest in the Fall Series with a $6 million purse and million-dollar payday, a big deal for guys like Overton, who's ranked 142nd.
"It is about the money list, but you're just simply going after it to win golf tournaments," Overton said. "It's all about having that passion and drive to hopefully one day capture a trophy."
Divots:@ Second-round play was to resume at 8:45 a.m. Saturday. Third-round tee times will begin at 10:30 a.m., with players in threesomes starting on Nos. 1 and 10. ... Howell began the day with eagle at the par-4 10th hole, holing his second shot from 119 yards.