News
Shin Powers Her Way To Lead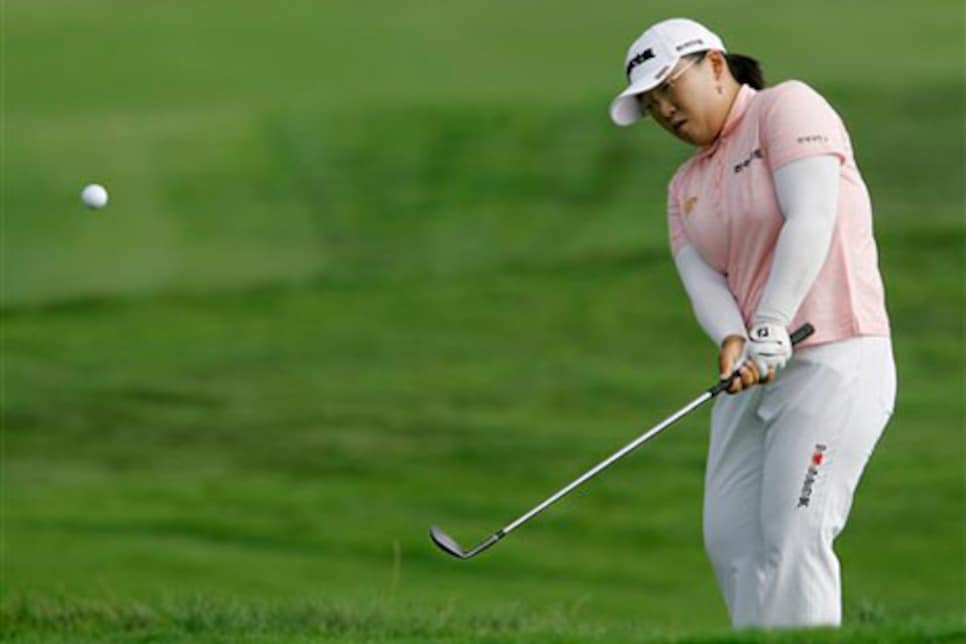 After winning the Women's British Open, Shin is looking to raise her profile in America.
HALF MOON BAY, Calif. (AP) -- Ji-Yai Shin became a household name back home in South Korea and even somewhat in Japan after she won the Women's British Open in August.
Now, the 20-year-old Shin is interested in raising her profile in the United States -- with regular success on the LPGA Tour.
She shot a 5-under 67 on Thursday to take the first-day lead in the Samsung World Championship, topping Paula Creamer's 68 that featured a birdie on 17 following a bogey on the previous hole.
"Everybody knows me as the British Open champion," Shin said. "In Korea, the players say: 'Don't come back to Korea. Go play in America.'"
Lorena Ochoa and Annika Sorenstam were only 17 minutes into their rounds and on the second fairway as the last twosome to start when the horn sounded and play was suspended for 26 minutes because of dense fog. It was eerie at times in the fog, with the crash of ocean waves serving as background noise as players searched for the flag before they hit.
Ochoa, the world No. 1 and two-time defending Samsung champion, and five-time winner Sorenstam each missed tough birdie putts on 18 to finish in a group at 69, two strokes off the lead.
"That never happened before," Ochoa said of the fog. "For sure we had to stop. You couldn't see the flag. It was kind of a weird start. After that I got a couple of birdies and got back on track."
Both Ochoa and Sorenstam received warm ovations at the first tee. Ochoa was even through the front nine with two bogeys before chipping in from 35 yards for eagle on No. 10 to move to 2 under. She high-fived her caddie after the clutch shot.
Creamer was held up at the sixth tee, where the fog was at its thickest on the Ocean Course at Half Moon Bay Golf Links.
"We were right in the middle -- seven, eight and nine were fine," she said. "I thought, 'We can't do this. This rough is so thick. If you miss it a little bit it could be a lost ball.' So, we just stopped. It wasn't worth it. I'm glad we waited. We couldn't see down our fairway. ... I was feeling good about how I was playing. I didn't want to go in. I had the momentum going."
Shin was delayed on No. 10 and didn't mind the break after playing a fast front nine in under 2 hours.
"Maybe it was helpful for me," she said. "It gave me a little extra time."
Yani Tseng, who is leading the Rookie of the Year race and ranked third, also had a 69. She played with her right arm wrapped with a special tape because of nagging elbow tendinitis. At 19, Tseng is the youngest in the elite 20-player field this week. The first day on the 6,450-yard course was warm and breezy alongside the Pacific Ocean -- with picturesque views in the late afternoon once the fog lifted for good.
Mist swirled above the green on the opening hole and by No. 2, Ochoa and Sorenstam could hardly see where their ball traveled let alone watch it land. The situation wasn't considered dangerous, just more frustrating because of the lack of visibility.
Sorenstam entertained the friendly crowd during the delay by plopping down on a ridge off the fairway and above a bunker and trying to blow grass between her lips to make it squeak. Someone else did it behind her and Sorenstam finally mastered the move.
She acknowledged them and chuckled.
Ochoa had her share of fans from her native Mexico in the large gallery, some carrying their country's flag.
"Lorena, mi amor!" one supporter yelled -- "Lorena, my love."
"Buena suerte!" a young girl called out -- "Good luck!"
Sorenstam, making her farewell tour this season, has won a record five Samsungs but acknowledged coming into this event she isn't playing her best golf. Still, she birdied Nos. 15 and 16 to stay high on the leaderboard.
Creamer and Angela Stanford (69) were the only ones to birdie the par-4, 394-yard first hole. Juli Inkster, Karrie Webb and Suzann Pettersen each bogeyed the opening hole and all three finished the day over par.
Creamer -- who grew up in nearby Pleasanton and still puts added pressure on herself to do well in Northern California -- also birdied the 500-yard, par-5 eighth hole. She pitched from 35 yards out to a foot of the pin.
"I hit my irons great today," Creamer said. "I gave myself so many opportunities. My speed putting was probably the best I've ever had in a round of golf. I'll take 4-under. I'll take where I'm at. We have three days left. That's a lot of golf."