News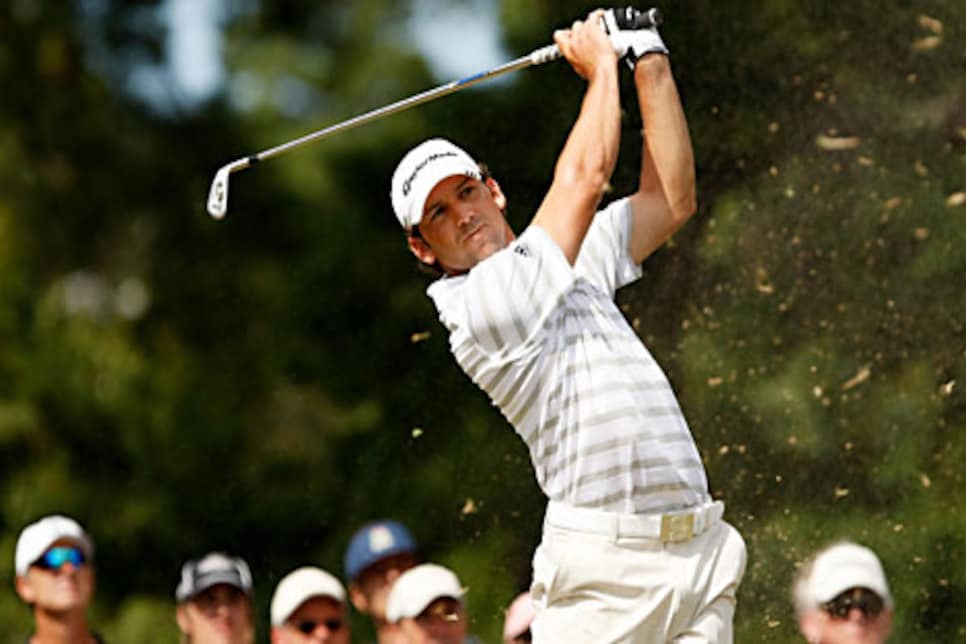 After losing a few times this year on the finishing holes, Sunday will be a test of Garcia's emotional stamina.
ATLANTA (AP) -- The cheers weren't as loud, but Sergio Garcia had heard them before.
Six days ago at the Ryder Cup, he was helpless as Anthony Kim fired at flags and birdied nearly half his holes in a 5-and-4 romp that revved up the gallery during an American victory.
It looked like more of the same early Saturday at the Tour Championship, especially when Kim made everything in sight to build a three-shot lead on the front nine at East Lake. This time, fortunes turned in the Spaniard's favor.
Garcia kept hitting good putts until enough of them went in that he turned a three-shot deficit into a three-shot lead with a 3-under 67, leaving him poised to become only the third player to capture The Players Championship and the Tour Championship in the same year.
"We're moving in the right direction," Garcia said, referring as much to his game as a third round that put him at 8-under 202, giving him a three-shot cushion over Phil Mickelson (69) and Kim (72).
Kim couldn't go at too many flags because he was busy escaping from the rough.
The 23-year-old American hit only four fairways, and his wildness caught up with him. One tee shot hit a fan in the forehead, sending him to the hospital with a 2-inch gash that left blood on the grass. Another shot found the water. Yet another bounced off corporate tents lining the 16th fairway.
"I'm speechless how bad I hit the driver," Kim said.
He was at a loss for words when he saw the damage he inflicted on the ninth hole. His wayward shot hit 48-year-old David Whitfield on the fly, splitting open his forehead. Whitfield was taken to a hospital, but he never lost consciousness and tests were negatives.
Kim gave Whitfield's wife a golf ball that he signed with a note: "Sorry."
Garcia got up-and-down from the bunker for a birdie to catch Kim at the turn, then took the lead for good with a birdie on the par-5 15th as Kim continued to sputter.
"Obviously, AK wasn't on his A-game," Garcia said. "I still feel like he scrambled nicely. He got some putts going in the beginning. I managed to make some birdies and played solidly."
Those two young stars in the final group of the third round finally brought some energy to the post-Ryder Cup blues at East Lake, although anyone hopeful of a rematch would have been sorely disappointed.
They were laughing and chatting from the start, especially on the first green when Garcia asked if he should move his ball mark.
"He gave me of those looks like, 'I don't need to hit it that far left.' And he actually hit the left side of the coin," Garcia said. "It was one of those funny things that happen."
There wasn't much humor early on.
Garcia was closer to the cup on the first four holes -- twice for birdie while Kim was trying to save par -- and Kim wound up expanding his lead. Even Kim had to laugh on the fourth, when his approach from the rough came out so hot that it wound up 35 yards over the green, leaving him no shot to a back pin. His chip rolled down the ridge 30 feet away, and he holed it for par.
Garcia offered a wry smile, but he never got down.
"There's no doubt he got off to a good start with his putter, made some good putts early on and kind of went in front of me," Garcia said. "But I was just staying patient. I knew that my game was in good shape."
Kim was errant off the tee no matter what club was in his hand, and he was fortunate to lose only one shot on the par-3 sixth when his fall wound up right of the green, off the slope and into the water. Garcia closed the gap to one shot with a 12-foot birdie on the seventh, then took the momentum on the ninth.
It was an ugly scene, with Whitfield on his back covering the gash with a blood-stained towel, and Kim pacing as the paramedics arrived.
"I thought I killed him," Kim said. "It was an awful feeling to look down and see a golf ball-sized impression in his forehead and it's cut open. It was probably the nastiest thing I've ever seen. It didn't affect my golf game. I still played the way I would -- I was hitting it terrible, anyway. I was hoping and praying that he'd be OK."
Garcia fell one behind with his only bogey of the round on the 13th, but he quickly surged ahead.
Kim three-putted for bogey on the 14th, took three putts from just off the green on the par-5 15th as Garcia made birdie, then hit his approach off a corporate tent on the 16th and had to scramble for bogey.
Mickelson, who saved par from 35 feet on the 11th, briefly joined them in the lead with a birdie at the 15th, only to miss the fairway into thick rough on the next hole and drop a shot. Even so, he has been lurking around the leaders all week and worked his way into the final pairing on a course where he won in 2000.
"It's fun to be in the last group," Mickelson said. "I'm looking forward to it. I know it's going to be difficult. I'm spotting Sergio three shots. I know how well he's been playing, so it'll be a difficult round for me to get it done."
Camilo Villegas had a 69 and was at 3-under 207, while Ben Curtis (68) and Robert Allenby (67) were another shot back.