News
Six Share Champions Tour Lead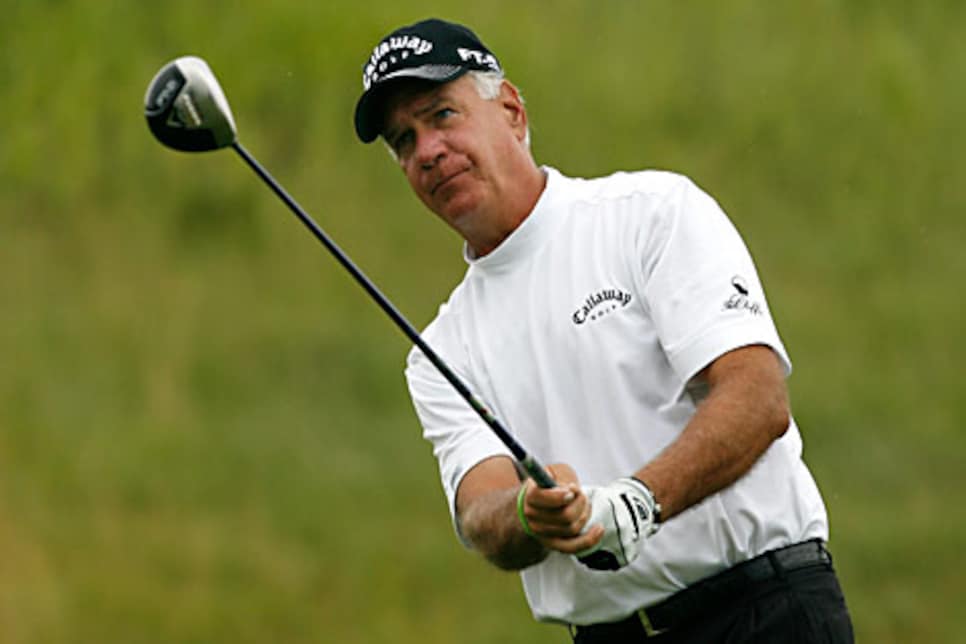 Fleisher dropped some long putts on Friday, but a lone three putt on No. 3 kept him from the solo lead.
CARY, N.C. (AP) -- Bruce Fleisher, Dana Quigley, Eduardo Romero, Andy Bean, Don Pooley and Chip Beck shot 4-under 68s on Friday to share the first-round lead in the Champions Tour's SAS Championship.
Tom Kite, Loren Roberts and Kirk Hanefeld were a stroke back on the Prestonwood Country Club course, and Larry Mize opened with a 70 in his Champions Tour debut.
"The course played long today, but it wasn't too wet to play," said Quigley, winless since 2006 on the Champions Tour. "In this kind of weather, you have to make sure you keep your focus. But I'm a low-ball hitter, and I play in this kind of wind probably 75 percent of the time in Florida."
Mize, the 1987 Masters champion, turned 50 on Tuesday.
"I was a little nervous, but once I got to the tee, I was better," Mize said. "It was a nice start, and that was a lot of fun. It's nice not having a cut. You don't want to play stupidly, but you want to play aggressively and make some birdies."
With tough pin placements on the front nine -- particularly on Nos. 5 and 6, which gave up one birdie each -- the scores were better on the back nine.
"Five's murder," the 61-year-old Quigley said. "We knew it was going to be a bear out there. But it's going to be a good tournament with a lot of scores bunched together. I could have been quite a bit lower, but I also could have been quite a bit higher. I guess I have to be happy with a 68."
The 54-year-old Romero, fourth on the Charles Schwab Cup points list, birdied four of the final five holes, including Nos. 16, 17 and 18. He was 2 over after the first four holes.
"I don't feel good today, and after four, I told my caddie that I had to wake up," said Romero, who's battling the flu this week. "Then, I started to play good. With the wind and water, I think the front nine is a little more difficult. But I'm playing with a lot of confidence, and I'm very happy."
Fleisher, winless in the past four years on the Champions Tour, also played better on the back nine, firing off five birdies over the final holes. But he credits his wife for the turnaround at the turn.
"My wife showed up, and she gave me a lift -- as she always does," said Fleisher, who told his wife, Wendy, to stay away because of the rain. "It was kind of unexpected to have her out there."
Wendy Fleisher said it was nice to see her husband playing well again.
"He was just showing off," she joked.
Fleisher, also fighting the flu this week, said he almost withdrew.
"It's been a rough week since Monday, and I didn't think I was going to play," said Fleisher, who turns 60 next month.
Fleisher also said the 7,197-yard Prestonwood course played "extremely long today." But after three-putting No. 3 for a bogey, he sank three long birdie putts -- a 30-footer on the 10th, a 20-footer on the 13th and a 28-footer on No. 15.
"All of a sudden, I started making some putts," he said.
Mark Wiebe, the winner last year in his first Champions Tour start, shot a 72. R.W. Eaks, coming off a successful title defense two weeks ago in the Greater Hickory Classic, had a 73.
Charles Schwab Cup points leader Jay Haas finished at 75, and money leader Bernhard Langer shot a 72.