News
Moodie Leads, Ochoa One Back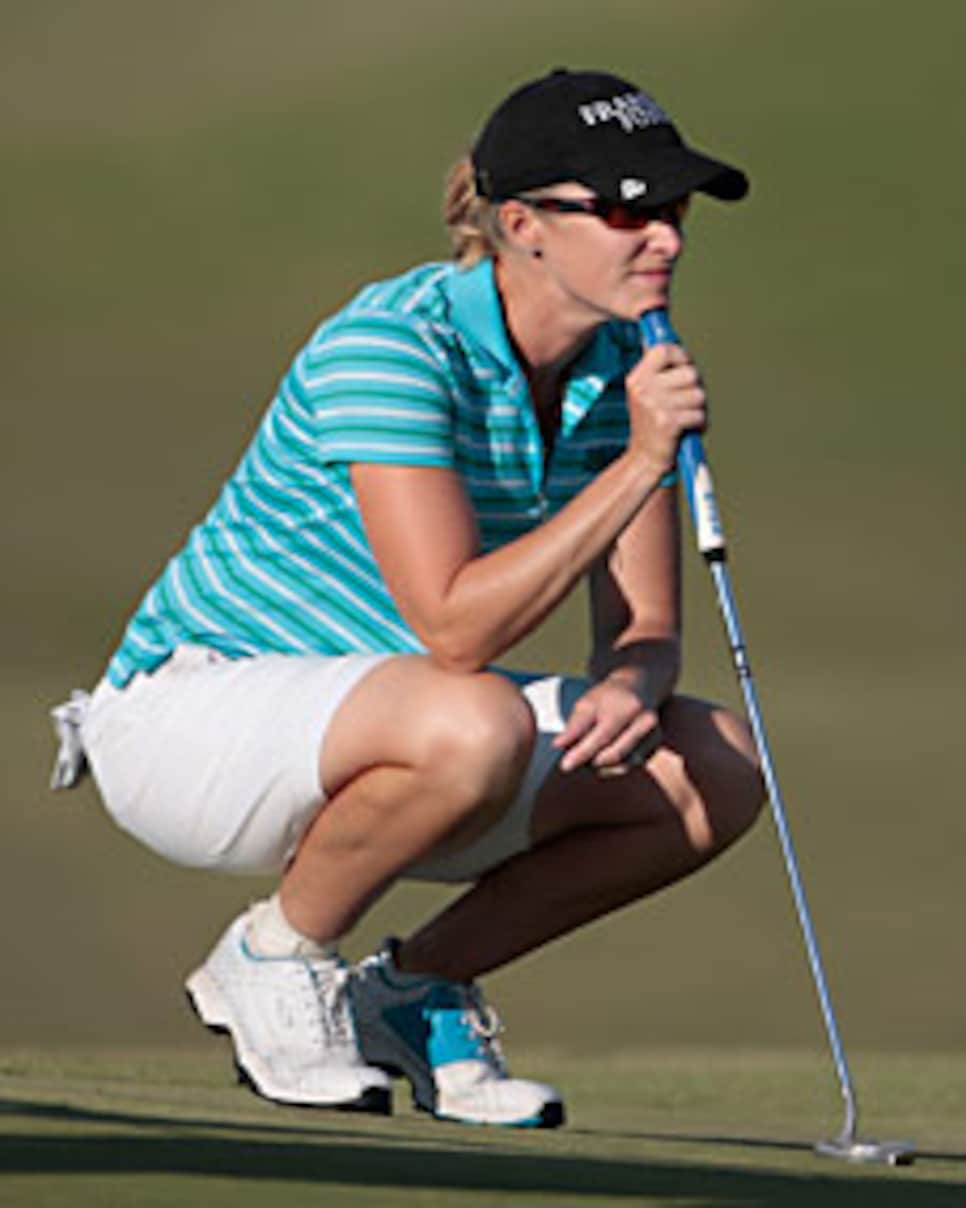 Moodie held off Ochoa with six birdies in her last seven holes.
PRATTVILLE, Ala. (AP) -- Recharged after a month off, Lorena Ochoa shot her second straight 5-under 67 on Friday to move within a stroke of leader Janice Moodie halfway through the Navistar LPGA Classic.
The top-ranked Ochoa is making her first start since tying for sixth in the Safeway Classic on Aug. 24, her fourth top-seven finish in a row, but seventh straight winless start. She opened the year with six wins in nine starts, including four straight.
"I'm just glad I took advantage of an early round today," Ochoa said. "It was playing a little bit easier today than yesterday in the morning. I think I just gave myself a lot of birdie chances. I've been very accurate with my irons and good with the distance and hopefully I can continue that. I have no reason to change anything and hope to do the same thing on the weekend and hopefully I can be out there on Sunday."
Moodie followed her opening 66 with a 67 on the links-style Senator Course at the Robert Trent Jones Golf Trail's Capitol Hill complex.
The Scot birdied five of her last seven holes.
"I looked up at the scoreboard and I was definitely losing ground at that point," said Moodie, who finished on the front nine. "But I'm like, 'You know what, I'm playing well. Just kind of keep it going.' And suddenly I got a birdie barrage."
She won the last of her two LPGA Tour titles in 2002.
"I'm just enjoying the moment right now and trying to keep everything smooth and trying to keep the putting stroke smooth, the golf swing going smooth, and I'll get to that on Sunday," Moodie said.
Ochoa birdied her final two holes, hitting a hybrid to 25 feet to set up a two-putt birdie on the par-5 eighth, and holing a 12-footer on the par-4 ninth.
"I like these greens," Ochoa said. "I think that I do feel comfortable reading the greens and I think that's important to have a positive attitude."
Jill McGill shot a 69 to match Ochoa at 10 under.
"It was a really consistent day," McGill said. "I gave myself a lot of really good looks, but wasn't quite as confident with the putter today. All in all, I'll take the 3 under and head into tomorrow's round."
Michele Redman was 9 under after a 65.
"I hit it great out there today," Redman said. "I could have actually had a few more coming in. I lipped out two or three times coming in, so I hit it really good. I'm rolling the ball good."
Christina Kim (66) and Song-Hee Kim (68) were 8 under, and McDonald's LPGA Championship winner Yani Tseng (66) was another stroke back along with Safeway champion Cristie Kerr (71) and Ji Young Oh (70).
"I feel really happy," Tseng said. "I played with Lorena again and I feel really relaxed to play with her. I had fun today. I changed some mental things and I feel really good. A lot of confidence."
Maria Hjorth, the winner last year in the inaugural event, followed her opening 76 with a 68 to easily make the cut at 4 under.