News
No Post-Ryder Hangover For AK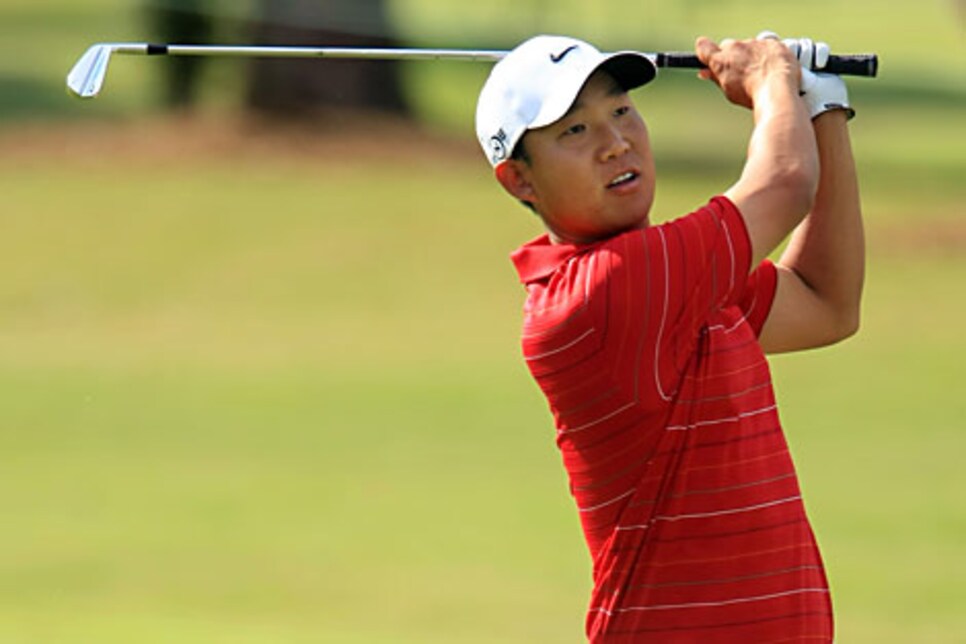 Kim combined eight birdies with two bogeys to get to six-under par.
ATLANTA (AP) -- Anthony Kim wore a red shirt, fired at flags and made birdies on almost half of his holes.
So much for that Ryder Cup hangover. The way Kim played Thursday in the opening round of the Tour Championship, it was almost as if the Ryder Cup never ended.
Four days after Kim humbled Sergio Garcia, he beat 29 players just as badly at East Lake with a 6-under 64 that gave Kim a four-shot lead over Masters champion Trevor Immelman, Ryder Cup teammate Phil Mickelson and Ernie Els.
"It took me a couple of days to get over that celebration," Kim said of a 16½-11½ victory over Europe. "Obviously, it's nice when you walk up to a green and you've got a couple of people (saying), 'Nice job at the Ryder Cup. Way to bring the cup back home,' little things like that. I feel like when I'm happy, having a good time, I'm going to make some birdies."
"So it was a good vibe out there."
Vijay Singh wasn't feeling it. He only has to complete all four rounds at East Lake to capture the FedEx Cup, and that might have been the best part of his opening round at East Lake -- he finished. But he started poorly, 5 over through 11 holes, before settling for a 73.
Kenny Perry, the Kentucky hero from the Ryder Cup, also found little reason to smile. He opened with a 76, and while that won't take away from his memories of red, white and blue, what irritated him was a pink slip.
It was his summons for drug testing, the second of the year for the 48-year-old Perry.
Good thing the 23-year-old Kim had four days to try to get the Ryder Cup out of his system. He was the life of the party Sunday night, especially after his 5-and-4 victory over Garcia in which Kim made birdie or better on six of his 14 holes.
"Just trying to enjoy the moment," he said. "This Ryder Cup hangover doesn't feel as bad as a college hangover."
As well as he played at the Ryder Cup on a Valhalla course with soft greens and minimal rough, Kim was equally spectacular on an East Lake course that was tough as ever.
Golf balls disappeared in Bermuda rough that was only 2 inches deep. The real challenge was getting the ball close to the cup on greens that were rebuilt in the spring. It usually takes a few years for new greens to settle, making them particularly firm. Add to that gusts up to 15 mph on a warm, dry afternoon and it's no wonder only five players broke par.
K.J. Choi was the other with a 1-under 69.
The real marvel was Kim posting eight birdies in his round of 64 in his Tour Championship debut. He attributes most of that to a simple fix in his putting before he teed off.
"It was the most basic thing you can think -- keep you eye on the ball," Kim said. "Now that I've got that under control, I'm going to try to make some more putts."
He didn't have to make them from very far.
Kim hit sand wedge to 2 feet on the third hole and to 3 feet on the fourth. The longest putt he made came from just behind the 11th green when he knocked in a 25-footer to start building a gap between him and the rest of the field that made it to the final event in the PGA Tour Playoffs.
What was so tough about that American party?
"I did a lot of reading that night," Kim said, smiling. "My eyes were tired."
The drama is gone from the FedEx Cup -- Singh made sure of that with two victories -- but perhaps there is one race that could come down to the wire.
Mickelson has a chance to win the Vardon Trophy for the lowest adjusted scoring average, and at 69.52 he leads Garcia (69.53) by one-hundredth of a point. Mickelson at least needs to finish ahead of the Spaniard to capture his first major award on the PGA Tour.
Kim, however, is one-tenth of a point behind at 69.62. Scoring averages cannot be computed until the end of the week, because scores are adjusted based on the average field score for the tournament.
"It would be cool," Mickelson said when asked about the Vardon Trophy. "I don't really understand the mathematics of the scoring average, because it's not really your score."
But he understood a 68 and was pleased with it.
Mickelson made the turn at 4 under thanks to some putting that has been missing most of the year. One errant shot struck a small girl in the knee, and before Mickelson could check on her, his caddie brought some levity to the moment.
"Have you seen our Crowne Plaza commercials?" he said, referring to one scene when Mickelson meets with various fans he has hit in the gallery over the years.
Kim hit mainly fairways and greens, and he took only 26 putts for to match his lowest scores of the year and post his fifth consecutive round in the 60s on the PGA Tour. He played with Mike Weir (70), who watched some of the Ryder Cup on Sunday. He was asked if he saw any of Kim's match against Garcia.
"I saw the start," Weir said. "He got off to a great start."
Four days later, Kim hasn't slowed a bit.