News
Tense Day And U.S. Leads By Two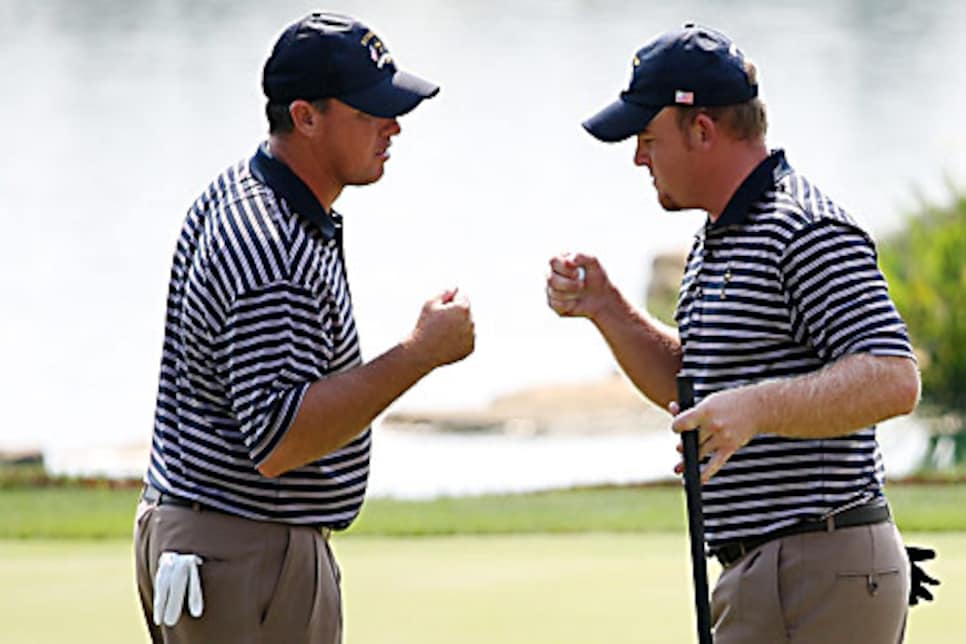 Ryder Cup Rookies Weekley and Holmes have been a lynchpin with 1 1/2 points in two matches.
LOUISVILLE, Ky. (AP) -- Birdie putts fell one on top of the other, almost too quickly to keep up. Fists pumps charged up the crowd, often accompanied by players screaming above the din to celebrate.
Eight matches, 138 holes, 86 birdies, all crammed into 10 hours Saturday at the Ryder Cup.
When a gripping day at Valhalla ended, with both teams huddled on the grassy banks surrounding the 18th green to watch yet another match go the distance, the Americans clung to a 9-7 lead, ahead going into the last round for the first time since 1995.
"Anything could have happened," U.S. captain Paul Azinger said.
Save that thought for Sunday.
The Americans hung on for two key halves in the afternoon fourballs, none bigger than Steve Stricker holing an 15-foot birdie putt on the final hole, finally giving them a fighting chance to wrest that 17-inch gold chalice from Europe.
"We're happy to be in the position we're in," Azinger said. "But there's a long, long way to go. And we know that."
The Americans need only 5½ points from 12 singles matches Sunday to win the Ryder Cup for the first time since 1999, but even with a two-point lead, this Ryder Cup could go either way.
The shotmaking has been spectacular. The shifts in momentum have been unpredictable. Who would have thought Phil Mickelson and Anthony Kim would lose a 4-up lead to Henrik Stenson and Oliver Wilson in the morning, or that Mickelson and Hunter Mahan would lose a 2-up lead with seven holes to play against Stenson and Robert Karlsson?
"It seems like Ryder Cups kind of take things to another level," European captain Nick Faldo said. "The putting and the shots have been amazing. Everything. These guys are able to produce unbelievable stuff at times."
Boo Weekley hit out of a bunker from 144 yards to 2 feet for a tap-in birdie, only for Lee Westwood to match his birdie from 10 feet. For every big putt by Sergio Garcia, Stricker had an answer.
The intensity should return quickly Sunday, with Kim and Garcia in the first of 12 matches. Faldo put two of his strongest players at the end -- Westwood in the 11th match against Ben Curtis, and British Open and PGA winner Padraig Harrington as the anchor against Chad Campbell.
Azinger and Faldo passed each other at the end of the day.
"Tough day in the office," Faldo said.
"A roller coaster," Azinger replied.
It showed in their faces during an afternoon sessions. One minute, it looked as though the Americans would build a 10-6 lead; the next, it looked as though they wouldn't have any lead at all.
Ian Poulter's eyes nearly popped out of his sockets after making a 30-inch birdie putt that looked like 30 feet. Poulter arrived as a controversial captain's pick, but he was the only European to play all four matches and he delivered three vital points.
Europe has built overwhelming leads the last two times, practically icing the champagne on Saturday night.
"It was amazing golf," Azinger said. "It's amazing because there's so much pressure here and so much tension and you see in pressure situations the best performance in sports. A two-point lead is great. To have a two-point lead going into singles, we're happy."
The final margin wasn't determined until Mahan, unbeaten in all four matches in his Ryder Cup debut, hit his approach to the collar of the green for an eagle attempt from 20 feet. Karlsson followed with a second shot in the par 5 that settled 12 feet behind the hole. Both narrowly missed. Both teams exhaled.
For Karlsson, it was his seventh birdie in 10 holes.
"That's an unbelieveable two days," Poulter said. "I think we got a huge piece of momentum today, and the guys are pumped -- proper, proper pumped. This is what the Ryder Cup is all about."
Some of the American rookies found that out.
Weekley toned down his celebration until after his great shots, and there were plenty. Kentucky native J.B. Holmes delivered a putt that put the Americans up over Westwood and Soren Hansen, but Weekley stole the show.
He holed a 25-foot putt off the back of the 14th green for a 2-up lead, then hit a bunker shot to 2 feet on the next hole. Asked where he would rank that shot among the top 10 of his career, Weekley replied, "I reckon No. 9. I done had eight hole-in-ones."
They won on the 17th hole when Westwood failed to extend the match with a 15-foot birdie.
It was the first time in six years the Englishman lost a Ryder Cup match, an unbeaten streak of 12 matches that left him tied with Arnold Palmer and more disappointed for the team than himself.
"The Ryder Cup is not about individuals," Westwood said. "It's about the team."
The rest of the afternoon was a highlight show.
--With the match all square, Karlsson poured in a 12-foot birdie putt at No. 14, and Mickelson followed him in from 10 feet.
--Jim Furyk hit his approach on the 15th within inches of the cup and it looked as if he and Kenny Perry would square their match against Poulter and Graeme McDowell. But McDowell knocked in a nervy 5-footer for birdie.
--Garcia knocked in a 35-foot birdie putt up the ridge on No. 8, screaming, "Come on! Come on!" when it fell. The quiet Stricker then topped him with an 18-foot birdie, and in a rare display of emotion, lunged forward and pumped his fist. "I am not that type of player that you saw out there, I guarantee," he said. "In competition like this, it truly does come out."
--Karlsson was 4 feet away for birdie on the 16th when Mahan dropped a 10-footer.
It was like that all afternoon.
Azinger ripped off his cap in celebration and crossed his fingers before every putt, showing nerves that he swore he wouldn't have.
"My stomach is just churning," he said.
Faldo, meanwhile, must have felt vindicated.
The BBC roasted him throughout the morning for leaving out Westwood and Garcia from the morning session, the European tandem that hardly every loses, and sending out what appeared to be a sacrificial lamb in English rookie Oliver Wilson and Stenson.
They faced Mickelson and Kim, fell four holes behind after six holes, but rallied to tie the match six holes later. With a 1-up lead on the 17th, Wilson holed a 30-foot birdie putt to win the match.
Trailing by three points after the first day, Europe won two foursomes matches and halved another in the morning to pull within two points, winning its first session of the Ryder Cup. After a split in the afternoon, it comes down to Sunday.
Singles traditionally has been the Americans' strength, but no longer.
Europe has the stronger team based on the world ranking. Europe has the won the last three Ryder Cups, and five of the last six. And Europe has trounced the Americans in singles the last two times.
But that was when it held a comfortable lead. For the first time since 1995, they have some catching up to do.