News
Unusual Position For The U.S.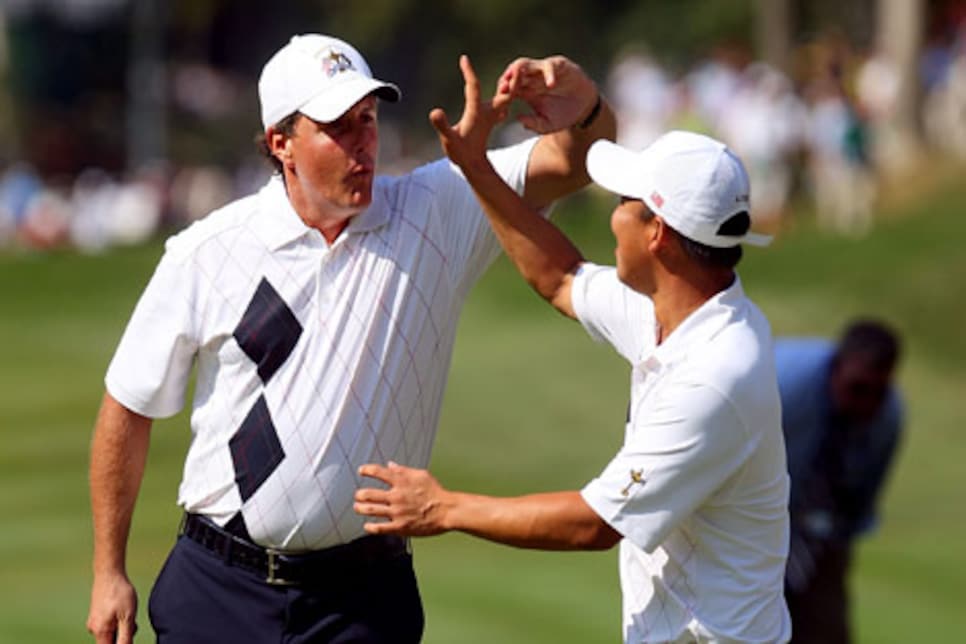 Phil Mickelson and Anthony Kim exchange high fives after nailing down their half point
LOUISVILLE, Ky. (AP) -- The Americans find themselves in an unusual position: leading the Ryder Cup.
Justin Leonard and Hunter Mahan claimed the first point for the U.S., Phil Mickelson and Anthony Kim rallied to halve their match, and a European three-putt at No. 18 handed another win to Stewart Cink and Chad Campbell on a red, white and blue Friday at Valhalla Golf Club.
For the first time since 1991, the Americans were ahead of the Europeans after the opening session. The U.S. grabbed a 3-1 lead in foursomes -- and the early edge heading into afternoon four-ball.
The Europeans gained a boost at the end of alternate-shot matches when their most imposing team, Sergio Garcia and Lee Westwood, rallied to win the final two holes and halve its match with local favorite Kenny Perry and steady American Jim Furyk.
Perry was poised to send the Kentucky crowd into a frenzy when he stood over an 8-foot putt at No. 17 to win the match. But the ball slid by the hole, and Perry followed by knocking his tee shot at 18 into the water right of the fairway.
That allowed Garcia and Westwood to escape with a half point. Padraig Harrington, winner of the last two majors, and Robert Karlsson gave the Euros their only half-point, but that felt more like a loss after they led a commanding lead on Mickelson and Kim slip away.
Indeed, it was an impressive performance by the Americans, who haven't won since "The Miracle at Brookline" in 1999. Since then, the Europeans have won three in a row -- the last two in routs.
The visitors looked to be off and running, surging to early leads in all four matches. Henrik Stenson and Paul Casey won the first two holes against Leonard and Mahan, one of six rookies on the U.S. team. Ian Poulter and Justin Rose were 3-up on Cink and Campbell after seven holes. Harrington and Karlsson looked to be in good shape when they started the back side by winning three straight holes for a 3-up lead with six to play.
But the Americans stormed back, no one more than Mahan. After a shaky start, he teamed with Leonard to put the Americans 2-up by the turn. They didn't even need to play the final two holes.
Leonard rolled in a short par putt at the 16th to clinch the match -- his first victory in Ryder Cup play, though he's still remembered as the hero of Brookline for a 45-foot putt that halved his singles match, giving the Americans their most recent win.
"We had holes left," Mahan said. "We knew we could play better than that. We just had to keep going. Win one hole, then win two, then win three."
Leonard, whose Ryder record was 0-3-5, finally put a whole point on his record.
"It feels great," Leonard said. "I told Hunter, 'I lost those first two holes for us on purpose to take the pressure off.' We had a lot of fun out there and I'm looking forward to this afternoon."