News
The Unconventional Ryder Wisdom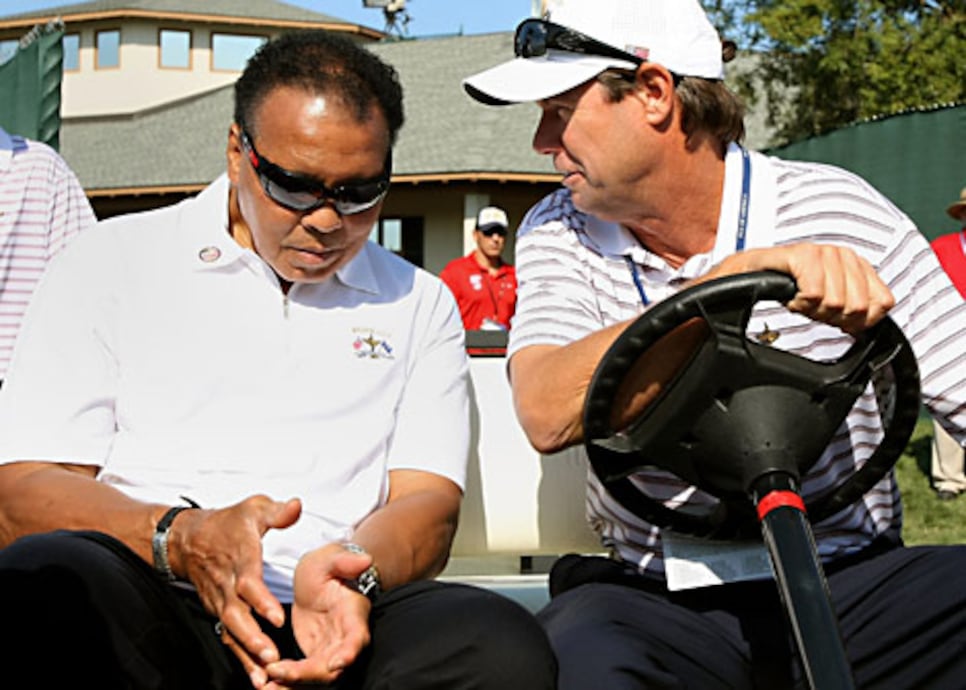 Captain Azinger has got the ear of Muhammad Ali, a man who knows a thing or two about comebacks and unexpected victories.
LOUISVILLE, KY -- On paper, the home team doesn't stand much of a chance. Six rookies, no Tiger Woods, not a single winner of a PGA Tour event since early July. U.S. Ryder Cup captain Paul Azinger wanted a squad full of hot golfers. He ended up with a few guys who could pass for lukewarm.
If the here and now mean anything, America's best player might be 23-year-old Anthony Kim, who made his professional debut the same week the Yanks were trounced by Europe at the K Club in 2006. Kim may emerge as the breakout star of this Ryder Cup, but on the eve of the '08 matches, his enormous talent is neutralized by a lack of experience. At least, that's what conventional wisdom tells us.
Of course, you don't have to listen. For all the reasons that make the U.S. a clearcut underdog at Valhalla, there is one formidable argument: They play the Ryder Cup on grass, not paper, and no event has defied predictability more noticeably in the last 25 years. Yes, the Americans are unproven and inferior when stacked man to man against their opponent, but Azinger has insisted all along that inexperience means no competitive scar tissue, no recurring nightmares of Sergio Garcia holing another 20-footer, and there may be something to that mindset.
To predict a U.S. victory would be a reach in any context, but Valhalla won't be the same lopsided deal that unfolded so swiftly in '04 and '06. This European side is not as strong from top to bottom. The home site should be worth two points to the Yanks, especially with Azinger managing the nuances of the course setup. Losing Woods obviously hurts, but Tiger has never contributed more than three points to the five teams on which he has played, which makes him neither replaceable nor essential to the cause.
More than anything, however, Azinger's squad is different, and different can't be bad when you've lost back-to-back Ryder Cups by nine points apiece. However strong the urge may or may not have been, Azinger resisted the temptation to use his captain's picks on familiar faces. Granted, none of the veterans had done a thing to warrant a spot on the team, but previous skippers almost instinctively chose guys who had "been there before," a mentality that has backfired in a number of instances.
Some knowledgeable observers will tell you a Ryder Cup's outcome is often determined by the play of its rookies, which isn't exactly a bold statement this year. Nine of the 24 participants are first-timers, and of the half-dozen in red, white and blue, each has an upside. Hunter Mahan played exceptionally well at the Presidents Cup last September. Boo Weekley is one of the finest ball-strikers on earth, Steve Stricker one of the game's most reliable putters.
Ben Curtis has displayed a recent level of consistency clearly absent during his first five years on the tour. Monster hitter J.B. Holmes hits the ball so far that his value in a team format cannot be underestimated if those 350-yard wallops lead to scoring opportunities. A native Kentuckian, Holmes knows this course better than some of the greenskeepers. Sometimes, a small advantage can become a big one.
Then there is Kim, a young man with all the tools for greatness and an effusive swagger that makes him unlike anyone on this or other recent U.S. teams. The kid putts fearlessly, playing with a prudent aggression that has placed him at or near the top of so many leader boards over the last six months. He is likely to begin this Ryder Cup paired in a foursomes match with Phil Mickelson, who is clearly the leader of this U.S. squad but hasn't been in peak form in the weeks leading up to this Ryder Cup.
At the end of the day, Mickelson is the most talented and accomplished player at Valhalla. If Kim can help him get an early point, the positive momentum will belong to the Yanks, and if we've learned anything over the last 25 years, it's that momentum goes a long way when you're playing for a flag.