News
Stanford Wins First Title Since 2003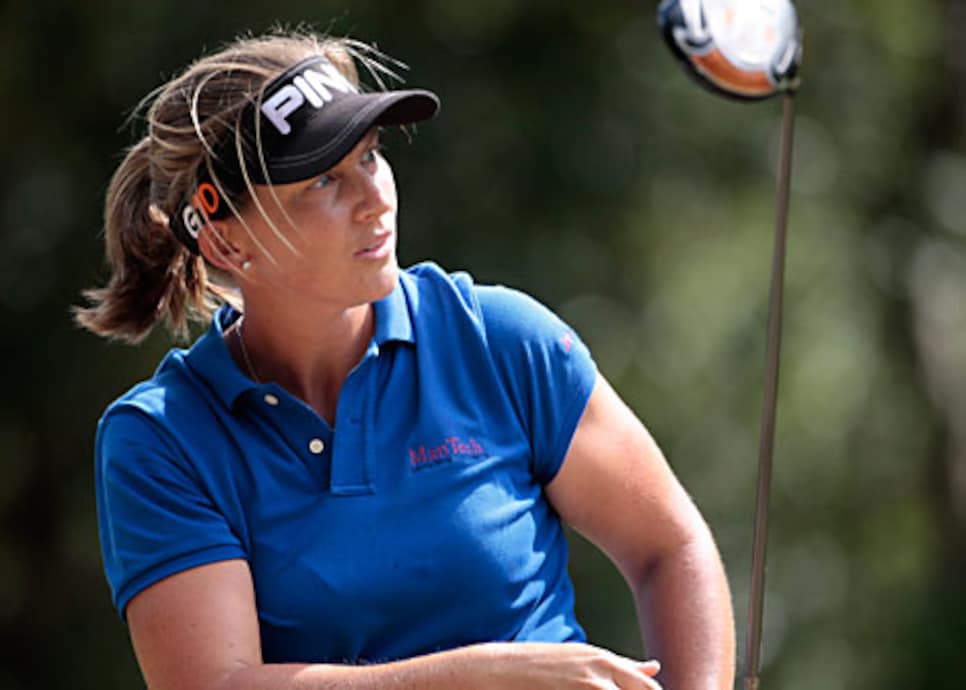 The short par putt Stanford holed on 18 let her avoid a playoff.
MOBILE, Ala. (AP) -- Angela Stanford won the Bell Micro LPGA Classic on Sunday for her second career LPGA Tour title, holing a 3½-foot par putt on the final hole for a 1-over 73 and a one-stroke victory over China's Shanshan Feng.
"It's been so long," said Stanford, also the 2003 ShopRite LPGA Classic winner.
The 30-year-old Texan, four strokes ahead entering the day after consecutive 67s in the second and third rounds, had an 11-under 277 total on The Crossings course at Magnolia Grove. She earned $210,000.
The 19-year-old Feng birdied the 18th for a 68.
Kim Hall was third at 8 under after a 69, and Hee Young Park (70), Danielle Downey (70) and Katherine Hull (73) followed at 7 under.
Stanford had four birdies, three bogeys and double bogey in the final round.
"I'm more relieved than excited. I'm just relieved that I did it again," Stanford said. "I honestly believe the second time is harder, because the first time you don't really know what's happening and then you just try to do it again. I've been trying, and probably too hard."
Sanford missed a 3-foot putt for birdie on 17 and a 12-foot birdie try on 18 before make the 3½-footer for par to claim the title.
After the putt, she dropped her putter and turned and hugged caddie Dan Chapman. Fellow players Brittany Lincicome and Kristy McPherson then ran onto the green and showered her with champagne.
"I didn't get that my first time," Stanford said of the shower. "I won (the first time) in my third year and I feel like I'm a different person now. I think it's with anybody, you kind of grow up. You've seen a lot of peaks and valleys in five years."
Feng had her chances to earn her first career win, lipping out on a putt for eagle on 16. She did eagle the fourth hole, her fourth eagle of the tournament and second on the 448-yard, par-5 hole. She also eagled 16 twice.
"I was pretty nervous at the last hole because I had a chance to win, but I had to make birdie," said Feng, who shared the first-round lead. "I was very happy, but I knew that's what I could do. I did my best. ... I really want to win, but I know I'm still young so I'll have my chances."