News
Spider-Man Breaks Through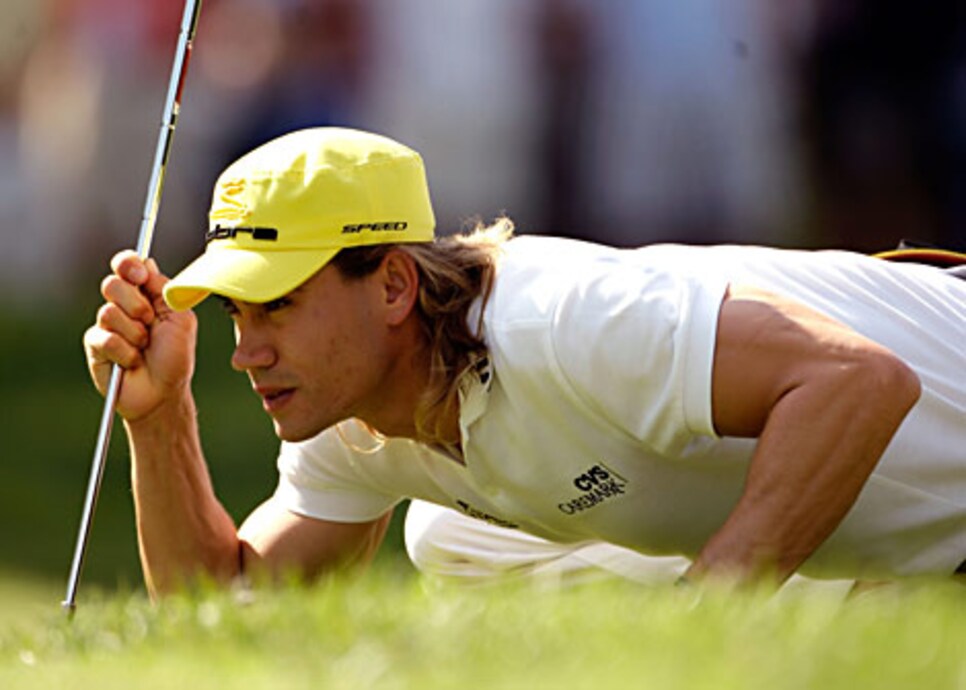 With just the Tour Championship remaining, Villegas' win gave Vijay Singh a virtual lock on the FedEx Cup.
ST. LOUIS (AP) -- For three years, Camilo Villegas managed to make a name for himself without winning.
He was the young Colombian with model good looks and chic clothing, limber enough to strike a pretzel-shaped pose on the green to read putts, earning him the nickname "Spider-Man." Trouble was, not many of those putts went in.
That changed Sunday at the BMW Championship.
Clinging to a one-shot lead on the back nine at Bellerive, Villegas saved par with a 12-foot putt, followed that with two birdie putts and finished off a 2-under 68 for a wire-to-wire victory and his first PGA Tour title.
"It was a pretty good little stretch there that just tested my nerves and showed myself that I was good enough to stay out there," Villegas said.
Villegas pulled away from Jim Furyk, held off Anthony Kim and wound up winning by two shots over Dudley Hart, who birdied his final two holes for a 65. It was Hart's best finish in four years and it earned him two trips to Georgia -- the Tour Championship in two weeks and the Masters next April.
With one playoff event remaining, the FedEx Cup essentially is over.
Vijay Singh, who won the first two events, tied for 44th and earned enough points that all he has to do is complete four rounds at the Tour Championship in two weeks to collect the $10 million payoff.
But the surly Singh didn't seem terribly grateful.
In a move that took some shine off the tour's new prize, Singh refused to speak to NBC Sports and walked briskly past a group of other media after finishing his round.
A marketing dream, Villegas gave golf fans a real reason to pay attention to him.
The 26-year-old from Medellin turned his fortunes Saturday after four-putting for double bogey that cost him the lead in the middle of the second round. He didn't have another three-putt the rest of the tournament.
"It rattled me in a good way, because I had been putting so good all week, and all of a sudden I four-putt," Villegas said. "But I looked at my caddie and said, 'Listen, man, let's don't let those two bad strokes get in our way.'"
Villegas finished at finished at 15-under 265 and collected $1.26 million.
"It's awesome to be here," said Villegas, who wore a solid white outfit accented by a yellow belt and painter's cap. "Hopefully, it's the first of many."
Villegas had been building toward a moment like this in the last few months. He was near the lead going into the weekend at the British Open, rallied to finish fourth in the PGA Championship, then started the final round last week at the Deutsche Bank Championship one shot behind until faltering.
He had ample opportunity to let this one get away, too.
First came back-to-back bogeys on the front nine, losing the lead to Jim Furyk. But the real test came on the back nine, when Villegas found a bunker off the tee at the par-4 12th, laid up short of the green and hit wedge to 12 feet.
He sank the par putt to keep the lead, then seized control.
Furyk hit his tee shot into a bunker on the par-3 13th and made bogey, while Villegas took yet another aggressive line and holed a 10-foot birdie to build a three-shot lead. Then came a 35-foot birdie putt on the 14th that sent him on his way to victory at Bellerive.
Kim rallied late to get within two shots, but he sent his approach into the bleachers on the 18th and made bogey for a 67, leaving him a tie for third with Furyk, who shot 70.
"Camilo played great," Kim said. "He deserved it, made some key putts when it counted, and overall he just handled himself beautifully out there."
Villegas' appeal began two years ago at Doral when he finished in a tie for second behind Tiger Woods before a Miami crowd loaded with Hispanic fans. Then came his "Spider-Man" style of reading putts, contorting his body into a horizontal position to keep his eyes as close to the ground.
Endorsement deals and photo shoots followed, not to mention a strong following of females in his gallery. All he lacked was a PGA Tour trophy, which he earned over three days in a weather-plagued event.
Villegas went over $3 million in earnings for the year and likely will move into the top 20 in the world ranking.
And he still has a mathematical chance for the FedEx Cup.
He moved up to No. 2 in the standings, but even if he wins the Tour Championship and Singh finishes last, Villegas still would finish 101 points behind. His only hope is to win at East Lake and for Singh to withdraw or get disqualified.
The volatile points system introduced his year brought some fresh faces to East Lake for what once was the tour's All-Star game for the top 30 players on the money list. Among those who advanced to the final round of the playoffs were Kevin Sutherland, Ken Duke, Tim Clark, Bubba Watson and Hart, who moved up 53 spots to No. 14.
Hart saw that he was tied for third as he stood in the 18th green. He turned to his caddie and said if one person passed him, he was out of the top 30.
"I basically told him, 'Birdie or bogey.' I said, 'Let's try to give this thing a run,'" Hart said. "It was one of those things where I was going to give it a run and hit the best putt I could. And fortunately, it went in."
The final spot went to Chad Campbell, who got no points this week after withdrawing Saturday to fly home to Dallas after learning his wife went into labor. Dix Phillip Campbell was born later that evening.
Golf now goes dark next week -- no PGA Tour events -- before the Ryder Cup matches Sept. 19-21.