News
Vijay Reaches For The Cup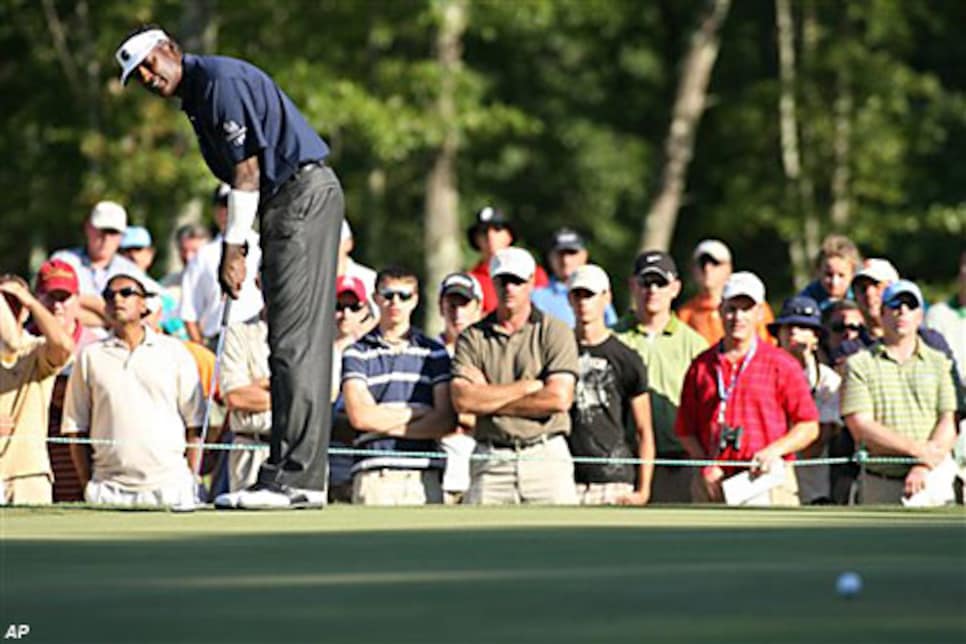 Vijay needed only 23 putts on his way to a final-round eight-under 63.
NORTON, Mass. (AP) -- Another victory for Vijay Singh is turning the FedEx Cup into another snoozer.
Singh made three long birdie putts and closed with an 8-under 63 to win the Deutsche Bank Championship on Monday for his second straight victory in the PGA Tour's playoff system. That gave him such a big lead that he could win the $10 million prize without even showing up at the Tour Championship.
Attribute this to the power of positive thinking.
Singh, who has long struggled with the putter, convinced himself last week that he was the best putter in golf when he won The Barclays in a three-man playoff.
He made a few more believers on Labor Day at the TPC Boston.
Singh rolled in a 35-foot birdie putt on the 13th hole to stretch his lead to three shots, then raised the belly putter like a trophy when he holed a 60-foot birdie putt on the next hole. He capped off his amazing run with a 35-foot birdie on the 17th hole.
"It's nice to see them going in," Singh said. "When they start going in, they believe it."
Weir, who had a one-shot lead until a double bogey on the ninth hole, simply couldn't keep up. He closed with a 71 to finish five shots behind, dropping his record to 1-9 on the PGA Tour when he has at least a share of the 54-hole lead.
Singh finished at 22-under 262 to break the tournament record by two shots in the six years of this event. It was his third victory in the past five weeks, after going through his longest drought in six years, and it should be enough to move him up to No. 3 in the world ranking.
"He played amazing. It was awesome," said Sergio Garcia, who was paired with Singh and closed with a 72. "I don't think you guys are going to realize how good that was, because you're aren't playing and you don't know how tough the course was playing. When Vijay plays like that, it's hard to beat him.
"It's like when Tiger plays well," he said. "You want to beat him, but it's good to watch. You're watching history."
The victory meant that after more than two months with Tiger Woods sidelined by season-ending knee surgery, someone finally toppled him on the PGA Tour money list. Singh, who collected his 34th career victory, moved to No. 1 on the list with $1.26 million in earnings.
But there is one comparison with Woods that the PGA Tour could do without.
Just as Woods destroyed the competition in the first year of the FedEx Cup finale, Singh is headed in the same direction and could turn the Tour Championship into merely an exhibition.
Singh has 120,500 points, giving him a 12,225-point lead over Garcia, who tied for fifth. That means Singh is assured of having the lead going into the Tour Championship, and another top finish might be enough to wrap up the title if none of the guys immediately behind him win in St. Louis next week.
"I'm going to go out and play really hard," Singh said. "If I have another win, it will be icing on the cake. But I don't take anything for granted."