News
Labor Day Shootout In Boston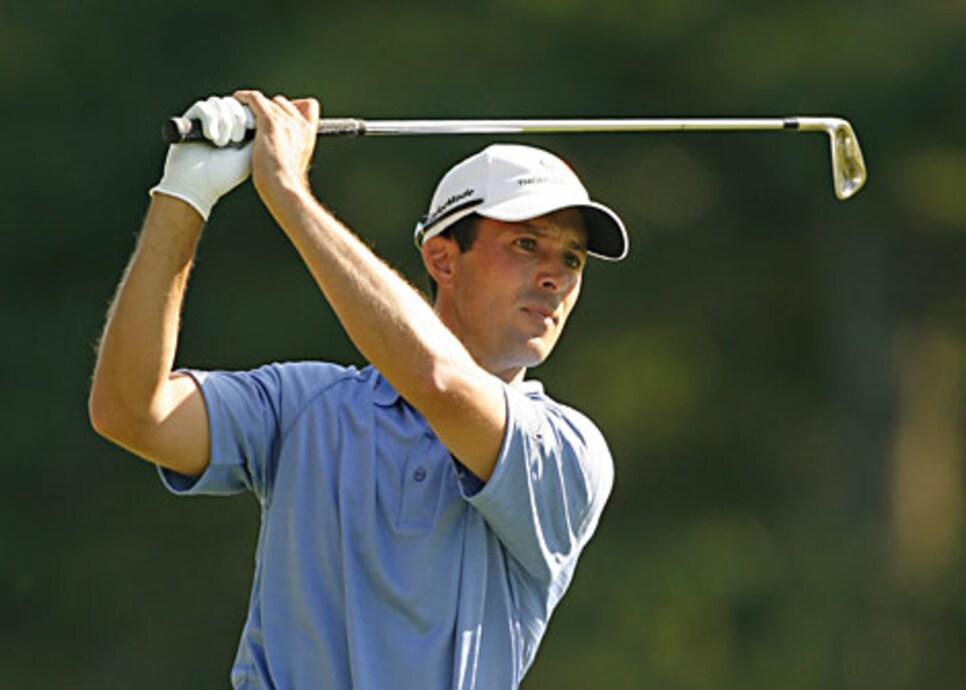 Three birdies in his final five holes propelled Weir to a four-under 67.
NORTON, Mass. (AP) -- Sunshine began to bake the greens, the wind kept players guessing and the birdie cheers kept right on coming Sunday in the Deutsche Bank Championship, the final one for Mike Weir.
His third birdie over the final five holes gave him a 4-under 67 and a one-shot lead.
And it meant next to nothing.
"I've got my hands full," Weir said after patching together a good score despite marginal shots.
First came a pair of 63s from Ben Crane and Camilo Villegas, the kind of score no one thought possible in such blustery conditions. Then came the steady surge of Sergio Garcia and Vijay Singh, and a late charge from Ernie Els and Jim Furyk to set the stage for the Labor Day finish.
Expect everyone to work extra hard to win the Deutsche Bank Championship.
"One less than the guy who comes in second," Garcia said when asked what it would take to capture the second stop in the PGA Tour Playoffs for the FedEx Cup.
It starts with Weir, who hit only half of the fairways and half of the greens. He has been around the lead all week, but had to grind out a score to stay there, including a superb 7-iron to 3 feet on the 14th, chipping in for birdie on the 15th and the final birdie on the 18th.
Weir was at 17-under 196, the 10th time the Canadian has had at least a share of the 54-hole lead on the PGA Tour. He has converted only of those chances into a victory.
"There's great players on the leaderboard," Weir said. "Some guys that are hungry to win for the first time, guys that haven't won many times, and I'm trying to do the same thing. I just want to keep playing my type of golf. Hopefully, I can hit it a little better and find a few more fairways."
Villegas ignored the swirling wind and took only 22 putts in his round of 63, which put him in the final group Monday with Weir, one shot behind and perhaps his best chance for his first PGA Tour victory.
Three shots behind were Garcia (68) and Singh (69), part of the playoff last week at The Barclays that Singh won to move atop the FedEx Cup standings.
And right behind them were Furyk, who birdied three of his last four holes for a 69; Els, who made eagle on the final hole after nearly holing a 5-iron and posting a 69; and Crane, whose 63 came much earlier in the day.
Ten players were separated by five shots going into the Labor Day finish, the kind of shootout the Deutsche Bank Championship always seems to produce.
"I have to go out there and play good golf," said Singh, who won at the TPC Boston in 2004 when he rose to No. 1 in the world ranking. "I have to go out there and just go around the golf course and win. I think the guys that are leading are playing good golf."
Tiger Woods isn't around to take part in this one, and neither is defending champion Phil Mickelson. He played an ordinary round of 1-over 72 and missed the 54-hole cut, leaving questions about whether he will play next week in St. Louis in the third round of these playoffs.
Conditions were much more difficult, but Villegas and Crane sure didn't take notice.
"I thought a 66 or a 65 would be a great round," Garcia said. "I didn't see a 63."
Villegas relied on a tip from Singh -- the power of positive thinking. Neither is regarded as a wizard with the putter, but Singh won last week at The Barclays after saying he would stop paying attention to negative comments about his short game and believe he was among the best.
"Starting this year, I decided to tell myself something similar to what Vijay told himself last week, that I'm a great putter and that I'm a lot better than people think and people write," Villegas said. "So today was a good reflection. And if you look at my putting stats for the year, I'm one of the great putters on tour."
Which tour he was talking about remains a question, however, as Villegas is not among the top 80. But the Colombian was brilliant in the third round, taking only 22 putts, including a birdie on the 14th that he thought he left short. Villegas immediately pulled up out of his stance and walked toward the cup, stopped, then shrugged his shoulders when it dropped.
Equally important was judging the wind, which seemed to blow sideways on every hole and was so tricky that players had a tough time deciding if it was hurting or helping their shots.
One such moment came at the 12th, with the pin tucked to the right over a hazard. Villegas hit a 9-iron that turned out perfect, caught the slope and stopped 12 feet away.
He believes he is ready to win, but his task is no easier than what Weir, Garcia, Singh, Els or anyone else faces. More wind is in the forecast, and the TPC Boston likely will play as tough as it has all week.
Villegas kept watching young players win -- Anthony Kim, J.B. Holmes, Andres Romero, Sean O'Hair -- and wondered why he couldn't join them.
"It's getting into me in a good way," Villegas said. "It's time to step it up and give a little kick on my butt and join them. So I've been working on that."
Garcia had one scary moment with a shot out of the thick rough on the 17th, in which the club stuck into a clump of grass. He said his wrist stung, but it didn't bother him on the 18th, even though he missed an easy birdie chance. The Spaniard would love another chance to win, coming off his runner-up finish at the PGA Championship and The Barclays.
"I have a chance tomorrow," Garcia said.