News
Going Low: Clark's 62 Grabs Lead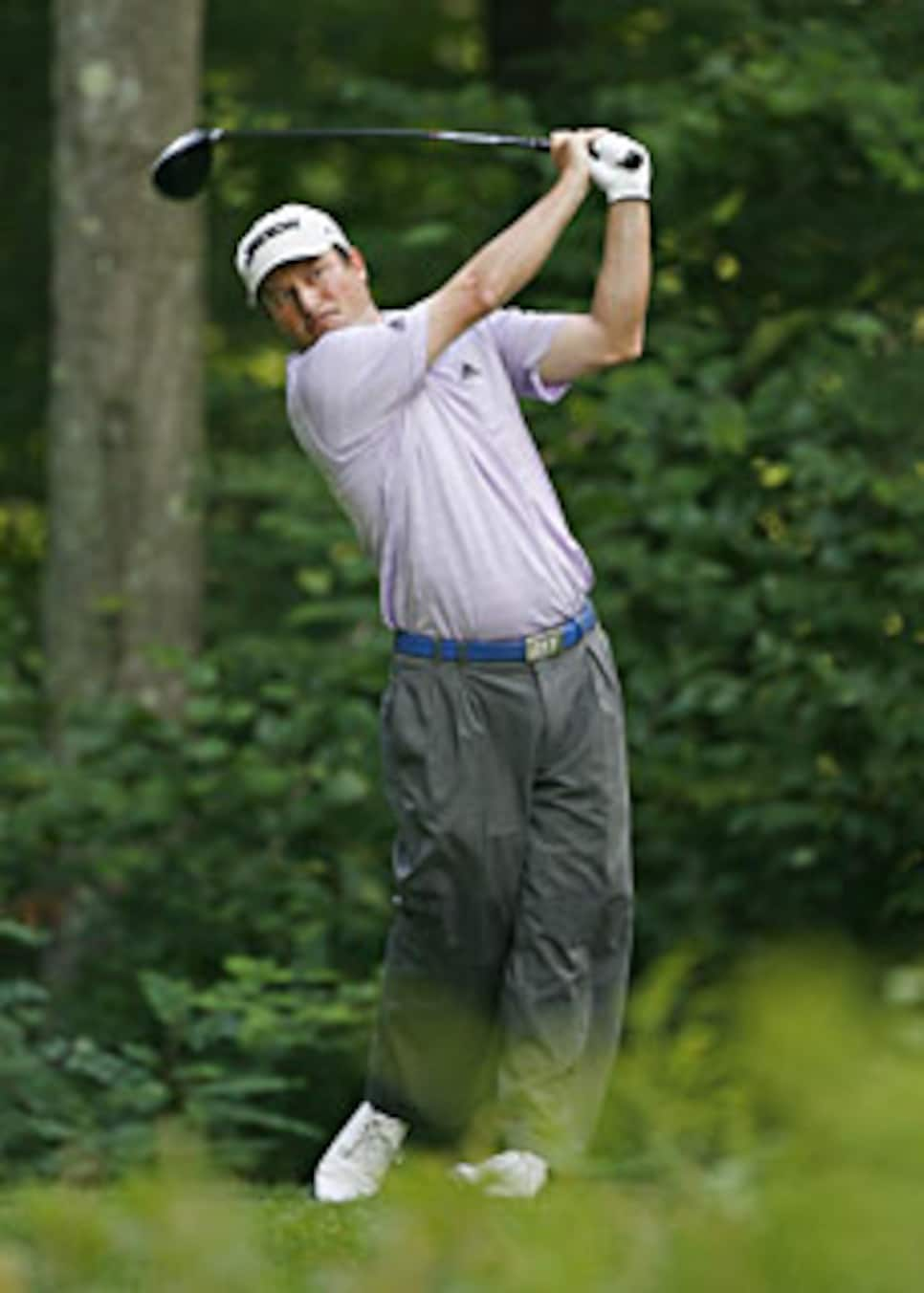 Needing only a birdie and a par on 17 and 18 to get a 59, Clark bogeyed both.
NORTON, Mass. (AP) -- Tim Clark needed only one birdie over his final two holes to shoot 59. He finished with consecutive bogeys and had to settle for a one-shot lead Saturday in the Deutsche Bank Championship.
He still matched his career low with a 9-under 62 on soft and vulnerable TPC Boston, giving him a one-shot lead over Mike Weir of Canada at the halfway point of the PGA Tour's second playoff event.
"It just was strange," Clark said. "I felt good all day and just kept making birdie after birdie after birdie. And then on the front nine, a couple of eagles really boosted the round. For a while there, there certainly was a chance of 59."
On another day of lowing scoring, Clark was trying to get into contention when he shot to the top of the leaderboard by playing a six-hole stretch in 7 under, including two eagles. After a wedge to 3 feet on the par-5 seventh put the South African at 11 under for the round with two holes to play, it all fell apart.
Clark missed the green on the par-3 eighth and failed to convert an 8-foot par putt.
"That was the end of the dream," Clark said.
He missed the ninth fairway, watched his approach bound through the green and he missed his 10-foot par putt for a 62, putting him at 14-under 128.
Weir, who tied the course record Friday with a 61, took a while to warm up until he settled in for a 68. He prefers a stiffer test, but the former Masters champion has won at places like the Bob Hope Classic.
"I'm going to have to do a little better," Weir said.
Vijay Singh, who won The Barclays in a playoff last week to lead the FedEx Cup standings, picked up three birdies on the final four holes for a 66 and was two shots back at 12-under 130, along with former British Open champion Ben Curtis, who had a 65.
Jim Furyk (65), Sergio Garcia (64) and Ernie Els (65) were in the group at 131 that also included Kevin Streelman, who is turning into this year's poster boy of how playing well can pay off big in this points format.
Streelman was No. 102 when the playoffs began, tied for fourth at The Barclays to move up to No. 37, and is continuing a strong run that began after the U.S. Open. The PGA Tour rookie from Chicago is 78-under par in his last eight tournaments, plus these two rounds.
"We all get on streaks where you feel like things are going well, and you try to ride it as long as possible," Streelman said. "And I feel like I've been playing some good golf."
He is assured of making the third round next week in St. Louis for the top 70 in the standings, but that isn't the case for some of those who missed the cut.
That group includes Retief Goosen, Rich Beem, Fred Couples and a couple of Europeans who wasted one last chance to impress Ryder Cup captain Nick Faldo as they try to make the European team.
Ian Poulter (74) and Paul Casey (73) both missed the cut, and Poulter lashed out at the media for causing such a distraction that he wasted energy on the wrong things.
"It's a joke," Poulter said. "It's not the kind of buzz you want to play golf on, trust me. The kind of nonsense that's been in my head for a whole week is not the right kind of pressure.
It's nonsense," he said. "You've read it. You've wrote it. Some of you might be guilty or not, I don't know. But boy, what one hell of a week."
Defending champion Phil Mickelson nearly joined them, especially after he found the water on No. 16 for a double bogey. But he answered with a 33 on the front nine for a 70 to make the cut on the number at 3-under 139.
And here's a playoff first: Because more than 78 players made the cut (86), there will be a 54-hole cut on Sunday to the top 70, meaning some players, such as Rocco Mediate, better play hard.
Strangely enough, Clark only cared about making the cut when he began the second round.
He put those fears to rest quickly with birdies of 20 feet and 15 feet on his opening two holes, added an 18-foot birdie on the 14th hole, then turned it on starting with the 17th.
His 7-iron settled 2 feet away for birdie, then came an easy up-and-down from behind the par-5 18th green. Clark hit a 9-iron to 2 feet on No. 1, then a 3-iron hybrid over the hazard to 8 feet for eagle on No. 2.
Golf's magic number didn't cross his mind until a big drive to the front edge of the par-4 fourth, and an eagle putt from just over 20 feet that put him 10 under through 13 holes.
Two more birdies over five holes would have allowed him to sign for a 59.
"Although I had 59 in my mind once I made that putt, it certainly didn't affect my golf," Clark said. "I hit a couple of bad tee shots coming in, but I certainly felt I could hit a few good shots."
The birdie on No. 7 gve him hope, especially with a front left pin on No. 9 that allowed for birdies.
"But No. 8 was always going to be tough," he said. And that proved to be true.
Even so, he had the lead at the Deutsche Bank Championship, giving him another chance to earn his first PGA Tour victory and move to No. 2 in the standings.
But under the soft conditions and low scores, a one-shot lead with 36 holes left can evaporate quickly.