News
Youngest U.S. Am Champ Ever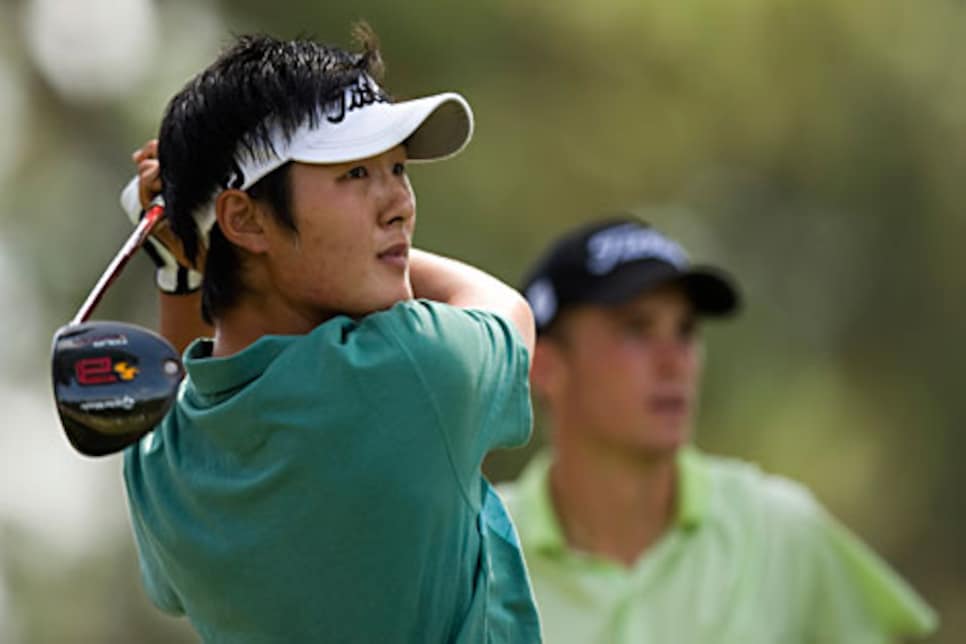 The U.S. amateur is the most grueling battle in amateur golf: 11 consecutive days of competition.
PINEHURST, N.C. (AP) -- Danny Lee became the U.S. Amateur's youngest champion, supplanting Tiger Woods by holding off Drew Kittleson 5 and 4 on Sunday.
The 18-year, 1-month-old Lee frittered away most of a 6-hole lead before regaining control with consecutive birdies midway through his second trip around Pinehurst's No. 2 course. He capped his 11th consecutive day of competitive golf by sinking a 30-foot birdie putt on the 14th, dropping his putter and thrusting his fists into the air in celebration.
Lee, who is six months and 29 days younger than Woods was when he won the first of his three Amateurs in 1994, joined 2005 U.S. Open winner Michael Campbell as New Zealanders to claim championships at Donald Ross-designed No. 2 and became the fourth foreign-born Amateur champion in six years.
The victory gives him exemptions into the U.S. and British opens, a probable invitation to The Masters and a 10-year exemption into the U.S. Amateur, as long as he remains an amateur.
Kittleson, a Scottsdale, Ariz., native who plays for Florida State, made things interesting in the afternoon. He had birdies on the third and fourth holes before closing to 2-down on the par-4 seventh by chipping in from about 30 yards for eagle.
Lee reasserted himself on the ninth, placing his tee shot about 8 feet from the hole and sinking his birdie putt. He regained his 4-up lead on the par-5 10th with a five-foot birdie putt that followed a behind-the-green chip that buzzed past the flagstick.
For Lee, it was an exhausting finish to a whirlwind few weeks. He won both medalist and match play titles at the Western Amateur and tied for 20th in his PGA Tour debut at the Wyndham Championship across the state in Greensboro the day before he started at the Amateur.
After two rounds of stroke play, he began a seemingly unchallenged charge through the bracket to the finals. But unlike his previous five matches, this one was never easy.
Lee, who entered having trailed on only one hole since Wednesday, quickly went 2-down to Kittleson through five holes, before surging back into the lead midway through his morning trip around the course.
He squared the match with a par on the par-3 ninth, starting a successful string in which he won five of seven holes -- with birdies on four of them. He was up 5-up after one trip around the course, then increased his lead to 6-up with a par on the par-4 second.