News
Simpson's Putter Leads The Way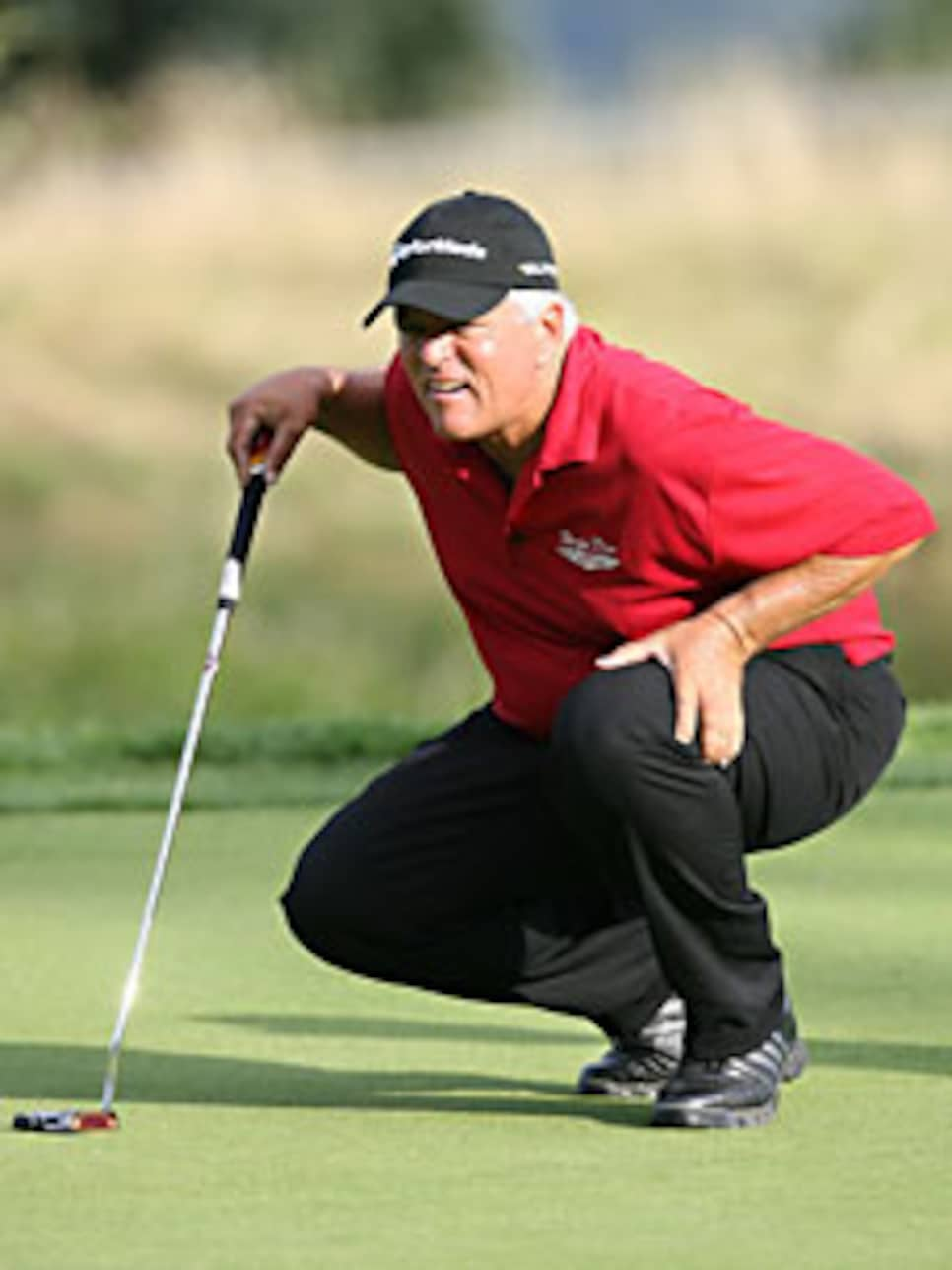 Snce changing his putter earlier this month Simpson has only two bogeys in 104 holes.
SNOQUALMIE, Wash. (AP) -- Scott Simpson thought shooting 65 or 66 at the TPC Snoqualmie Ridge wasn't out of the question for someone playing well.
Then he went out and proved it.
Riding a new putter, Simpson matched the lowest round of the tournament with a 6-under 66 on Saturday and holds a two-shot lead entering the final round of the Boeing Classic.
Simpson made five birdies on the back nine, running off a string of one-putts and surging away from a pack of chasers to put himself in position for his first victory in nearly two years. It's the first time on the Champions Tour that Simpson leads going into the final round.
"I probably didn't hit it as good as today as I did yesterday, but my putter really got hot," said Simpson, a former U.S. Open champion. "It seemed like I was one-putting every hole."
Simpson started the day even with Mark Wiebe at 5-under, and made his charge on the back nine with birdies on Nos. 10, 11, 13, 14 and dropped a 15-footer on No. 16. Simpson avoided his first bogey of the tournament by dropping a 14-foot par putt on the 17th, then pared the 18th to hold a two-shot lead over David Edwards. Simpson had just 24 putts in his round, including one-putts on six straight holes between Nos. 9 and 14.
Simpson changed his putter after the U.S. Senior Open earlier this month and the results are impressive: he has just two bogeys in his last 104 holes.
Simpson's last victory came two years ago at the Wal Mart First-Tee Open at Pebble Beach. That victory came a week after he shot 61 in the second round of the Boeing Classic, only to find himself one shot out of a playoff on Sunday.
"It's great to get the putter rolling. Obviously it helps your score, but it helps your psyche as well," Simpson said.
But in true fashion of this 4-year-old tournament, Simpson doesn't find himself with much of a cushion heading into Sunday's final round, which was pushed up by two hours because of an incoming storm expected to hit the area later Sunday.
Edwards was equally solid, shooting a bogey free round, and dropped all five of his birdies on par 4's, some of them the most difficult holes on the course.
Tom Kite, champion two years ago when Simpson shot a course-record 61 in the second round, was three shots back following a 67 that briefly had him in the lead early in his round before seeing Simpson and Edwards pushed ahead on the back nine. Wiebe was also three back.
Kite left his 30-foot birdie putt on 18 hanging on the lip, one of a number of shots Kite felt he left on the course, despite being pleased with his 5-under round.
"It's hard to complain with 67, but it was one of those rounds that really could have been something special," said Kite, whose last victory was in 2006 at this tournament. "I had some opportunities on the front nine I let get away and then I had opportunities on the back, some holes I didn't take advantage of. It's nice to be in the hunt ... but it was one of those could of, should of."
Bruce Fleisher is at 7-under after shooting 68 and Bruce Vaughan and John Cook lead a group of four golfers at 6-under. Playing in the same group, Cook and Vaughan fed off each other, with Cook making four birdies in his first six holes, then Vaughan added six birdies in his last 11.
Playing in the first group off the 10th tee, Lonnie Nielsen was 7-under for his round heading to his 18th hole, but hit his tee shot on the par-3 ninth into the rough and made bogey. He is at 5-under for the tourney.
Also lamenting mistakes was Wiebe, who struggled with his putter on the back nine. He drove the green on the par-4 14th, which required a 300-yard drive across the tree-lined canyon, bowing toward the cheering fans at the top of the ridge after his shot finished within 20-feet. Wiebe saw the eagle putt lip-out, then missed a 2-footer coming back for birdie.
He again had a short birdie chance on 16, but missed from inside 5-feet.