News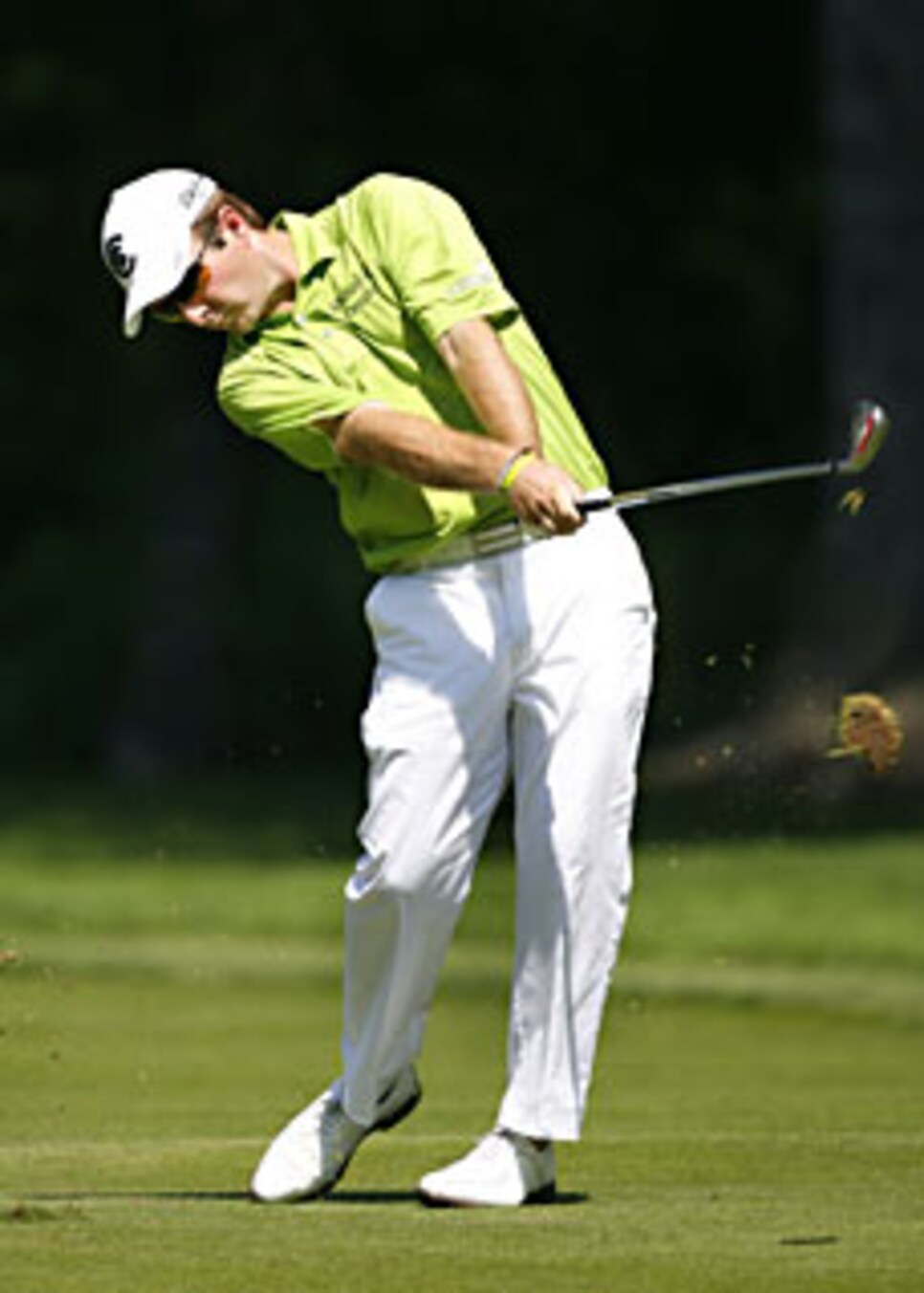 Streelman credits his pairing with Tiger at the Buick with helping to prepare him for the pressure.
PARAMUS, N.J. (AP) -- Steve Stricker shook his head and flashed a wry smile when he walked out of the scorer's room Saturday at The Barclays.
If nothing else, the defending champion was glad he was finally off the sun-baked Ridgewood Country Club course after a humbling round that left Kevin Streelman atop the leaderboard and more than two dozen players in the title chase.
"I just stunk it up," Stricker said. "I've got to try to regroup."
He lost a ball and the lead on the par-4 12th.
After fading a drive into the rough, his aggressive approach shot from a tough angle skipped along the far side of the left rough and into a tangled mess of shoulder-high grass, bushes and weeds.
Despite TV replays and a large search party, the ball couldn't be located and Stricker -- four strokes ahead after 10 holes -- took a penalty stroke and trudged back to the spot where he hit the costly shot.
The winner last year at Westchester Country Club, Stricker advanced the new ball 40 yards short of the green, hit his fifth shot 30 feet past the hole and two-putted for a triple-bogey 7 to drop to 7 under -- a stroke behind Sergio Garcia.
"I got off to a good start, then I made two stupid plays in a row on 11 and 12," Stricker said. "The one at 12 was one of the dumbest plays I ever made trying to do what I did out of the rough there. From that point on, it was a struggle to get in."
By the time Stricker signed for a 6-over 77, he was four strokes back at 4 under in a 12-way tie for 11th. On Friday, he shot a 7-under 64 in perfect morning conditions to take a three-stroke lead over Hunter Mahan in the FedEx Cup playoff opener.
Stricker was 12 under through six holes, then dropped a stroke on No. 7 to end a 23-hole stretch without a bogey. He also bogeyed the 11th, made the triple on 12 and dropped three more strokes with bogeys on 14, 16 and 17.
"It's tough," Stricker said. "It got a little crusty and the wind picked up a little bit. But I didn't do very well."
Streelman, a 29-year-old Q-school graduate in his rookie season on the PGA Tour, took the lead at 8 under with a 25-foot birdie putt from the fringe on the par-4 16th and parred the final two holes for a 68 and an 8-under 205 total.
"It will be a fun day for me," Streelman said. "I'm interested to see how I kind of react to it. That's what I've been working for my whole life."
Streelman made news this year at Torrey Pines, playing with Tiger Woods on the weekend in the Buick Invitational in January and sharing the first-round lead in the U.S. Open in June on the San Diego course.
"That day with Tiger was the greatest preparation I ever could have imagined," Streelman said. "I know it will be crazy tomorrow, but I guarantee you it won't be quite as big as that day in San Diego with Tiger."
The former Duke star's parents are from nearby Glen Rock and his grandparents are buried in a cemetery next to the course.
"My cousin came and watched me last week and told me," said Streelman, 102nd in the FedEx Cup standings. "I was like, 'Well, that's kind of cool.'"
Vijay Singh, a three-time winner at Westchester, shot a 66 to join Garcia (69), Mike Weir (67) and Paul Casey (69) at 7 under. Garcia, a two-time champion at Westchester, had six birdies and four bogeys.
"It's dried out quite a bit," said Singh, the winner three weeks ago at Firestone. "The rough is less thicker. ... I think they stopped watering it, so you can actually play. It's playable, and some places, you can get yourself in big trouble.
"But I think it's playing really well. The greens have been drying out really fast, and depending where the pins are tomorrow, it's going to be a tough day."
Tricky, shifting wind made club selection difficult on the tree-lined A.W. Tillinghast layout -- the first-time site after 41 seasons at Westchester -- and further hardened the small, stressed greens that started to turn purple in spots.
"That little 10-mph wind, with the big trees, it has that Augusta feel where you think it's going this way and it might go this way and that's the difference between maybe having as 10-footer or a 30-footer," said Weir, sporting a full "playoff" beard.
Kenny Perry, effectively the FedEx Cup leader with the top-ranked Woods sidelined by a knee injury, was 5 under after a 72.
Mahan, the first-round leader after a morning 62, also struggled in the final group, shooting a 74 to join Stricker in the large group at 4 under.
Phil Mickelson was 1 under after a 72. He double-hit a flop shot from the deep rough on the 271-yard, par-4 fifth en route to a double bogey.
"I tried to hit a little 64-degree wedge and it came out and I heard it ding my club on the follow through," Mickelson said. "I didn't really feel it."
Divots:@ The top 120 in FedEx Cup standings will qualify for the Deutsche Bank Championship next week in Norton, Mass. The field will be cut to 70 for the BMW Championship in St. Louis and to 30 for the Tour Championship in Atlanta. ... After missing the cut Friday, British Open and PGA winner Padraig Harrington returned to the course Saturday for a lengthy practice session on the driving range.