News
Wiebe, Simpson Tied For Lead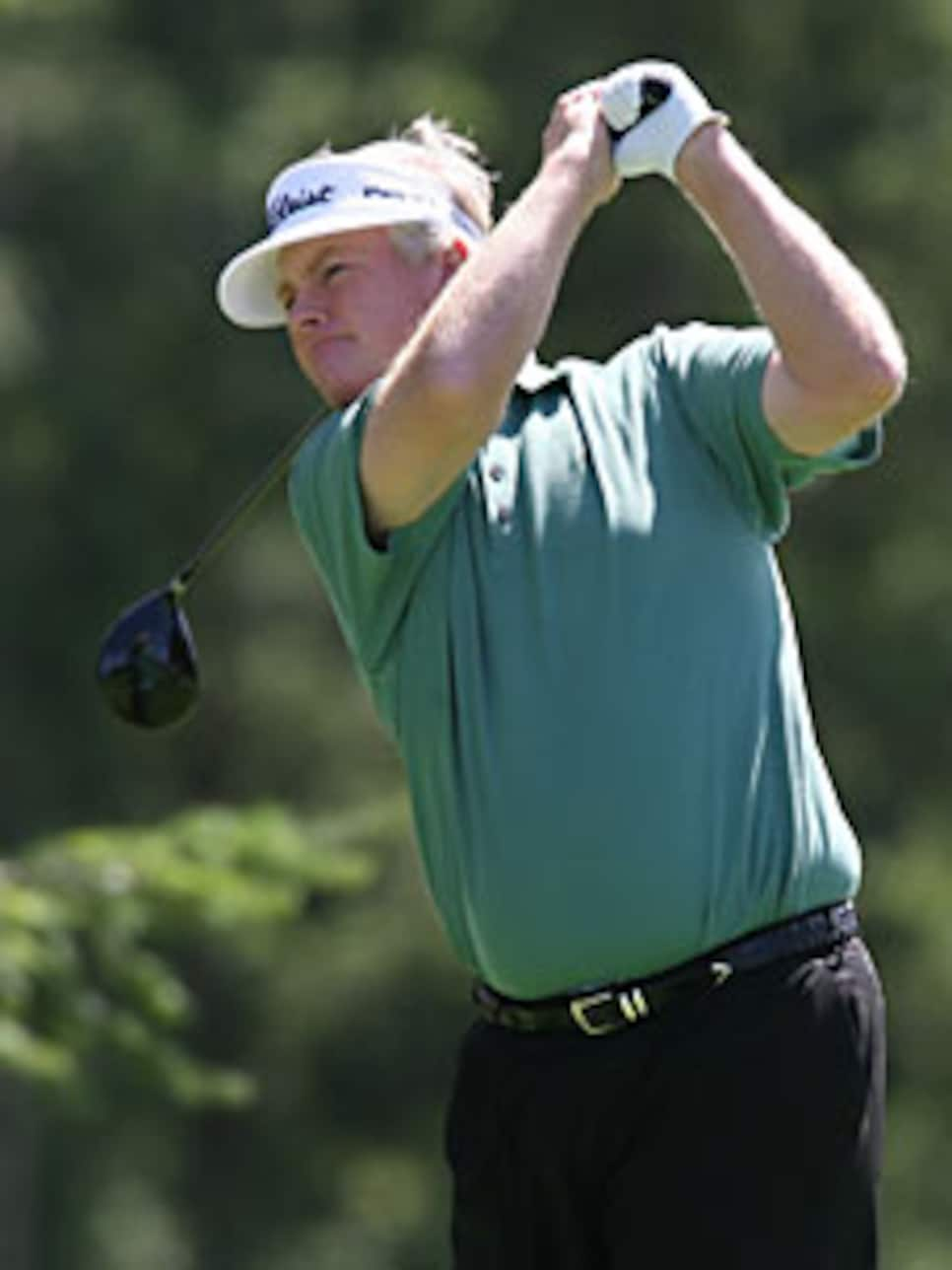 Although he wasn't talking after his round, Wiebe was still steamed about another player's shot that barely missed him.
SNOQUALMIE, Wash. (AP) -- Mark Wiebe's round might be remembered more for a shot he avoided than one he made.
Wiebe birdied four of his first five holes, then added two more on the back nine to shoot 67 on Friday. That gave him a share of the first-round lead at the Boeing Classic.
Wiebe was bogey-free until the par-5 18th when his third shot carried over the green and into the rough. Wiebe was unable to get up-and-down for par, and he dropped into a tie with Scott Simpson.
"I like my game. I like the way I'm playing," Wiebe said. "With a couple of exceptions today, for not knowing the golf course, I felt I did pretty well maneuvering my ball around. And to maneuver your ball around a golf course you don't know you have to have control. I felt like I did that pretty well."
While Wiebe was pleased with his round -- the exception being a 70-yard wedge that carried too far on 18 and led to his only bogey -- he was still noticeably irked well after his round about the 14th hole.
While Wiebe was lining up his putt on the drivable, dogleg par-4, Sandy Lyle's tee shot was pulled left across a deep, tree-filled ravine and toward the hole. The distance from tee to green was only 295 yards on Friday and Lyle's drive landed about 15-feet from Wiebe, somehow avoiding the three players and three caddies on the small green.
"I have nothing to say about that. Sorry," Wiebe said.
Wiebe is in his first full season on the Champions Tour and holds the distinction as one of 12 players in Tour history to win in his first start. Wiebe played on the Nationwide Tour at the beginning of last year to get prepared for joining the 50-plus circuit, then won the SAS Championship last September for his first victory in 21 years. He added a win at the Cap Cana Championship in April and has finished in the top 20 in four of six starts.
Wiebe birdied Nos. 1, 2, 4 and 5, then dropped a 40-foot putt on No. 13 and made a short birdie on the 15th.
"The course was there for the taking," Wiebe said. "I played well most of the day."
Finding Simpson at the top of the leaderboard here is no surprise. Two years ago, Simpson shot a course-record 61 in the second round and was in contention headed to the back nine on Sunday before falling one shot short of a playoff that Tom Kite eventually won.
Simpson was flawless Friday, staying out of trouble and giving himself plenty of opportunities to make birdie. He dropped five putts and was bogey free. Shooting 5 under might be the best score possible as rain earlier in the week made the course soggy, taking away most of the roll from the fairways.
That left most players hitting long irons into the greens on the 7,183-yard layout.
"It'd be pretty tough I think, but if you are playing well 64, 65 seems possible," Simpson said.
Simpson hasn't won since 2006 when he was victorious at Pebble Beach the week after missing out on that playoff.
A trio of golfers finished at 4 under -- Gary Hallberg, David Edwards and Bob Gilder -- and another six golfers were only two shots off the lead, including Kite and Hale Irwin. Kite was rolling at one point with five birdies in seven holes, but he bogeyed the 18th, his ninth hole of the day, and added two more bogeys on his back nine.
"I kept looking at the mountains over there and it kept me really relaxed," said Hallberg, who broke in a new caddie by shooting 33 on the back nine.
The hottest golfer entering the tournament was Fred Funk, who won the JELD-WEN Tradition last week and finished second at the U.S. Senior Open. Funk bogeyed four consecutive holes on the front nine and scrambled to a 5-over 77.
Scott Hoch withdrew after his 10th hole when a lingering wrist injury flared up. Hoch was 1-under at the time.