News
A Brand New Week For Mahan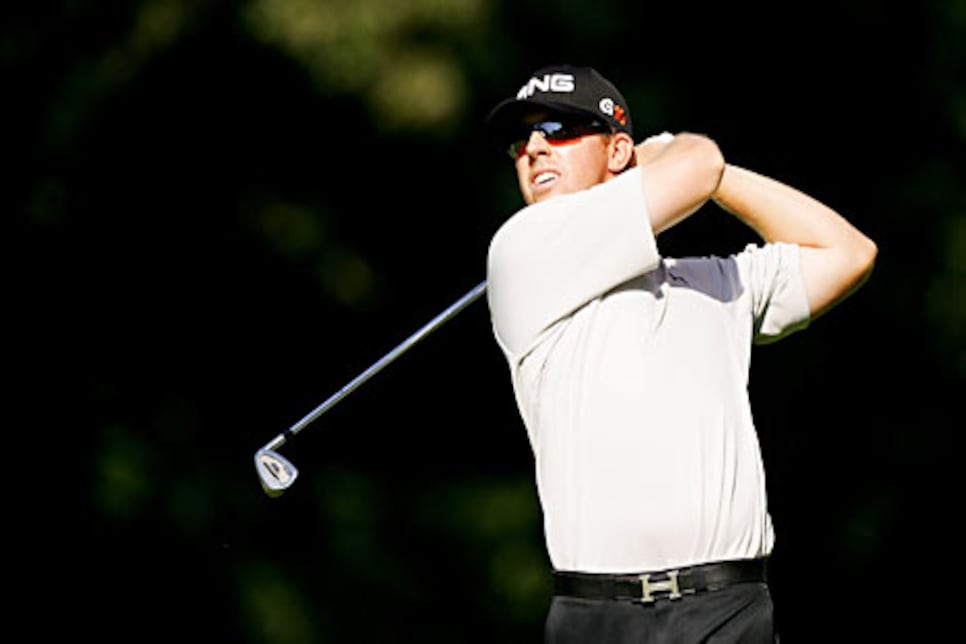 Mahan will need a good performance in the playoffs if he is going to be a Captain's pick for the Ryder Cup.
PARAMUS, N.J. (AP) -- With two perfect shots, Hunter Mahan put a terrible week at the PGA Championship behind him at The Barclays.
Playing in calm morning conditions at demanding Ridgewood Country Club, Mahan split the fairway with his opening drive, then watched his 98-yard sand wedge shot spin back into the hole for an unlikely eagle. Seventeen holes and eight birdies later, he signed for a 9-under 62, good for a four-stroke lead Thursday in the FedEx Cup playoff opener.
"I was surprised to shoot so low," Mahan said. "I didn't have any idea what was going to be a good score out here. ... It's definitely not that easy. It's perfect conditions. You've got great weather. The course is in perfect shape right now. Playing in the morning helped a lot. The greens were a little bit more receptive."
Two weeks ago in the PGA at Oakland Hills, the 26-year-old former Oklahoma State player shot 81-79 to miss the cut, and made news with critical remarks about the Ryder Cup in an interview.
"I wanted to get that out of my system and just play golf today -- and I did," Mahan said. "It was a pretty tough week, but you learn from your mistakes."
England's Paul Casey shot a 66, and Bo Van Pelt, Kevin Streelman, Mathew Goggin, Charley Hoffman and afternoon starter Dudley Hart had 67s. Steve Stricker, the winner last year at Westchester Country Club, topped the group at 68.
Trying to earn a spot on the Ryder Cup team as one of Paul Azinger's four captain's picks, Mahan hit 11 of 14 fairways, 15 greens in regulation and needed only 23 putts.
"The greens are good. I mean, they're perfect. Perfect speed," Mahan said. "I think you can be aggressive. I was committed to my lines and made aggressive strokes."
Mahan birdied Nos. 4, 5 and 7, holing putts from 21, 12 and 4 feet, to get to 5 under. He bogeyed the par-3 eighth, got the stroke back with a 7-foot birdie putt on No. 10 and added a 14-footer on 12.
On the 615-yard, par-5 13th, he hammered a 332-yard drive, hit a 3-wood 265 yards to just short of the green and chipped to 4 feet to set up another birdie. He followed that with a curving 40-footer on the par-3 14th, and capped the round on the par-4 18th with a 180-yard shot to 3 feet for his eighth birdie.
Mahan, 31st in the FedEx Cup standings, established the course record in the first PGA Tour round on the A.W. Tillinghast-designed layout -- a composite of Ridgewood's three nine-hole courses.
"I thought the scores weren't going to be as low," Phil Mickelson said after his morning 70. "Hunter had such a great round and there were some 4- or 5-under par rounds. So my 1-under par round is not as good as I thought it would be, but I thought I played well and I'll take it."
With the groupings based on FedEx Cup points, Mickelson played alongside British Open and PGA winner Padraig Harrington (72) and Kenny Perry (69), effectively the points leader with top-ranked Tiger Woods sidelined by a knee injury.
"The rough here is terrible," said Perry, returning from an eye injury that forced him to withdraw after the first round of the PGA.
The 48-year-old Perry, a three-time winner this season, wondered how Mahan managed to shoot a 62 on the tree-lined course that places a premium on accurate driving.
"It never ceases to amaze me, the PGA Tour," Perry said. "There are tournaments where I'll shoot 6 or 7 under and that's as good as I can play and the winner is 21 under and I'm thinking, 'How did they do that? Did they quit after 15 or what?'"
Harrington, the 2005 winner at Westchester, made a double bogey on 18 -- his ninth hole -- and also had a 6 on the 586-yard par-5 third.
"I know it's difficult out there and the rough is tough, but that was just bad play," the Irish star said.
Mahan had his fifth 62 in five full seasons on the tour. Last year, he opened with a 62 en route to a playoff victory in the Travelers and also matched his career best in the Canadian Open and at Westchester, the tournament site the previous 41 seasons.
"When he gets hot, he does do some crazy stuff," Goggin said. "If you drive the ball well you have some birdie chances and, if you don't, you struggle to break par."
Divots:@ The top 120 in FedEx Cup standings after the tournament will qualify for the Deutsche Bank Championship next week in Norton, Mass. The field will be cut to 70 for the BMW Championship in St. Louis and to 30 for the Tour Championship in Atlanta. ... Rich Beem had a 68. He finished third last week in North Carolina, closing with two 63s, to jump from 166th to 114th in the standings. ... Streelman's parents are from nearby Glen Rock and his grandparents are buried in a cemetery next to the course.