News
Pettersson Finishes Like A Winner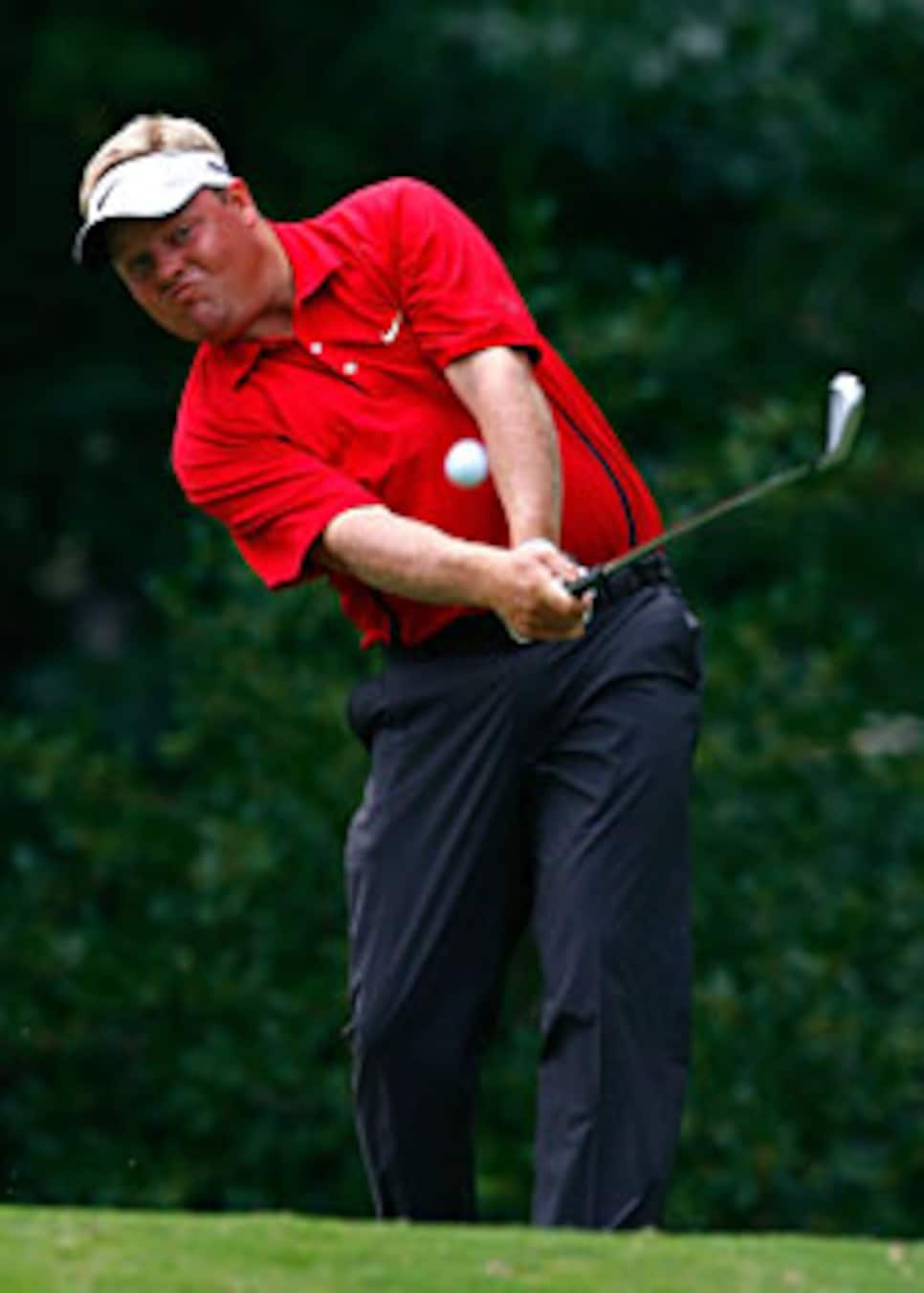 Pettersson came back from a bogey on 11 with three birdies in the next four holes.
GREENSBORO, N.C. (AP) -- Carl Pettersson was one imperfect hole from leading the full final two rounds of the Wyndham Championship. It was that brief slip-up that propelled the Swede to victory in his adopted hometown.
Pettersson won his local tournament for his first PGA Tour victory in two years, shooting a 2-under 68 on Sunday for a two-stroke victory at Sedgefield Country Club.
Irked by a bogey on the 11th hole that temporarily dropped him into second place, Pettersson responded with three birdies during the four-hole stretch that followed to finish at 21-under 259 and earn $918,000.
"Not getting it up and down on 11 kind of (ticked) me off," Pettersson said. "I kind of told myself, 'I'm letting the tournament get away from me again.' ... That was where the tournament was won for me."
Scott McCarron briefly led midway through the final round before fading into second with a 68. Rich Beem's second straight 63 left him four strokes off the lead, with J.J. Henry (62) and rookie Martin Laird (63) another shot behind him.
But there was never any question that the last day of the PGA Tour's final pre-playoff event was anything but a two-man showdown.
Pettersson made his move immediately after slipping out of the lead for the first time since Friday, when his tournament-record 61 in Round 2 shot him up the leaderboard. He began the back nine with consecutive bogeys, falling one stroke back to 19 under when he missed an 8-foot par putt on the 11th.
"I kind of felt like I let the tournament slip away on 10 and 11," Pettersson said.
McCarron gave the stroke back on the 12th, missing a 13-foot birdie putt and lipping out a 4-foot par attempt during just his second bogey, then saying afterward that "I thought I kind of let it go" on that hole.
"I told myself on the next tee box, 'I got my momentum. I've got to put the pressure on Scott and hit a great tee shot. I've got a chance to really put the hammer down,'" Pettersson said. "And I managed to do it."
Pettersson birdied the 13th for a one-stroke lead, then went back up by two shots with a birdie on the par-5 15th -- the easiest hole on the course for everyone but him, after two bogeys and a par on it. This time it was McCarron's turn for trouble; he sent his second shot into the sand, recovered and lipped out an 8-foot birdie putt.
"That hole has not been very good to me," Pettersson said. "Finally feel like you got one back on that hole."
McCarron's bogey on the 17th all but locked up Pettersson's first victory since the 2006 Memorial. Among those joining in the celebration were N.C. State coach Richard Sykes and former Wolfpack teammate Tim Clark, who tied for sixth.
Pettersson is a Swede who moved to Greensboro as a teen, played at North Carolina State, lives a 90-minute drive away in Raleigh and serves on the tournament's board.
"It will be a great satisfaction just to think about, you know, pulled it off and did it and it's a wonderful feeling," Pettersson said. "Doesn't happen that often in golf unless you're Tiger Woods."
McCarron -- who had used two early birdies to erase the two-stroke lead that Pettersson brought into the round -- was denied his fourth career victory and first since 2001. It was the second top-10 finish of the year for the PGA Tour veteran who sat out the 2007 season after having surgery to repair a tendon in his right elbow.
"Second place is obviously tough to swallow right now, but I'll probably be pretty happy here when I realize I've got a job for the rest of the year," McCarron said.
Beem and Henry both finished strong and propelled themselves off the FedEx Cup bubble and into the playoffs, which begin later this week at The Barclays.
"I knew I had to play my butt off just to make it up there," Beem said. "I didn't want to have four weeks off, you know, and I'm glad at least I got into the first one."
Beem had birdies on four of his last six holes, jumping 52 spots to 114th, while Henry, who birdied four of his final five holes, moved up 42 spots to 135th. Laird, who shared the first-day lead with Bob Heintz before falling off the pace, wound up jumping 36 spots to 128th.