News
Harrington Belongs To A Special Club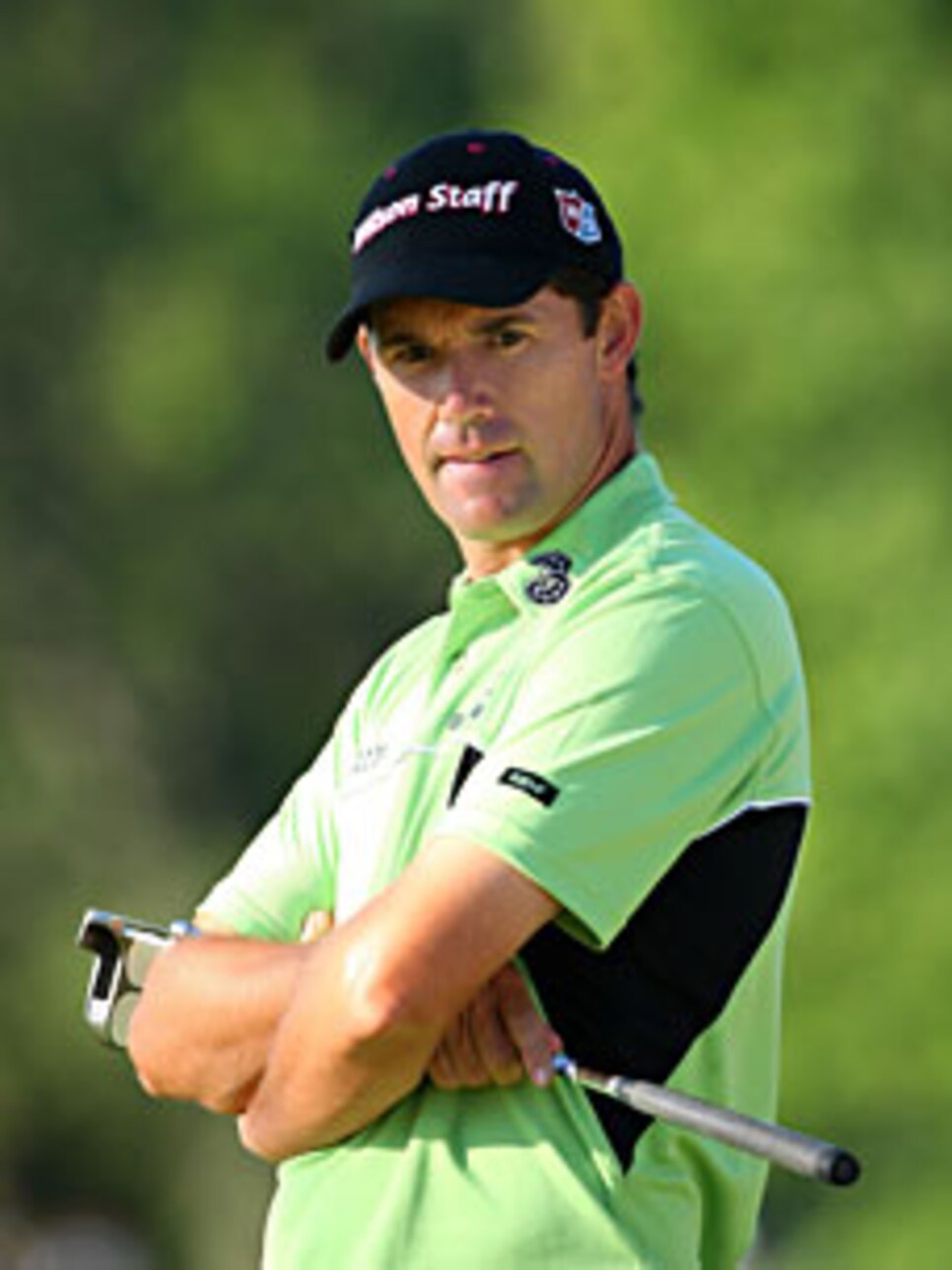 Harrington's comfort as one of the best should make Nick Faldo sleep easy.
The intersection of greatness and great things shook hands Wednesday under a tent in the North Carolina foothills and, as it turned out, the tent was big enough to hold them both. Padraig Harrington and Arnold Palmer met for the first time while each was making a site visit, independent of one another, at a new development near Tryon called White Oak.
Palmer flew in to have a glance at the course that his firm is designing and Harrington dropped in to choose a site on which to build a house that will serve as his U.S. base. While there might have been a time in which Harrington would have shied away from sharing the spotlight with a legend, clearly he now feels as if he belongs at least at the same lunch table.
"I remember playing in Greensboro when the entire purse was $10,000," said the 78-year-old Palmer of last week's Wyndham Championship, making a play with the longevity card.
Harrington trumped. "Nobody's thinking, 'Poor Arnold, he didn't do too well,'" he said.
The King teed it up for another shot. "One year, I made $58,000 in official money and was the leading money winner."
Harrington would have none of that, either. "I like the way he said, 'official.' I wonder what he won on the side?"
Winning three of the last six majors -- two British Opens and last week's PGA Championship -- has put Harrington squarely into the best-player-other-than-Tiger conversation and even he is beginning to accept that the talk is justified.
"I'm more comfortable at this position than I was when I got into the top 10 [on the Official World Golf Ranking] six or seven years ago," said the 32-year-old Harrington. "It takes a while to believe it, but I'm comfortable more at No. 3. It's something I have to come to terms with. Other than Tiger, there is no one playing at the present time who has won more than three majors. People I would have put on a pedestal -- Phil [Mickelson], Ernie [Els], Vijay [Singh] -- they all have only won three and I'm the youngest of that group."
But winning the British Open or even the PGA this year didn't immediately flip a switch for Harrington. Feeling a part of elite company in the game is coming over time and with success.
"This is an area that I have been talking to [sport psychologist Bob] Rotella and the friends and family that I discuss golf with," he said. "The common theme is that the bottom line is to believe in myself more. I have to believe in myself as much as [other people] believe in me. There's no question that if I want to go to the next level, I have to play with more confidence.
"I can make any tournament a struggle. If I am behind, I can chase and if I am ahead, I can throw shots away. It seems I always want the drama and excitement. But I have to be more assertive. I have to puff up my chest a bit more. I need to play with free-flowing confidence and not make every tournament more of a battle."
Harrington carried on a variation of a theme by winning the year's final two majors on the verge of not being able to compete because of illness and injury. At the British Open, he wondered on Wednesday of championship week whether he'd be able to start the tournament because of a wrist injury. He had laser treatment, physical therapy, threw anti-inflammatories at the wrist and iced it every day. The combination obviously worked because he played at Royal Birkdale practically pain-free.
At Oakland Hills, Harrington played the final holes in Friday's second round in a daze.
"Obviously, I was a little fatigued and a lot dehydrated," he said. "If I had had to play five more holes, I would have missed the cut. I made the cut by three and if I had to play three more holes, I would have missed the cut. I was just gone. People were telling me that I was speaking incoherently. I was struggling with conversation.
"It's probably a good thing that I only played nine holes Saturday. I had plenty of time to rest. In fact, during the rain delay, I lay on the floor in the locker room and in five minutes, I fell asleep and stayed that way for an hour."
Going down in golf history will be the way Harrington played the incoming nine at both the British Open and the PGA this year, shooting 32 on each occasion. But remarkably, he doesn't count those stretches among his best golf.
"Actually, the final round at Carnoustie [in 2007] was the best," he said. "I played great for 17 holes and messed up the last one. That was my best golf ever. The back nine at Birkdale was perhaps the best judged stretch that I've played. I shot 32 very easily on that nine. The back nine at Oakland Hills was more exciting. It was one of the best in terms of performance under pressure, particularly putting. There was some work put into it."
Harrington will play in the FedEx Cup playoffs, where he is currently fourth in the standings (third if you take Woods out of the top spot). He will move on to the Ryder Cup and finish his season in Europe at the Dunhill and the Volvo Masters. He anticipates taking six weeks off at the end of the year.
While the anticipation of the Ryder Cup is on his radar, it's not foremost on his mind.
"The Ryder Cup is an event that is the most exciting the week that it happens," he said. "The question is going to be how much will I come down after the high of the two majors."
If recent history and Harrington's newfound self-image have anything to do with it, European captain Nick Faldo shouldn't lose a wink of sleep. He'll have the best active player in the world on his side. And there's every chance that Harrington will believe it as much as everyone else does.
Mike Purkey is a freelance writer who writes about a variety of topics, including golf on television, for Golf World magazine.