News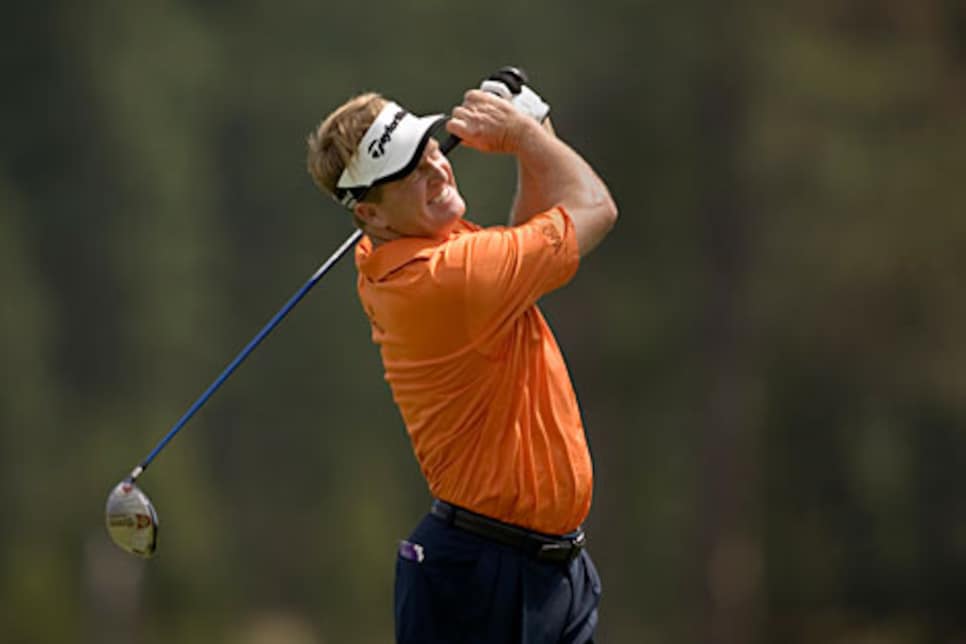 Funk's final round was a study in aggressive, attack the flags style golf.
SUNRIVER, Ore. (AP) -- Even with a widening lead in the final found of the JELD-WEN Tradition, Fred Funk pretended he was trailing.
"We were going down the second fairway and my caddie, Mark (Long), said 'Let's say you are four behind,'" Funk said. "We were trying to make it as if we were behind all day. Don't protect anything and fire at all the flags."
The aggressive Funk won his first Champions Tour major title, closing with a 3-under 69 on Sunday for three-stroke victory over Mike Goodes at the Crosswater Club.
The 52-year-old Funk, also the winner of the season-opening MasterCard Championship in Hawaii, had a 19-under 269 total. He shot a bogey-free 65 on Saturday to take a one-stroke lead over Senior PGA champion Jay Haas into the final round.
"He wasn't going to be denied today," said Haas, who shot a 72 to tie for third, with Tom Watson (70). "He got to 6-up after 15 and I just took my foot off the gas."
Funk, an eight-time champion on the PGA Tour and four-time winner on the 50-and-over tour, had birdies at Nos. 11, 14 and 15 to get to 22 under.
"In my mind I just wanted to get up as far as I could and basically bury the field," Funk said. "When I got to 6 under for the day I as doing exactly what I wanted to do."
He made a double bogey on 16 before waiting out a 63-minute delay because of thunder and lightning, then returned to bogey the 17th.
Scott Hoch (71) was 13 under, followed by Scott Simpson (70) at 12 under.
After splitting his time between the PGA and Champions tours the past three years, Funk plans to play the PGA Tour full-time next year. He won Sunday despite neck, back and knee problems that led him to visit a chiropractor.
Goodes is a non-exempt player who joined the tour out of Q-school in 2007. His best previous finish was fourth at the Regions Charity Classic in May.
Divots:@ Haas (2,145) took over the lead in the Charles Schwab Cup points race from Bernhard Langer (2,046). Funk (1,779) moved up from seventh to third. ... The tournament record is 23 under, set by Doug Tewell in 2001 at Desert Mountain in Arizona. .. The last time weather forced a suspension of play in the tournament was in 2000.