News
Hull Comes From Six Back To Win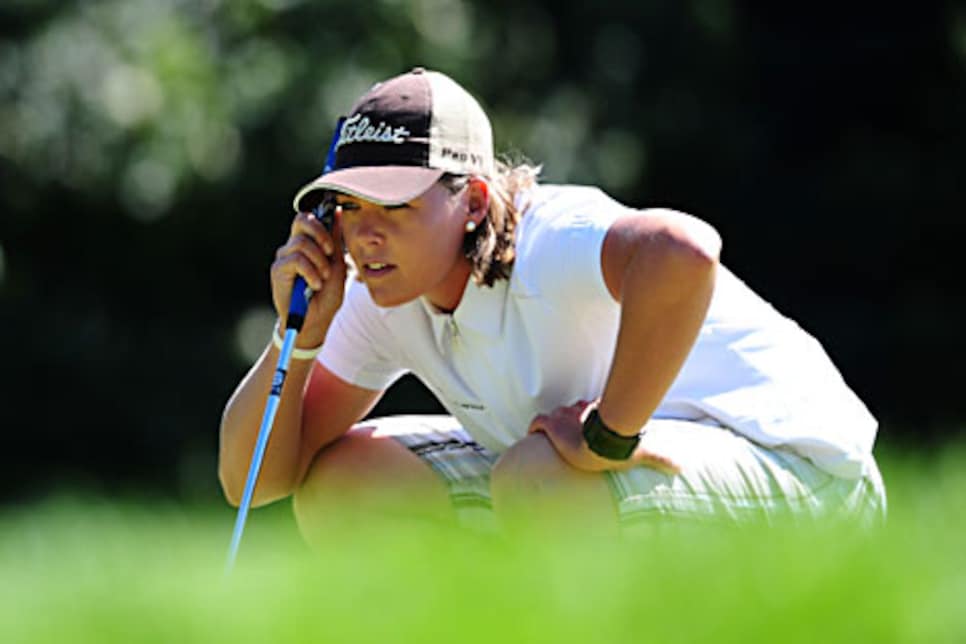 Katherine Hull's first LPGA Tour victory was her best finish since a second at the 2005 Canadian Women's Open
OTTAWA (AP) -- Australia's Katherine Hull won the Canadian Women's Open on Sunday for her first LPGA Tour title, taking advantage of Yani Tseng's final-round meltdown for a one-stroke victory at Ottawa Hunt.
The 26-year-old Hull, six strokes behind Tseng at the start of the round, shot a 3-under 69 to finish at 11-under 277. Se Ri Pak closed with a 72 to finish second, and Tseng's 77 left her two strokes behind at 9 under.
"This is something we all dream about as kids and to have it actually happen is amazing," Hull said. "I was thinking this might be the year I broke through and got a win, but at six shots back, I didn't think much about it.
"I just tried to play the best I could. I honestly didn't expect to win at all. But that's how golf goes. It's four rounds, 72 holes and anything can happen."
Tseng, the 19-year-old Taiwanese star who won the McDonald's LPGA Championship in early June and finished second two weeks ago in the Women's British Open, opened with rounds of 70, 64 and 68 to take a 14-under total into the final round. On Sunday, she had a double bogey, five bogeys and just two birdies.
She declined to comment after the round.
"That will happen, not only to her," Pak said. "It's happened to me and whoever. In golf, there are no guarantees. You're leading by seven strokes, five strokes, it doesn't matter. She played well and I know she was expecting a great situation. But she's 19 years old. This will probably be a great experience for her."
Hull, the former Pepperdine star who second behind Meena Lee in the 2005 tournament at Glen Arbour in Nova Scotia for her best previous LPGA Tour finish, had four birdies and a bogey Sunday. She earned $337,500.
"It probably will be overshadowed by the Olympics, especially with the Aussies doing so well in swimming," she said. "But it's great. Sport is such a huge part of our culture. I hope it gets coverage down there because we need to raise the profile of women's golf. Participation has actually been declining in the last five years. The more Aussies that do well, the better the game is going to get."
Top-ranked Lorena Ochoa, the 2007 winner at Royal Mayfair in Alberta, shot a 73 to tie for fourth with Sun Young Yoo (69) and Song-Hee Kim (70) at 7 under.
Michelle Wie, using the last of her six LPGA Tour exemptions this year, tied for 12th at 3 under. She had rounds of 75, 70, 69 and 71.
The 18-year-old Stanford student said hasn't decided whether to go to Q-school in a bid to earn an LPGA Tour card.
"I feel like I gained a lot of confidence in myself again this year," Wie said. "Being pain-free in the later part of the year, I started feeling confident. From May on, it's getting better and better and now in the offseason, I know what to work on for next year."
Annika Sorenstam, leaving the tour at the end of the season, had weekend round of 76 and 74 to tie for 21st at 2 over.
Lorie Kane was the top Canadian, finishing at 4 over. The 43-year-old from Charlottetown, Prince Edward Island, finished third in 2001 and fifth in 2004.
"Nothing would make me happier or prouder than to win the CN Canadian Open," she said. "And Priddis next year (in Calgary) -- that golf course sets my eye already."