News
Pettersson Fires Course-Record 61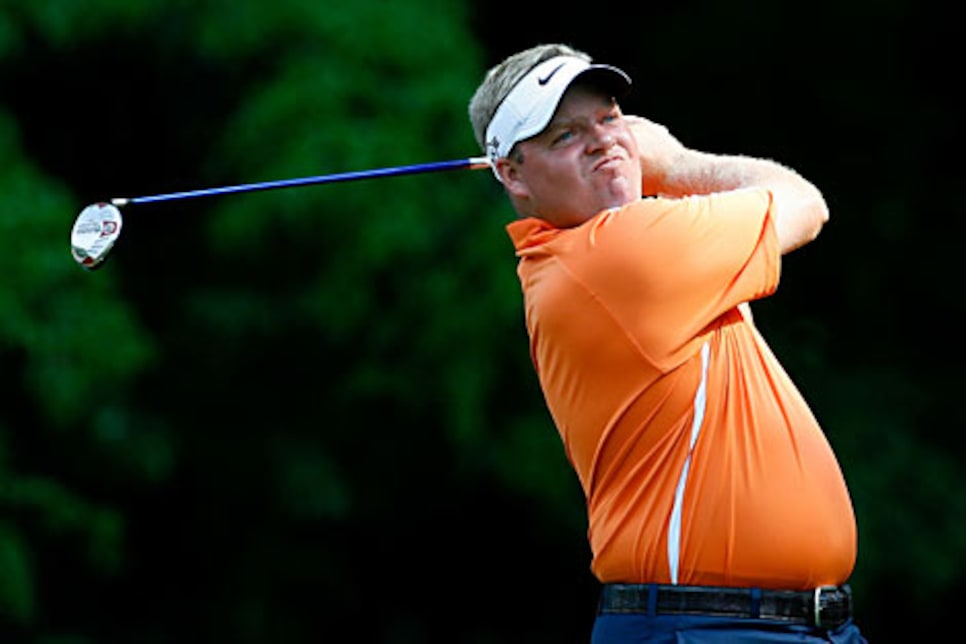 Pettersson opened with three straight birdies and totaled six on the front nine.
GREENSBORO, N.C. (AP) -- Carl Pettersson supported moving the Wyndham Championship to Sedgefield Country Club. After a performance like this, it's easy to see why.
The local favorite produced the latest record-breaking round at Sedgefield, shooting a tournament-record 61 on Friday to match the PGA Tour's 36-hole mark at 15-under 125.
He had a three-stroke lead over Garrett Willis (64). Scott McCarron (64) was four strokes back, and Kevin Streelman (64) was another shot behind. Jerry Kelly (65), Bob Sowards (66) and Tim Clark (67) were 9 under.
But clearly, the day belonged to Pettersson, a Swede who went to high school in Greensboro, played collegiately at North Carolina State and serves on the tournament's board of directors.
"This is like his retirement fund," defending champion Brandt Snedeker said. "He plays good here every year."
A year ago, while speaking at the Wyndham's previous home, Pettersson voiced his support for the then-rumored switch to Sedgefield. He played the Donald Ross course for the first time in November, shortly before the move was made official.
Then, he began this year's tournament with a 64 and admitted afterward that he was "a bit edgy starting out" because "this is a home game for me."
This time around, those jitters were long gone.
"The courses (on the PGA Tour) have been set up hard, so it's a nice change to be really aggressive, and (Sedgefield) kind of suits my style," Pettersson said. "I try to play really aggressive all the time, and so far it's paid off great."
In matching the lowest single-round score on the PGA Tour this year, he shot a 30 through his opening nine holes. Six of his 11 birdies came on the front nine, and he set the tone with birdies on first three holes.
"As soon as I did that, my mind kind of set in and played nice all day," Pettersson said.
By the time Pettersson reached the par-5 15th, he confessed to catching himself daydreaming about shooting a 59 -- and then promptly bogeyed the easiest hole on the course, sending his third shot into a greenside bunker.
He quickly recovered, sinking a 40-foot putt on the 16th for the first of two straight birdies. He had a chance to make it three in a row on the course's most difficult hole -- the 507-yard, par-4 18th -- but rolled his birdie putt a foot to the right of the hole, tapped in for par and tipped his visor to the vocal hometown crowd.
"I was glad Carl ran out of holes," Willis said. "Every time I made a birdie, it seemed like he made one, too."
That remarkable round put him in position to contend for his third career PGA Tour victory and first since the 2006 Memorial.
He eclipsed the Wyndham's previous low of 62 -- a mark shared by four players, most recently Charles Warren in 2005 -- and shattered the course record of 63 that was matched a day earlier by first-round leaders Bob Heintz and Martin Laird.
"This course, you can make a lot of birdies, but it's quite easy to have a few bogeys in there, too," Pettersson said. "I kind of knew at the beginning of the week, I thought it was going to be a low-scoring week, just because you have a lot of wedges, 8-irons, 9-irons into par 4s."
Pettersson's two-round score equaled the tour record shared by Tiger Woods, Mark Calcavecchia, Tom Lehman and Corey Pavin, and his 18-hole score matched the 61 recorded six months ago by Roland Thatcher during the third round of the Mayakoba Golf Classic in Cancun.
The first-round leaders, facing the hard, dried-out greens that accompanied their afternoon tee times, quickly fell off the pace. Heintz wound up 10 strokes off the lead after his 72, and Laird was two strokes behind him after his 74 dropped him to the cut line of 137.
Among the players who entered on the FedEx Cup bubble but ultimately wound up missing the cut were No. 140 Tag Ridings (138), No. 141 Todd Hamilton (141), No. 143 Brett Rumford (143) and No. 146 Craig Kanada (144).
Vijay Singh -- who at No. 5 in the world was the highest-ranked player in the field -- bogeyed three of the final six holes of his 72 to finish at 141 and miss the cut for the second straight week, just the fifth time in his career that has happened. John Daly, who was at 137, made his first cut since February.
Play was delayed late in the day for 1 hour, 11 minutes because of rain.