News
Lorena Opens With A Strong Defense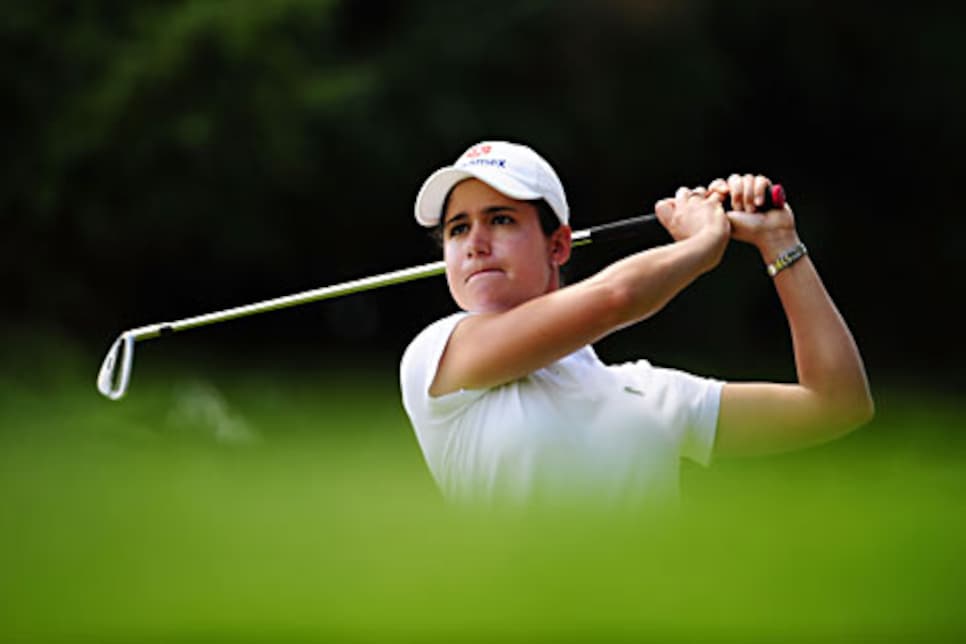 Lorena hit all 18 greens in regulation and had only one shot land in the rough.
OTTAWA (AP) -- Defending champion Lorena Ochoa shot a bogey-free 6-under 66 to take a one-stroke lead over Annika Sorenstam in the Canadian Women's Open, leaving Michelle Wie nine strokes back Thursday in her final LPGA Tour event of the year.
Ochoa, the winner last year at Royal Mayfair in Edmonton, Alberta, hit all 18 greens in regulation and was in the rough only once in sunny, calm conditions on the tree-lined Ottawa Hunt and Golf Club course.
"I probably hit 18 greens and I don't remember chipping, so that was good, too,'" said Ochoa, a six-time winner this year. "It was a great day. It always feels good when you have no bogeys on your scorecard. ... You've got to be careful off the tee -- to hit the fairways -- that's going to be the key all week."
Wie, using the last of her six 2008 sponsor exemptions, bogeyed three of her last six holes for a 75. She birdied Nos. 1 and 3 to get to 2 under, but gave the strokes back with double bogey on the par-5 sixth hole.
The 18-year-old Stanford student, down to No. 309 in the world, needs to win or finish second to avoid a trip to Q-school -- if she decides to try qualifying.
In her last start, she missed the cut in the PGA Tour's Reno event with rounds of 73 and 80. In the State Farm Classic in her previous LPGA Tour start, she was disqualified for failing to sign her second-round scorecard.
Se Ri Pak, Nicole Castrale, Meena Lee and Hee-Won Han opened with 68s, and Suzann Pettersen, Catriona Matthew, Song-Hee Kim, In-Kyung Kim and Eunjung Yi had 69s. Lee won the 2005 tournament at Glen Arbour in Halifax, Nova Scotia.
Alena Sharp was the top Canadian at 71, while 17-year-old Sue Kim opened with a 72. Crowd favorite Lorie Kane shot 74.
Sorenstam, the 2001 winner at Angus Glen in Markham, Ontario, had six birdies and a bogey for a 5-under 31 on her first nine, the back nine. The Swede dropped strokes at the second and eighth before closing with a 14-foot birdie putt on the par-5 ninth.
"I putted really well," said Sorenstam, leaving the tour after the season. "I got off to a great start and made tons of putts. "I missed a few opportunities on the (second) nine, but I made a birdie to finish on a high note, so I'm very pleased."
She had only 10 putts on her first nine holes.
"I can't remember the last time I had 10 putts on nine holes," Sorenstam said. That's what you need to score here."
The top-ranked Ochoa, winless since May, took time off this summer to deal with a death in the family and other issues.
"I think my game has always been there, it's more emotionally -- sometimes you have ups and downs and distractions and you're tired," Ochoa said. "I'm feeling OK now.
"I've played solid the last couple of weeks. I've had my rest and my time to practice and get motivated. I don't want to get too far ahead. This is just one round. Hopefully, it will continue to go in this direction."