News
Curtis Leads Heading For Home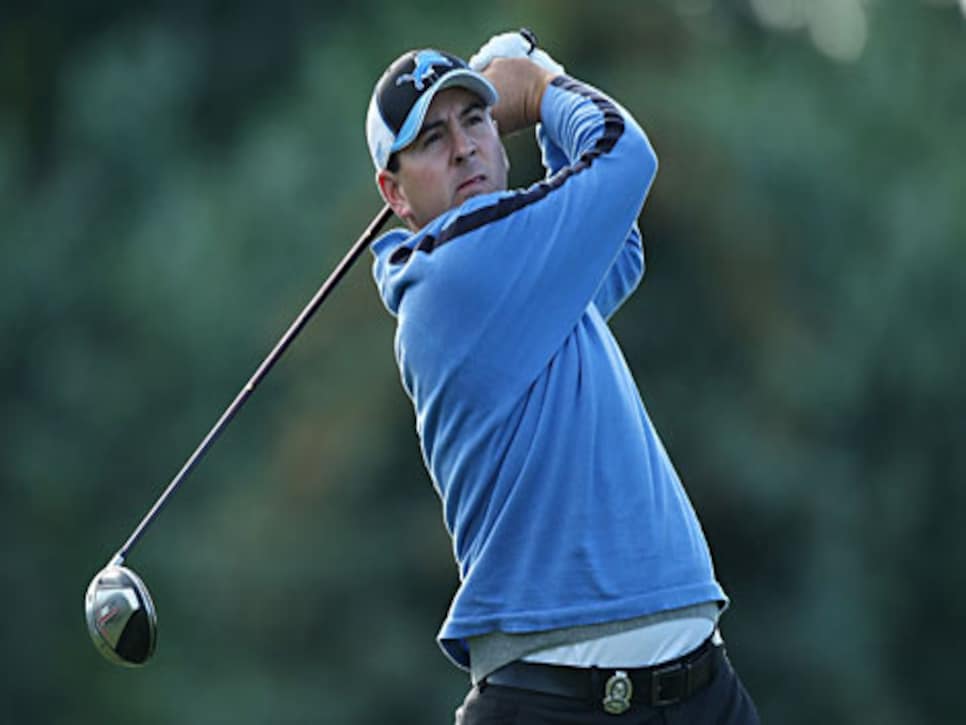 A win by Curtis will give him a berth on the U.S. Ryder Cup team.
BLOOMFIELD TOWNSHIP, Mich. (AP) -- Ben Curtis put himself 18 holes from snatching another major championship.
A long shot who won the 2003 British Open with an implausible last-day rally, Curtis battled long and difficult Oakland Hills to shoot a 2-under 68 Sunday to take a one-shot lead over J.B. Holmes through 54 holes at the rain-delayed PGA Championship.
Curtis followed rounds of 73 and 67 and was at 2-under 208 heading into the final round.
Most of the field had to return to Oakland Hills on Sunday morning to complete the third round. The top three twosomes never even got a chance to tee off on Saturday before rain, lightning and thunder created ponds where there never were ponds at the old Donald Ross layout.
Curtis faced killing about 2½ hours before teeing off in the final group for the final round.
"I'm going to just try to stay patient. To relax," he said. "I'll try to stay off my feet for a couple of hours."
The only other time the 31-year-old Ohioan led a major was when he came from back in the pack with a final-round 69 to win at Royal St. George's.
Curtis, who began the day at even par, had an up-and-down first nine holes after starting around 7:40 a.m. Sunday. He birdied the first two holes, bogeyed the third, birdied the fifth and sixth and bogeyed the eighth. A birdie at the par-4 11th gave him the outright lead, but Holmes, playing in the group behind him, pulled into a tie shortly after with a birdie at the 12th. Holmes made bogey on the next hole to drop a shot off the pace.
Wearing a Detroit Lions cap and the team's Honolulu blue colors, Curtis could have gone even lower. He missed a 6-footer for birdie at 16, saved par at the 17th from a front bunker with an 8-foot putt and then caught a fairway bunker off the tee on the par-4 closing hole. He blasted out and then hit a wedge to the green, missing the quick 15-footer for par.
Meanwhile, Holmes barely missed a birdie putt from the back of the 16th green, saved par from the bunker at 17 and then also hit his drive at 18 into a fairway bunker. He also failed to get up and down after hitting out of the bunker and shot a 70. After rounds of 71 and 68, he was tied for second at 1-under 209 with Sweden's Henrik Stenson. Stenson shot a 68 in the third round.
They were the only three players under par for 54 holes.
A victory by either Curtis or Holmes would give them an automatic berth on the U.S. Ryder Cup team.
Should Curtis win, it would prove that his win at Royal St. George's five years ago was no fluke. He has the approach -- hitting fairways and greens, making pars -- that is perfect for playing a hard course where bogeys or something worse are lurking on every hole.
If Holmes, a long-hitting 26-year-old Kentuckian, were to win, he would be the first player to win a major championship using a long putter.
Curtis, Holmes and Stenson were in the final grouping. No one since 1995 has come from anywhere other than the final grouping to win the PGA Championship.
The heavy rains on Saturday made the greens somewhat more receptive than they had been earlier in the week, but they also lengthened the course by taking the roll off tee shots. And even though the greens didn't have as much breakneck speed as before the storm, they were expected to dry out because of the light winds swirling around the course.
Two-time defending British Open champion Padraig Harrington made the biggest news early Sunday with four straight birdies starting at No. 14. He threatened to tie the competitive course record of 5-under 65, which was matched by Andres Romero before play was suspended on Saturday, but bogeyed No. 18. Harrington's 66 left him at 1 over for the tournament through 54 holes.
He was tied there with Sergio Garcia (69) and Charlie Wi, who capped his third consecutive 70 with a clutch 10-foot par putt on 18.
At 2 over were Romero and Jeev Milkha Singh (70).
Camilo Villegas, in the group at 3 over, was 5 under for his round until a bogey on the 17th, and he was furious with himself leaving the 18th. He came up just short, chipped nicely to 3 feet, but missed the par putt, and had to hole a 5-footer to make bogey.
Justin Rose was poised to make a move but he came undone with a triple-bogey 7 at the 11th. He finished with a 74 and was at 4 over.
Twenty-five of the 73 players were on the course when play was stopped Saturday and six had yet to tee off. PGA of America officials hoped to complete the third round by noon and then have the final round begin about 20 minutes later with the leaders going off around 2:20.