News
Bombs Away: Holmes Takes PGA Lead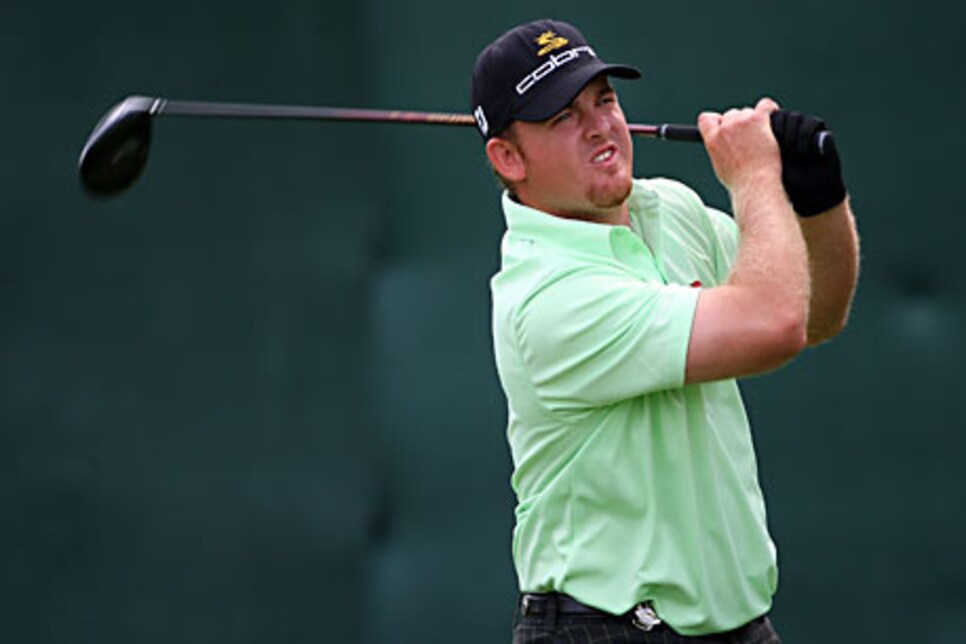 After two days at Oakland Hills, J.B. Homes is the only player under par.
BLOOMFIELD TOWNSHIP, Mich. (AP) -- J.B. Holmes and his monster length turned out to be a good fit for Oakland Hills.
With a black glove on his hand and a scowl on his face, Holmes hammered one tee shot after another Friday and kept most of them in the short grass, leading to a 2-under 68 for a one-shot lead going into the weekend at the PGA Championship.
Holmes was at 1-under 139, the only player to break par over two rounds on a course known as "The Monster." It was the first time since 1972 -- at Oakland Hills, not so coincidentally -- that only one player was under par through 36 holes of the PGA Championship.
"When I hit my driver like I did today, this is an easy sport," Holmes said.
It sure didn't feel easy to anyone else.
Sergio Garcia four-putted the 17th green late in the second round just as he was trying to catch Holmes, and instead dropped to a 73 and was three shots behind. Phil Mickelson struggled with a few bad drives, a few poor chips and not many putts, making three bogeys over the final five holes for a 73 that left him four shots behind.
Colin Montgomerie found nothing easy about Oakland Hills. He had to play his best golf over the closing holes to avoid his worst score as a professional, salvaging an 84 to match his worst score ever in a major.
Ben Curtis, who on Thursday said only one player would like Oakland Hills by the end of the week, got along just fine Friday with a 67, matching Justin Rose with the best score of the tournament and leaving both of them one shot behind at even-par 140.
"It's the kind of round I've been looking for to get myself back on the leaderboard and feeling the good vibes," Rose said.
They were joined by Charlie Wi, a 36-year-old who has played on just about every tour, but never in a major championship until this week. He made his debut with back-to-back 70s and will play in the final group Saturday with Holmes.
Former PGA champion David Toms (69) and Henrik Stenson of Sweden (70) were at 1-over 141. The group at 142 included Garcia, former U.S. Open champion Angel Cabrera (72) and Sean O'Hair, who steadied himself after a double bogey on his opening hole and shot 73.
For the second straight day, only six players broke par.
"When I got here on Tuesday, I called home and I said, 'This is the hardest golf course I've ever played,'" Wi said. "If I were to play here every day, I don't know if I would enjoy it. It's a very difficult golf course."
Wi might see a different course while playing with Holmes.
The 26-year-old from Kentucky put his Paul Bunyan length on display during a morning of blue skies. It's a wonder some of his tee shots didn't leave contrails.
He leads the field in driving distance at 338 yards, and that doesn't include a mammoth tee shot on the 501-yard 14th that left him only a wedge to the green, where he made a 25-foot putt for his third straight birdie.
Holmes reached the 529-yard second hole with a wedge for a two-putt birdie from 12 feet, and he got home in two on the 593-yard 12th with an 8-iron. A stiff breeze was at his back on that 217-yard shot.
He hit driver on all but four holes.
"I'm not that aggressive if I'm not hitting my driver good," Holmes said. "If I'm hitting bad shots with it, you don't hit it as much. You hit it right where you've looked? Whale away.
"If you're hitting where you're aiming it every time, you're hitting good."
There were some comparisons to another young player from the South who hit it a country mile and overwhelmed Crooked Stick in 1991 to win the PGA Championship. But that's about the only resemblance to John Daly.
Holmes is not the ninth alternate, rather a two-time winner on the PGA Tour who might have secured a spot on the Ryder Cup team to be held next month at Valhalla in Kentucky, a course he knows better than anyone on tour.
He lives clean and plays hard. His swing is compact, the power generated by his huge thighs. And the legend of Holmes is that he played on his high school golf team when he was in the third grade.
Yes, it was a small town. But even as a youngster, he was big off the tee.
"My senior year of high school, I went out and watched Tiger," Holmes said, referring to a trip to the 1998 Masters. "A lot of the players, they said hit the ball really long. And they did. I was like, 'That's not much farther than me, if at all.'"
But length isn't everything, especially on the wild greens of Oakland Hills. Holmes lost two shots off his lead on the closing holes, with a poor chip on the 15th and a three-putt from across the long green on the par-3 17th.
Curtis played his final 15 holes without a bogey and is the only major champion at par or better, even if some still think his victory at Royal St. George's in 2003 at the British Open was a fluke. He has won twice more on tour since then.
"I know I can win another one," he said. "It's just a matter of taking care of the opportunities that I'm given. There's weeks where you can play your best and not win, and there's weeks where you can kind of stumble your way in and win."
The stumbling belonged to Mickelson and Garcia, although the Spaniard chalked it up to one bad hole -- or four bad putts -- and bristled when it was suggested that the back nine was a struggle.
"No, it wasn't. It wasn't at all," said Garcia, considered the best player without a major. "Unfortunately, things didn't happen for me on the back nine. It's very difficult and this is a major."
Mickelson is perplexed by the raking of grass toward the tee, which makes it stand firm and led to some poor chips. But he remained optimistic, and should be. Twenty players were separated by four shots going into the weekend.
"There's a lot of golf left out here, and the golf course is very difficult," he said. "So I think that it won't be overly difficult if you play well to make up some ground."
The cut was at 148, the highest since the gnarly rough of Oak Hill in 2003. Among the victims were Vijay Singh, who was coming off his first World Golf Championship last week; and Woody Austin and Hunter Mahan, who were Nos. 9 and 10 in the Ryder Cup standings.