News
Another First Time Winner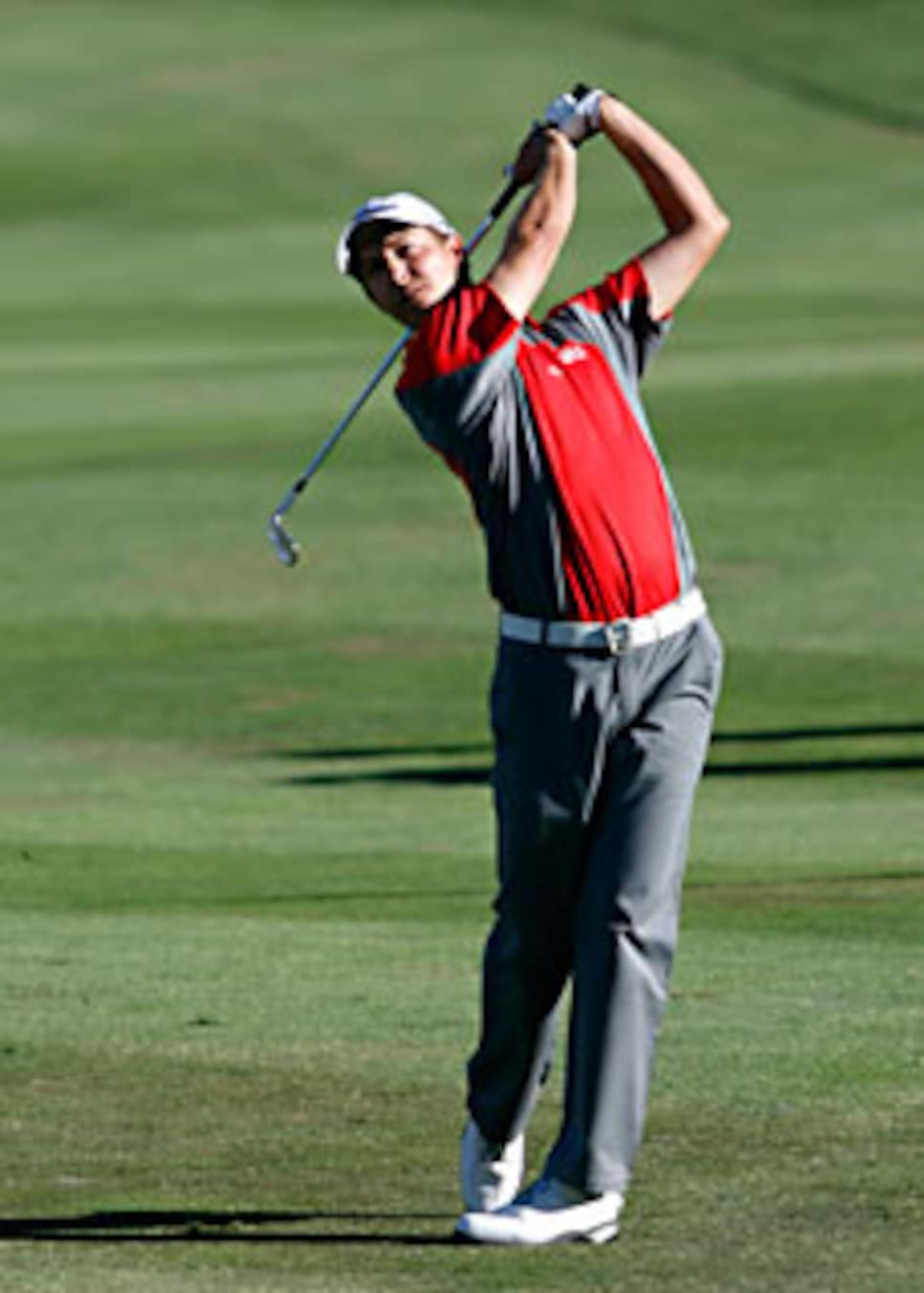 McLachlin hit only one of his first 10 greens, but managed to sink the putt he had to.
RENO, Nev. (AP) -- Parker McLachlin didn't expect to even play in the Legends Reno-Tahoe Open, let alone come away with his first victory on the PGA Tour.
Now, he's secured a spot in this week's PGA Championship at Oakland Hills and, perhaps more important to him, an invite to the winners-only Mercedez Benz Championship next January in his home state of Hawaii.
"I used to go over there and work that golf tournament picking the range, spending the week over there when I was 13, 14 years old being a standard bearer," said McLachlin, 29, who held on with a 2-over-par 74 Sunday to win the Legends Reno-Tahoe Open at 18-under 270 -- seven strokes better than Brian Davis and John Rollins.
"I can vividly remember being a standard bearer for Fred Couples. I just idolized those guys and to be part of that fraternity, I just can't express it," he said. "It has been a dream of mine since I was about 12."
The former UCLA golfer in his second year on tour began the final round with a six-shot lead after tying the course record of 62 on Friday and setting a 54-hole mark of 20-under par at the 7,472-yard Montreux Golf & Country Club near Lake Tahoe.
He extended it to seven after three holes Sunday, but the nerves tightened when he saw it shrink to four with seven holes to play before escaping trouble several times down the stretch and dropping a 15-foot putt on the 18th for his lone birdie of the day.
"I was fortunate to have that big cushion because I needed it," McLachlin said. "Brian was putting the heat on and I was feeling it.
"It was not my best ball striking day but it really brought out my short game and just my heart. I just had to gut it out and sometimes that's what you have to do to get the job done."
England's Davis trailed by four strokes with five holes to go but had a double bogey and two bogeys down the stretch to shoot a 75. A shot back tied for fourth were Martin Laird (66), Harrison Frazar (69), Eric Axley (69) and Ryan Palmer (70).
Davis said he thought he had a chance because McLachlin was "really struggling with his game."
"I always knew on the back nine it was going to be tough. I've been there before," he said. "I got a couple up on him then I got unlucky. I got a plug lie in the bunker and made double on 14 and that was it then, it was gone."
McLachlin hit only one of his first 10 greens in regulation -- only five for the round -- but relied on his wedge and putter to save par at least 10 times, including a 12-footer after he had driven into the rough behind large pine trees on the par-4 fifth and a 9-footer after blasting out of a greenside bunker on the sixth.
"When everything else fails, I have 100 percent confidence I'm going to make putts and today everything else failed," he said. "That's how I've gutted it out throughout my career and that's what I did today."
Davis cut the lead to four when he chipped in out of a bunker on the par-5 11th to get to 15-under and McLachlin missed a 6-foot birdie attempt.
The leader was in trouble again on the par-3 12th when his tee shot went in a waste area 20 yards right and short of the green but again managed to chip out of the pine needles to within 15 feet and make the putt. He also chipped out of a greenside bunker on No. 13 to 8 feet then rolled it in.
His lead grew to six again when Davis double-bogeyed after he took two shots to get out of a bunker at No. 14, while McLachlin two-putted for par from 12 feet.
McLachlin's drive hit a tree and landed in a pond on the 636-yard, par-5 17th, but his 200-yard fourth shot made the back of the green and he two-putted from 60 feet for a bogey. He birdied No. 18 to join four others who claimed their first PGA wins at Reno -- Notah Begay III (1998), Chris Riley (2002), Vaughn Taylor (2004) and Will MacKenzie (2006).
With the top 50 golfers in the world playing at the Bridgestone Invitational in Ohio, McLachlin entered the week ranked 98th on the money list, but the $540,000 first-place check at Reno gives him $1.28 million on the year to move up to 53rd on the money list, 47th in FedExCup points.
McLachlin said he didn't decide to play at Reno until last Monday.
"This is my sixth week in a row and I usually don't like to go much more than three. But (at the Canadian Open) I was just having so much fun playing the game," he said.
"Golf beats you down so much that if you are having fun, you've got to keep going because there is a lot of times where you are having to grind it out," he said. "When you are having a good time, go play. When you're not, go home. So second year on tour ... you realize those things a little bit more clearly."