News
Vijay Returns To The Winner's Circle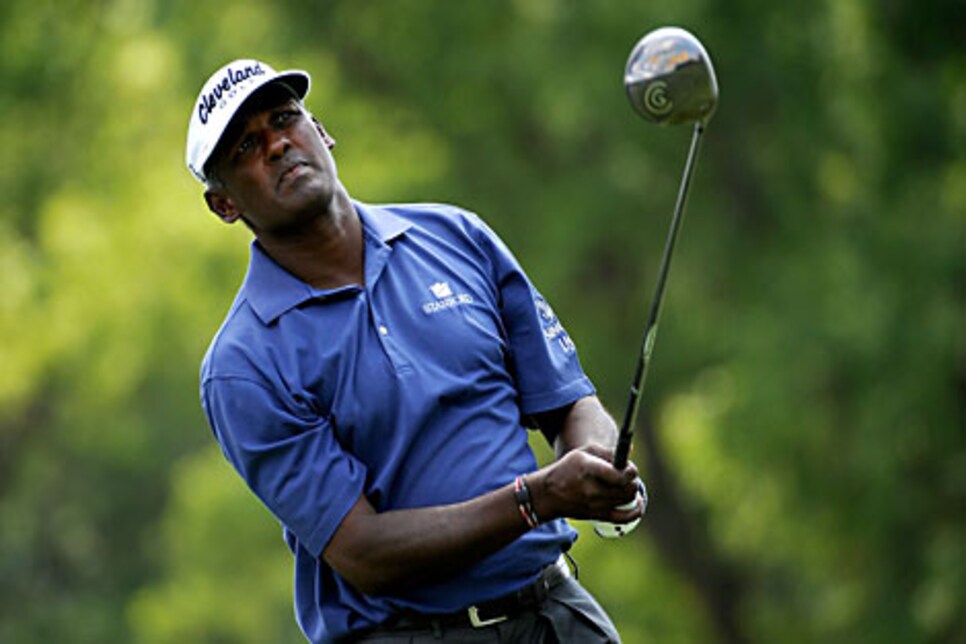 Vijay was only 9-19 on putts from 4 to 8 feet and It almost cost him the championship.
AKRON, Ohio (AP) -- Vijay Singh nearly threw away the Bridgestone Invitational by missing three putts inside 8 feet on the back nine at Firestone. He won his first World Golf Championship by making the last one, which was all that mattered.
Singh ended an 0-for-34 drought on the PGA Tour by swirling in a 3½-foot par putt on the final hole Sunday to close with a 2-under 68 for a one-shot victory over Lee Westwood and Stuart Appleby.
"What a relief," Singh said. "I didn't think I could finish it there at the end."
As shaky as Singh looked down the stretch, Phil Mickelson was even worse. Lefty played bogey-free through the first 14 holes to build a one-shot lead, then threw it away by making three bogeys from the bunker on the final four holes to shoot 70, two shots behind.
"It wasn't a good finish for me, but I played really well today," Mickelson said. "I'm turning 63s and 64s into 70s, and that's kind of what happened today. I couldn't get any putts to go in, then in the end, I made some bogeys."
According to tour statistics, Singh was 9-of-19 on putts from 4 to 8 feet during the tournament, and the last thing he wanted was to face another attempt. But he left his 30-foot birdie putt well short of the hole, and was relieved to see gravity pull the ball into the hole.
"I didn't want to have a 4-footer," he said. "I was kind of sweating it. But I'm glad it went in."
Singh had not won on U.S. soil since the Arnold Palmer Invitational in March 2007, and twice this year he blew 54-hole leads at Pebble Beach and Bay Hill. But he finally got it done, winning for the 32nd time on the PGA Tour.
After falling out of the top 10, the victory is expected to move him up to No. 4 in the world.
Singh finished at 10-under 270 and earned $1.35 million for his first WGC title.
Westwood, who could have moved up to No. 4 in the world with his first U.S. title in 10 years, rallied from a five-shot deficit with 11 holes to play to get within one of the lead. But he missed a 7-foot birdie on the 17th, and his 15-foot birdie putt from the fringe on the 18th to tie for the lead was left all the way. He closed with a 69.
An equally impressive rally belonged to Appleby, the only player to compete in all 29 of these WGC events since they began in 1999. He was seemingly out of the picture until a 30-foot birdie on the 16th, a 3-foot birdie on the 17th and an 18-foot birdie attempt on the final hole that just stayed right of the cup. He shot 68.
"I had a putt for what I thought would get me into a playoff," Appleby said. "I hit the best putt I could have hit without it going in."
Mickelson and Retief Goosen (67) tied for fourth, while Darren Clarke made a strong showing in his first U.S. tournament since the PGA Championship last year. Clarke closed with a 67 to tie for sixth with Peter Lonard (66).
Singh broke out of a three-way tie with Westwood and Mickelson by making four birdies in a five-hole stretch on the front nine, starting with a two-putt birdie from about 18 feet on the second hole, concluding with an approach to tap-in range on the sixth.
Westwood seemingly took himself out of contention on the par-3 seventh. He barely caught the bunker on the right side of the green, then blasted out short, leaving the ball in the sand. He barely got the next one out and took double bogey. And when Singh made a terrific flop shot with one foot in the sand to save par, he was five shots ahead of Westwood and two clear of Mickelson.
The tournament wasn't over, however. It was just starting to get interesting.
Mickelson hit from the left rough to inches of the hole on the 11th for a birdie. That gave him the lead when Singh, playing in the group behind him, spun a wedge back 40 feet and three-putted from the fringe.
"I started missing 5- and 6-footers," Singh said. "I tried to hit it as close as possible so I didn't leave myself any putts."
It was a grind the rest of the day for Singh. He answered with a tee shot to 2 feet for birdie and a share of the lead, then found a bunker from the 13th fairway and badly missed an 8-footer for par.
With a chance to seize control on the 16th, Singh's 4-foot birdie putt never hit the cup. Again in control with a sand wedge in his hand on the 17th fairway, Singh spun it back too far again, this time 25 feet away. He left that 4 feet short, and finally coaxed one in.
Westwood, five behind with 11 holes to play, was within one shot until he bogeyed the 14th by electing to hit putter from 60 feet through about 15 feet of fairway, leaving that 20 feet short and taking bogey that turned out to be the difference.
"I just couldn't picture a chip from there," Westwood said. "The fringe ended up being a lot slower. The first time I really putted through the fringe all week. The putt just seemed like the right shot at the time."
The victory came at a perfect time for Singh, who can take loads of confidence -- from winning, not so much his putting -- to the PGA Championship next week at Oakland Hills.