News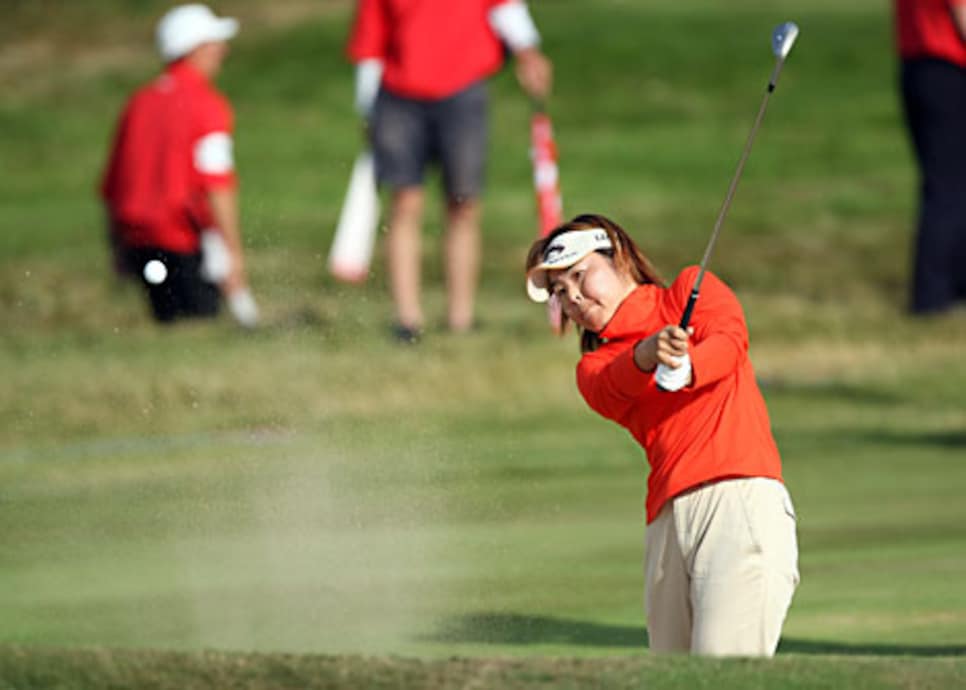 Fudoh has won 45 Japan LPGA events and lead money list from 2000-2005.
SUNNINGDALE, England (AP) -- Yuri Fudoh of Japan shot a 3-under 69 to lead by one stroke after the third round of the Women's British Open on Saturday.
Fudoh, who qualified for the tournament by finishing in the top 15 of the championship a year ago at St. Andrew's, is at 13-under 203 at Sunningdale and in sight of her first major title.
Ji-Yai Shin of South Korea (70) is second after making a bogey at the 18th. Shin drove her tee shot into the rough, then pulled her second shot into the gallery. Taking a drop, she pitched 20 feet past the hole and then missed the par putt.
Fudoh was the leading money winner on the Japanese LPGA from 2000-05 and has won 45 tournaments in her home country. She is using veteran caddie Peter Coleman, who helped Bernhard Langer win two Masters titles.
"He has helped on the distance and I think 50 percent of what I have done is because of the caddie," Fudoh said through an interpreter.
Fudoh said she has no plans to move to the LPGA Tour in the United States.
"I don't think I have enough power to play on the LPGA, like physical condition," she said.
Ai Miyazato of Japan (68) is two shots back from Fudoh. Then came two Americans, Cristie Kerr (70) and Juli Inkster (71), who are another stroke back.
Inkster, who is aiming to win her eighth major a record 24 years after her first, started one shot behind Shin and Fudoh at 9 under. She took the lead by pitching her second shot to within 8 feet of the flag at the first hole and making the eagle putt.
Aiming to become the oldest winner of a women's major at age 48, she narrowly missed another eagle at the second when she pitched out of the rough and the ball rolled just past the flag for a short birdie putt to go to 12 under. But Inkster lost her way soon after the turn, dropping shots at the 11th and 12th and at the 17th, where her 30-foot par putt shaved the hole. At the 18th, she missed a 4-foot birdie putt.
Inkster wants to go one better than the 53-year-old Greg Norman, who almost became the oldest winner of a men's major two weeks ago when he led the British Open at Turnberry with nine holes to play.
"I'm happy for what he did and he's a great player and he seems like the Greg Norman of old," Inkster said. "But I've got to go out there tomorrow and play golf and I don't think Greg Norman is going to help me around, so I have to do it on my own."
Defending champion Lorena Ochoa (71) also had a bad back nine to fall five shots off the lead. Having picked up four shots before the turn to move within one of the lead, the Mexican became wild off the tee, finding the rough at the 11th, 17th and 18th to drop three shots.
"Of course I would love to be closer, if not in the lead," Ochoa said. "But this is my position; there is nothing I can do about it. I have nothing to lose. I hope to get a good start tomorrow and we will see."
Annika Sorenstam, who won in 2003 among her 10 majors, shot a 70 for her best round of the week. But two late bogeys prevented her from becoming a title threat in her last major championship.
The Swede birdied the second and ninth holes and eagled the 11th with a 38-yard chip-in. She finished at 2-under 214.
Sorenstam had been still hoping to mount a challenge after two level-par rounds of 72, but dropped shots at the 13th and 17th holes. She also left a 10-foot birdie putt at the last just inches short of the hole.
"After the 11th, I was hoping to get to 5 or 6 under and still have a chance," she said. "Today was a little better, more regular golf. I missed a few shots here and there but I kept going, and when you hole a shot like that on the 11th, it keeps the momentum going."
Sorenstam, who announced in May that she would retire at the end of the year, is hoping her last day in a major will give her the sort of finish she wants.
"I want to have a good final round," she said. "What was really special was coming down the last eight with that great support. Teeing up so early compared with leaders, we still had a huge crowd and it was very special coming up 18. I hope it will be like that tomorrow."
Sorenstam will marry in January and plans to start a family while concentrating on various golf and business commitments. But she said she had been approached about being a captain of Europe's Solheim Cup team.
"I'm not going to play next year, but I have been asked about being a captain and I said I'd be honored if asked," Sorenstam said. "It's a tremendous honor."