News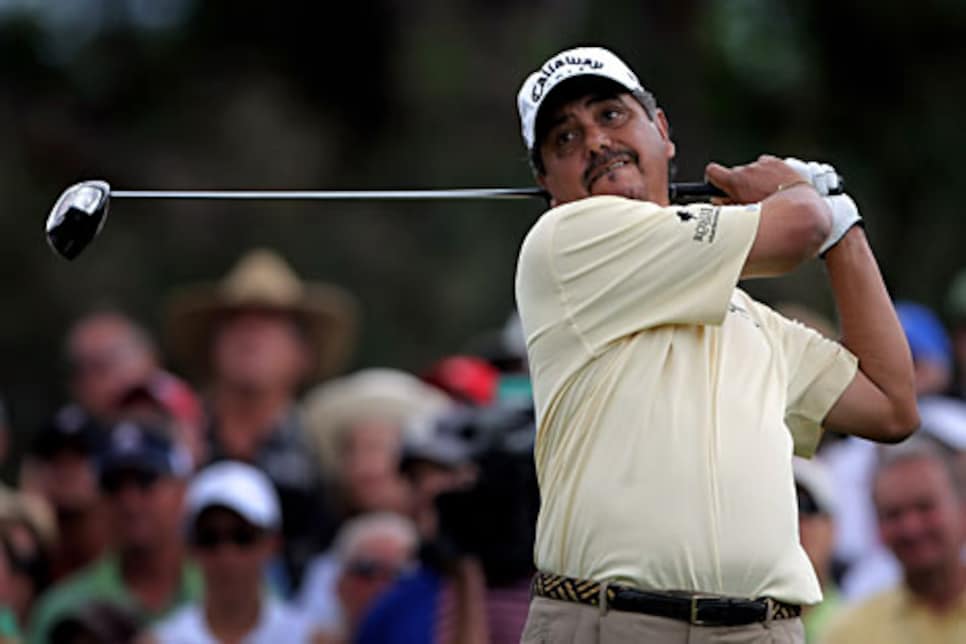 Romero hopes to join Angel Cabrera in bringing a U.S. National championship home to Argentina.
COLORADO SPRINGS, Colo. (AP) -- The Broadmoor's East Course wasn't so unbearable Saturday.
Eduardo Romero of Argentina grabbed the 54-hole lead at the U.S. Senior Open with a 5-under-par 65, conquering not only a course but also a field that one day earlier was bedeviled by perilous pin placements and a curious black bear.
"Fantastic round. I played great today," said Romero, whose three-day total of 9-under 201 is two shots ahead of Fred Funk (69), who relinquished the lead with three bogeys on the back nine, and three ahead of John Cook (66).
Tom Kite (71) is in fourth, eight shots back and the only other golfer under par for the tournament.
Thirteen golfers finished in the red one day after a black bear interrupted the second round by roaming around the vintage course carved into the foothills of the Rocky Mountains, where Friday only five players managed to overcome tricky winds and unfriendly pin placements to break par.
"The course is playing great. The pins were a little easier than they were yesterday and the greens were a little softer," Funk said.
"The pins were just not as crazy. I think the USGA kind of listened to some guys and they did a good job with the setup."
The fourth and eighth holes were much easier to handle than they were a day earlier, when the pin placements on the short par-3s turned the usually make-your-move front nine into a monster like the back nine, where the three toughest holes come right after the turn.
"Some of them yesterday were on the side of slopes and if you got anywhere above the wrong side of the hole, you were going to be 20 feet past no matter what," said Greg Norman (68), who is tied for fifth, nine shots back.
"Today they are a lot more accessible, but they are still tough."
Funk, who led after the first two rounds, blew a two-shot lead over Romero on the back nine, even though that's where his stiff neck began to loosen up.
He was 4 under for the day and 10 under for the tournament at the turn before bogeying the 11th, 12th and 14th holes while Romero was carding a 1-under 34 on the back.
"I think tomorrow the key is going to be the front nine, the group of guys that goes out there and lights it up on the front," Funk said. "That's where you've got to get it."
Nobody capitalized on Saturday's pin placements better than Jeff Klein and Scott Simpson, who tied the course record with 6-under-par 64s.
Klein, who turned 50 in May, tied a U.S. Senior Open record for lowest nine-hole score (30) by making six birdies and no bogeys on the front nine. He went to 8 under on the brutal back nine before bogeys on 15 and 18.
Simpson and Klein teed off early, before the winds came along, bedeviling both drivers and iron shots.
That only made the golfers more thankful for the more accessible flags.
"I hope that doesn't make anybody mad," Klein said of his 64, which he feared might force the USGA to consider returning to tougher pin placements Sunday.
Romero, who had seven birdies and two bogeys, missed some putts that could have given him an even bigger lead.
"Normally I'm bad putting, I'm a terrible putter," Romero said. "I started playing good two months ago. I'm doing very well. My putter is working now. When I miss, well, I'm still with good concentration, but I'm happy with my putting."
Romero is trying to join compatriot Angel Cabrera, who won the 2007 U.S. Open, in returning to a hero's welcome in his homeland.
"If I win tomorrow, first of all, it's a dream for me," Romero said. "But also, to win the tournament tomorrow is very important for Latin America and Argentina."