News
Commanding Lead For McLachlin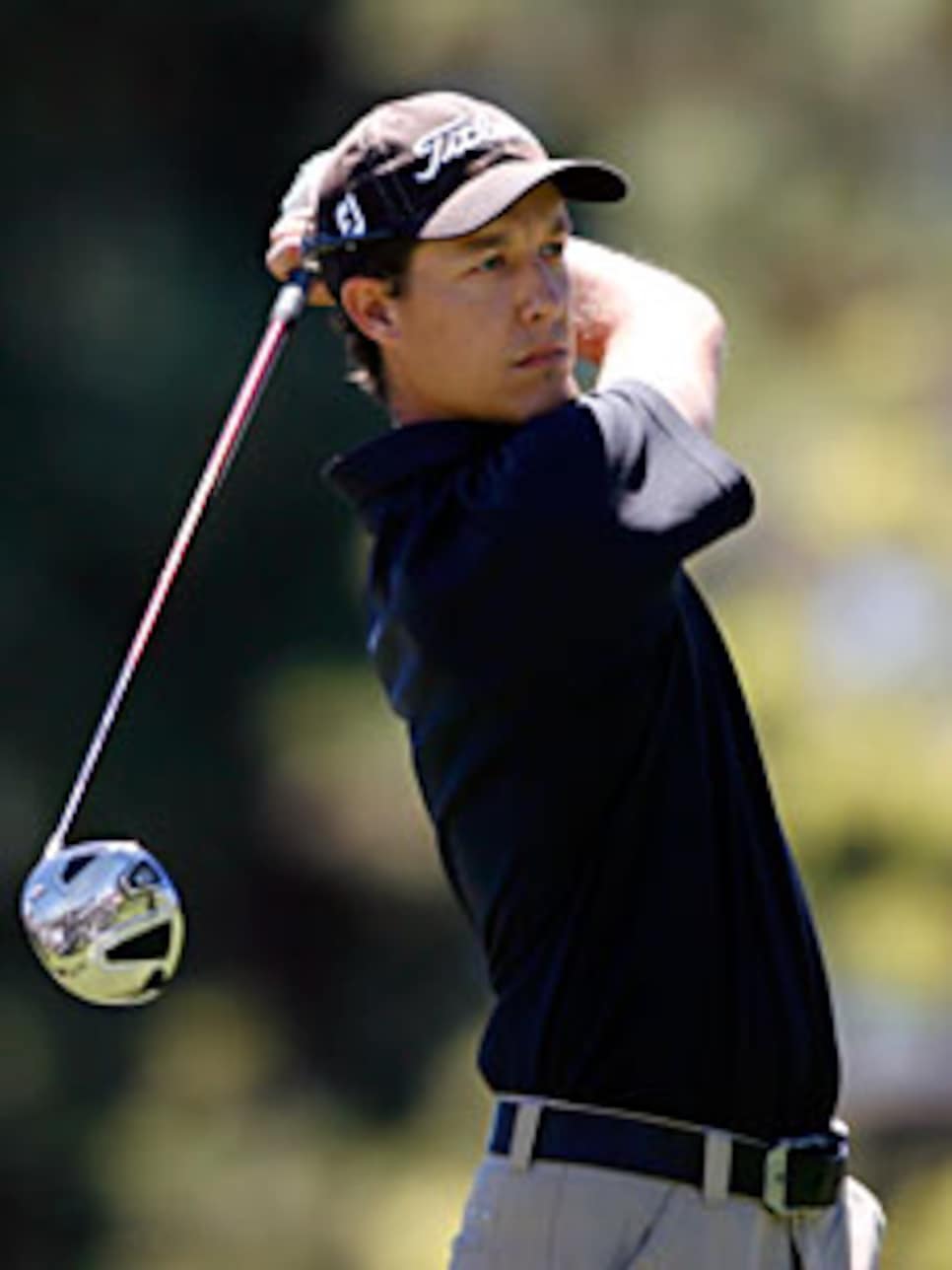 Nationwide Tour winner McLachlin is looking for his first big league win.
RENO, Nev. (AP) -- Parker McLachlin made a 9-foot eagle putt as part of a 6-under 66 Saturday to set a course record for 54 holes and take a six-stroke lead into the final round of the Legends Reno-Tahoe Open.
McLachlin, a second-year player on the PGA Tour who opened with a 68 and tied the course record Friday with a 62, added five birdies and a bogey for a record three-round total of 20-under 196 at the 7,472-yard Montreux Golf & Country Club.
"It's something to be proud of, but it's not a 54-hole tournament. That's not what I'm here for," said McLachlin, who has won on the Hooters Tour, Tight Lies Tour, Gateway Tour and Spanos Tour, but not the PGA Tour.
Brian Davis, who eagled the 616-yard ninth when he drove the ball 342 yards then hit his second shot 266 yards to within 6 feet of the pin, carded a 68 on his 34th birthday to move into second place at 14-under 202.
John Rollins made a 6-foot eagle putt on the par-5 fourth en route to a 70 that put him in third place at 10-under 206 -- 10 strokes off the lead. Andrew Buckle (68) and John Merrick (73) were another stroke back at 207.
Davis, who has won twice on the European Tour, said even the closest challengers face an uphill battle.
"It's weird because most weeks on tour there's probably 20 guys or 10 guys who can win on the last day," Davis said. "But obviously if Parker is 20 under, John Rollins has to shoot 10-under if Parker is even par. So it does put a stretch on everyone, including me.
"But Parker's never won before so you never know, he might shoot a couple over. And around this golf course anything can happen. You can hit good shots and get a bad bounce and be really in trouble."
Last year on the Nationwide Tour, McLachlin led the National Mining Association Pete Dye Classic by seven strokes entering the final round, but shot a 77 on Sunday to finish tied for fourth.
"It was my first time having a lead and I didn't really approach it the right way and learned a lot from it," McLachlin said.
"That one, I looked past the finish line too early and this one I'm looking forward to the first shot on the first hole tomorrow, and that's as far as I'm going to go."
Ranked 98th on the tour money list this year with $740,940, McLachlin tied the course record Friday with birdies on seven of the last 10 holes for a 10-under 62.
On Saturday, he eagled the par-4 fifth after his 344-yard drive rolled onto the green. He had a chance to eagle the previous hole -- a 518-yard par 5 -- when he hit his second shot 200 yards to within 6 feet of the pin, but rolled his putt a foot past the hole and had to settle for birdie.
McLachlin, who has five top-25 finishes this year including a tie for fifth at the AT&T Classic, also made a 28-foot birdie putt on the par-5 ninth.
He made a 13-foot birdie putt on the 18th to break the three-round course record of 197 that Will MacKenzie and Bob Estes set in 2006.
Davis, who started the day at 10 under, gave two shots back with a double bogey when he drove into the deep rough on the third hole.
"I thought it was going to be the worst birthday ever after the first three holes," Davis said.