News
This Bear Wasn't Named Jack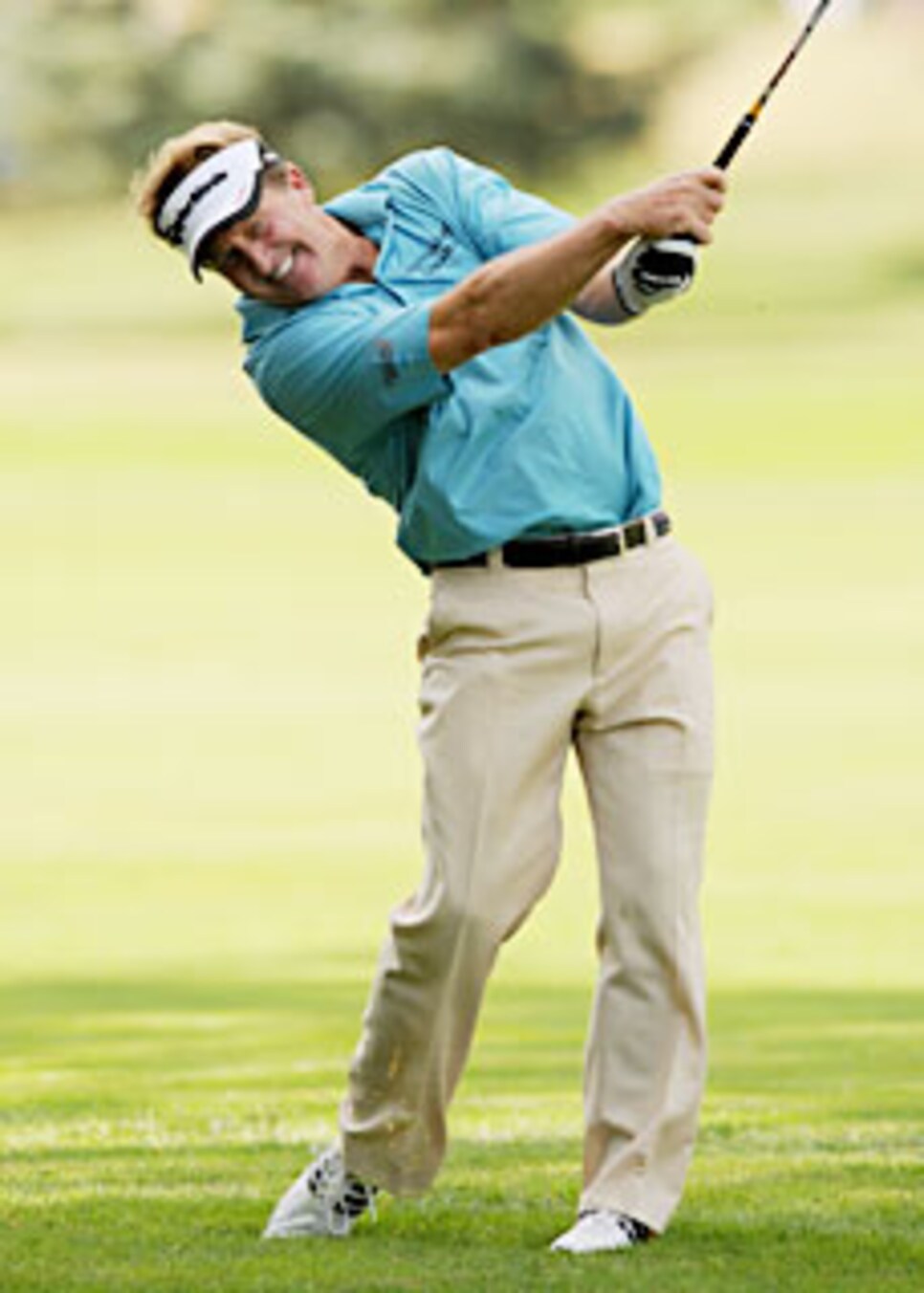 Funk was one of only five players to break par on Friday.
COLORADO SPRINGS, Colo. (AP) -- The Broadmoor's East Course was quite a bear Friday.
Difficult pin placements and faster, drier greens flustered the field and only five golfers managed to shoot below par, including Fred Funk, whose 1-under 69 gave him the lead at the halfway point of the U.S. Senior Open.
Funk's two-day score of 6-under 134 is two shots ahead of Eduardo Romero (69) and four ahead of Mark McNulty (70), Tom Kite (71) and John Cook (72).
Stealing the show, however, was a black bear that ambled out of the mountains in the morning and crossed the 13th fairway before checking out spectators outside the ropes.
Nobody was harmed, and neither was the bear.
"(Jack) Nicklaus isn't here, so I guess that's a substitute," cracked Funk.
Although tournament officials were prepared to tranquilize the animal and stop play were it to become aggressive or spooked, after several minutes the bear crawled through a drainage pipe on the ninth hole that leads to the West Course, then went through another drainage pipe and into the wilderness, leaving unnerved galleries and golfers behind.
USGA spokesman Pete Kowalski said wildlife experts were called in and would be on the course throughout the rest of the tournament in case the bear or its chums decide to return for another look around.
The course, carved into the foothills of the Rocky Mountains, serves as host to all kinds of critters, including bobcats, coyotes, deer, mountain lions, red foxes, snakes and turkeys.
That was a new one even for these grizzled veterans, many of whom played with Nicklaus, the "Golden Bear" who menaced his share of golfers over the years.
Funk said he heard tournament officials talking about possibly having to halt play "because it would be pretty scary if it got a little panicky and some spectator or some of the golfers were too close -- that wouldn't have been an issue if a caddie had gotten too close."
Aside from the bear, a few deer and red-tailed foxes were spotted Friday.
"You don't get that every week," Cook said.
There were also plenty of sightings of red-faced golfers, befuddled by the perilous pin placements, particularly on the par-3 eighth hole, where tap after tap rolled right off the hard, sloping green.
"Every hole was on a slant," Cook said.
"The USGA put some pin placements on us today that almost defy the imagination," Kite said. "It's just treacherous, treacherous greens out there with some unbelievable pin placements."
Greg Norman, whose 73 put him nine shots off the lead and in a tie for 18th, said simply: "I'm not going to comment about the golf course. The USGA should know better."
The 7,254-yard course, the longest for a U.S. Senior Open, sits more than 6,400 feet above sea level, so the golfers not only must adapt to the tricky greens but also have to adjust for altitude on their irons and tee shots.
One day after he needed 3½ hours of stretching to loosen up, the 52-year-old Funk, who is coming off knee surgery, said he awoke Friday pain-free for the first time in two years.
"Then I hit my first tee shot on 10 and walking off the tee, my neck locked up," said Funk, who started on the back nine.
Before he knew it, he was 3-over after eight holes. Getting massage treatments between shots from a physical therapist and popping anti-inflammatory medication, Funk began to get better after making the turn, and so did his game as he sank three birdies on the way in.
Divots:@ Ian Woosnam shot the best round of the day at 68. Kiyoshi Murota followed his 80 with a 69 but still missed the cut.