News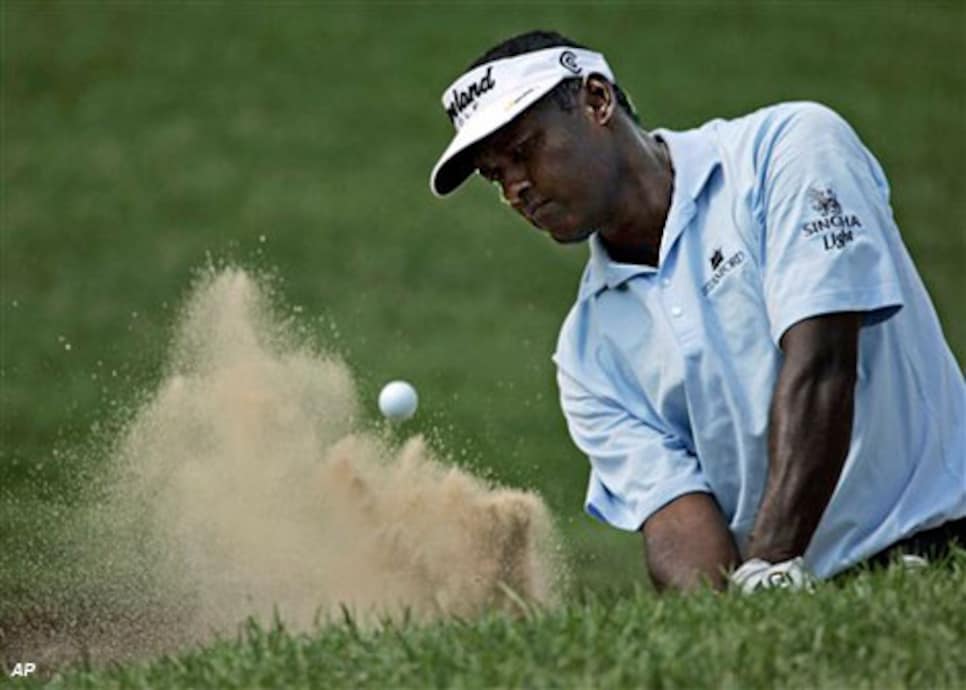 Vijay went back to his belly puttter and has a lead for the first time in four months.
AKRON, Ohio (AP) -- Without the world's No. 1 player around, Vijay Singh and Phil Mickelson brought some star power Friday to the final World Golf Championship of the year.
Singh twice escaped from the trees on his closing holes at Firestone and renewed his affair with a belly putter on his way to a 4-under 66 at the Bridgestone Invitational, putting his name atop the leaderboard for the first time in more than four months.
He was one shot ahead of Mickelson, who made another great escape at the end of the second round, this time holing a 20-foot par putt to finish off a 66 that put him in the final group with Singh.
Both have three majors -- two Masters and a PGA for Mickelson, two PGAs and a Masters for Singh -- along with some history. They got into a heated argument during a rain delay at Augusta National over the length of Mickelson's metal spikes. A year later when they played two rounds together in Phoenix, Singh asked that Mickelson's driver be tested to make sure it was legal.
Both have more pressing concerns this week, mainly getting their games back in order with the PGA Championship looming.
"I'm going to go out there and play my heart out and try to shoot as low as I can, and not really be concerned about what Phil does," said Singh, who was at 7-under 133. "He's going to be focused on his game. I just hope we both have a good day."
Sean O'Hair, seeing immediate results from switching to a new swing coach, had a 67 and joined the group at 5-under 135 that included Lee Westwood (65), former Masters champion Zach Johnson (68) and Peter Lonard (66).
Sixteen players were within four shots of the lead.
"It's anybody's ball game," said Hunter Mahan, who had a 66 and was at 3-under 137.
It helps that Tiger Woods isn't at Firestone, particularly since he is a six-time champion on this course and had never finished out of the top five in his 10 appearances.
"To me, him not being here is the difference between 39th and 38th," Lonard said with a laugh.
Singh was the last player other than Woods to be No. 1 in the world, a 32-week reign in 2004-05. But he now is 45, coping with nagging injuries and a victory drought on the PGA Tour that has lasted 18 months and caused him to fall to No. 15 in the world ranking.
The culprit? He blames his putter.
Singh got so fed up with his conventional putter when he missed the cut at the British Open that he went back to the belly putter during a week of practice and swears he will stick with it.
"I'm not a great putter, but I'm not a bad putter," Singh said. "The British Open was the turning point, where I played really well and putted really badly, and decided that's it. I'm not a good putter with a short putter. I've decided that I'm going to putt with the belly. If you see me with a short one, that means that something is wrong with me."
The only thing wrong on a balmy Friday at Firestone was his driver, although it didn't hurt him too badly. One day after missing only one fairway, Singh was in the short grass six times in the second round, and needed to work his shots around the tree-lined fairways on the sixth and eighth holes at the end of his round to avoid dropping shots.
"I don't know what happened," he said. "When I hit the ball, it just didn't go straight today."
Mickelson hit his share of errant shots, mostly on his approach to the greens. He found a bunker on No. 8 that he couldn't get close enough to save par, and was headed in the same direction on his final hole at No. 9, hitting into the left bunker and blasting out weakly to 20 feet. But he made it to save par, going into the weekend with some momentum.
"I didn't want to bogey the last two," Mickelson said. "And I also had been hitting a lot of good putts, and I made a bunch today. I made some good ones. To see balls rolling in now, I'm starting to gain a little bit more confidence, a little bit more momentum."
Mickelson has been relatively quiet the last few months, although not as AWOL as Singh. The world's No. 2 player has won twice this year, the last one at Colonial in May when he used one of his five wedges to hit out and over the trees and onto the green to win a playoff.
He didn't use any drivers the first two rounds of the U.S. Open, which cost him. And he couldn't make a putt at the British Open, where he again was never a factor. Mickelson is pouring everything into the final two months of the season, especially the PGA Championship next week at Oakland Hills, and he likes the direction he is going.
"I remember when I won the Masters in '06, I had a great week the week before," he said. "So I would prefer that."
But there was plenty of golf left at Firestone, and loads of possibilities. Twenty-eight players remained under par, a big difference from last year when Woods was the only player to break par and won by eight.
Rory Sabbatini, who had a one-shot lead going into the last round a year ago, shot 67 and was in the group at 4-under 136 that included Stewart Cink (68), one of two players who have won this WGC event at Firestone during Woods' reign.