News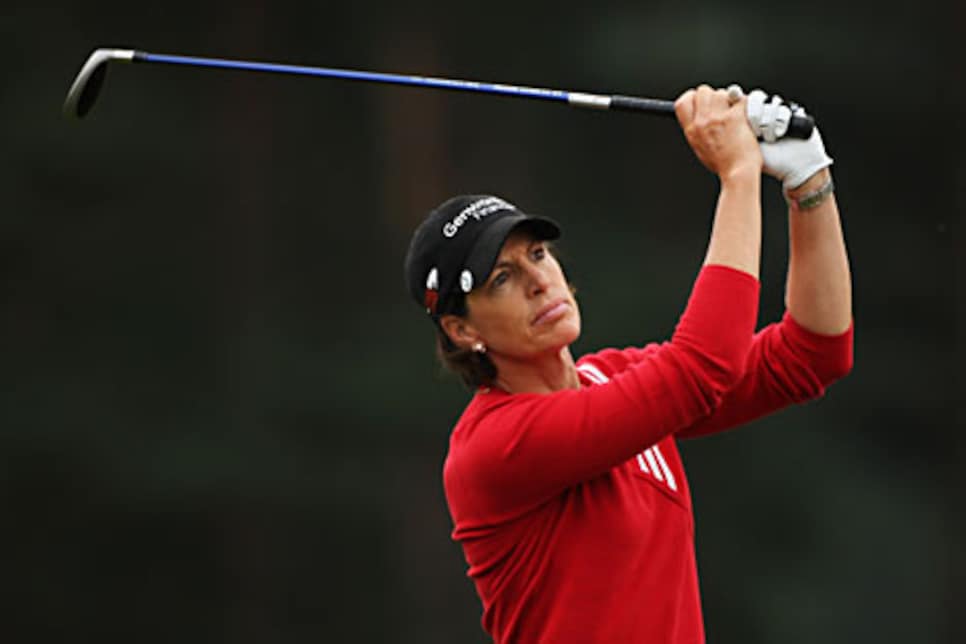 If she won, 48-year old Inkster would become the oldest winner of a major title.
SUNNINGDALE, England (AP) -- Juli Inkster had the sort of opening round Annika Sorenstam was hoping for at the Women's British Open, a bogey-free 7-under 65 that left the 48-year-old American one shot ahead of the field.
While Sorenstam struggled to a 72 in what the Swede says is her final major before she quits tournament golf at the end of the season to start a family, Inkster went out among the earliest in the field to shoot an eagle and five birdies. Her 65 matched the lowest opening round at any Women's British Open.
Inkster, whose last major title was the 2002 Women's U.S. Open, is a stroke ahead of seven players -- Ji-Yai Shin, Ji Young Oh, Yuri Fudoh, Momoko Ueda, Jo Head, Laura Diaz and Stacy Prammanasudh. Defending champion Lorena Ochoa was three strokes behind.
Inkster's opening round gives her a realistic hope of becoming the oldest winner of a major and the second player to complete a career Super Slam.
That's the Kraft Nabisco, LPGA Championship, U.S. Open, British Open and the now defunct du Maurier, a combination only Karrie Webb has completed. Not even Sorenstam can do that because she missed out on the du Maurier.
A victory in Sunningdale also would mean that Inkster would have gone a women's record 24 years between her first major -- the 1984 Kraft Nabisco and du Maurier -- and her last. Jack Nicklaus went 24 years between his first and last majors -- the 1962 U.S. Open and 1986 Masters.
While Sorenstam's decade of domination has brought 10 majors and 72 tournament victories, the product of a fiercely competitive nature and ability to grind out results, Inkster said her own longevity reflects something else.
"I always thought I would play about five years and have a couple of kids and retire," said Inkster, a mother of two teenagers. "I'm kind of unique. I really love the game and I go out and play for fun. I think (with) Annika it's a lot of hard work. Every time she tees it up she's expected to win. Her work ethic is just grind, grind, work out, hit balls.
"I don't think Annika could come out here and finish 15th on the money list and live with herself. Me, I'm OK with that. I enjoy what I do. I love playing golf but it's not the end of the world for me."
Inkster acknowledged she was getting close to retirement.
"I play 16 to 18 tournaments a year and get the rest off," she said. "And I like what I do so I just play. I'm not sure that I'm going to play next year but I have plans to finish out this year and then I'm going to re-evaluate and see. But I'm getting close."
Prammanasudh twice was tied with Inkster at 7 under but each time she drew even she followed with bogeys at Nos. 15 and 17.
At one stage, Sorenstam was 3 over after bogeys at three of the first six holes. She finally birdied the ninth, picked up more shots after the turn, but is still seven strokes behind the leader.
"I was looking forward to a wonderful day, but I've never made as many bogeys as I have the last three months and it's driving me crazy," Sorenstam said. "I don't know what to do. It's so disappointing that I can't post something low. It seems like I can't play 18 holes."
Ochoa birdied the first two holes and was 5 under after 15. But two bogeys toward the end of her round left her at 69.
"On the 17th tee, I got really mad, a bad drive off the tee and I didn't hit a good chip," said the Mexican, whose triumph at St. Andrews a year ago was her first major. "But the rest, I have no complaints. I think the first day I'm not worried."
Inbee Park, the Women's U.S. Open champion, shot a 74. She dropped a shot at the opening hole and had double bogeys at Nos. 5 and 6 to reach the turn at 4-over 40.